Featured Artist: Bridget Intessimone of Cabin 7 Originals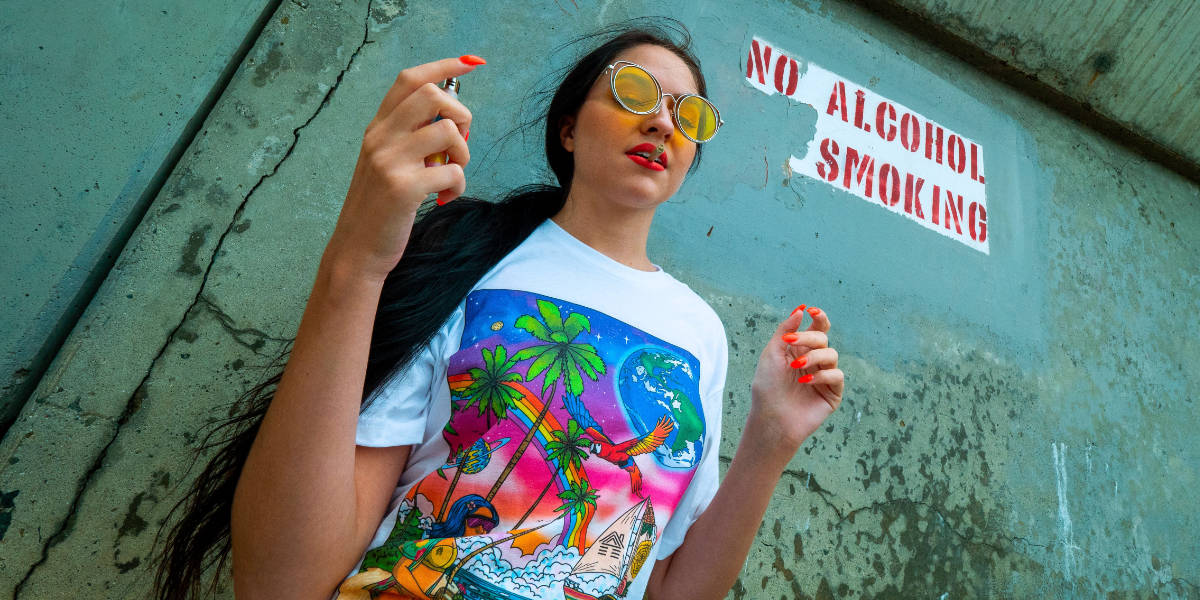 Failure has never been an option for Bridget Intessimone. From the time she was quite young, the founder of Cabin 7 Originals knew – despite a general lack of support from her peers –  that she was going to be a successful illustrator.
"When I was growing up, I was made fun of for [my love of drawing," recounts Bridget. "Everyone said: 'You're kind of a nerd. You're lame. You just want to sit at home and draw all the time. You don't want to do anything else,' and I was, like: 'I can't help it if this is where I get my dopamine release from. I'm just gonna do it anyway."
The theme continued into adolescence.
"So many people kept telling me that it's not a real job. As I started to get older – into middle school and high school – they would say things like, 'you need to actually think about what you want to do,' and I just said, 'I am thinking about what I want to do. I want to draw. I want to make art. I'm gonna invest enough time into it to the point where failure isn't an option at all.'
"I've never even considered failure," she continues, "it's never even been like, 'what if it doesn't happen,' I've never thought that. Only other people have."
It's this deep-seated, vocal defiance in the face of adversity which has aided Bridget Intessimone in her pursuit of taking an idea which came to her while still in elementary school, and building a successful brand (Cabin 7 Originals) around it.
In fourth grade, while in summer camp, the now twenty-two year old Las Vegas, Nevada resident penned a short story, titled "The Curse of Cabin 7," which sparked illustration ideas, characters built around the identities of her friends, a comic book, and a colourful palette that carry over into the work which Intessimone is releasing to this very day.
"Camp was a totally different space outside of how I normally was. It was this Wonderland for me. Every summer I would look forward to an escape," she remembers. "That's what inspired my drawing back then. I started drawing a lot of camp themed pictures…and writing. I got to do a lot of writing."
And that was when inspiration truly struck.
"I wrote this fictional story about a character who lived in a cabin at summer camp, and the cabin was haunted. All of my art for the next six or seven years was all about that story. I made comic books, and all my friends had a character in the story…and the cabin was 'Cabin 7'."
It was within this framework that Bridget's mother – one of her few fervent supporters – saw a lot of potential for growth.
"My mom really encouraged it. She found it really cool that I had created this entire fantasy world," says Bridget. "She was the one who said, 'you should start branding yourself as Cabin 7', and I thought that was cool. As I got more serious, I realized she was right.
"When it comes to my art, if you look closely at my pictures, you'll see certain characters showing up over and over. Those are the original characters from 'Cabin 7'."
To look at the Cabin 7 Instagram account is an invitation to witness a lot of incredibly vibrant colours, racy subject matter, fantastical landscapes, and a whole lotta weed!
Characters are consuming ganja in all of its many forms, the iconography is everywhere, and it's as if the entire account just happened to live atop a dreamscape built of beautiful, billowy clouds of the finest smoke.
When Bridget initially launched the Instagram account in November 2017, she was hesitant about including cannabis content at all. Her family wasn't exactly "pot-positive," and while this simple fact dictated the subject matter of the first few postings, it didn't take long for her defiant – and truthful – demeanour to shine through.
"I had [the account] for a couple of years, but the only people that really followed me were people that personally knew me…so it was a few hundred followers," says Bridget about her Instagram profile.
"Last summer," she continues, "I basically got to the point where I was tired of hiding my cannabis art…because that's the best art that I make.
"I come from a family that doesn't approve of that. That's why I never really made my brand about cannabis, and about the psychedelic scene, and the culture behind that. I just felt like, 'you know what? I'm doing it. I'm just gonna do it. I don't care anymore. I'm a grown adult and no one can tell me what to do now. I'm just going to turn Cabin 7 into what I actually want it to be'.
"Once I started doing that, that's when all the followers came. They were really, really interested in the brand I was creating. The bright colours and the cannabis. Some people have called my art provocative, with the sexy look to it. That's what I've always wanted Cabin 7 to be, and I finally created it as that…so it feels pretty good."
When asked about her personal tastes for cannabis consumption, Bridget is quick to first address her personal support of the use of marijuana in a medicinal capacity, especially in the quelling of her own anxiety.
"I use weed medicinally, because I'm the most anxious person in the whole universe," quips Intessimone. "If I don't smoke weed, I can't focus. I can't sit in one place for eight hours and draw if I'm not high…it's not going to happen. I'm going to start over thinking, and I can't stay on task when the task involves being focused on one specific thing for that long…and that's what I do every day!
"I can only do it because I smoke…and because I smoke indica. With sativa I know I'm just gonna start running around the house and cleaning things."
The artist is also keen to point out that living in an herb-friendly city like Las Vegas – in stark contrast to when she resided in San Antonio, Texas – has been instrumental in helping her to refine her personal puffing preferences.
"Whenever you don't live in a legal state, you just have to take whatever you can get…and you don't know what you're getting until you smoke it," says Intessimone.
"I do remember I would smoke certain times and I would feel horrible. I would get super paranoid, super anxious, and I would think, 'What is wrong with me?' Other times I would smoke, have a really good time, and think, 'What the hell? What gives? What is this? Why is some weed doing this and some weed not doing this for me?'
"I guess, in that way, I've always liked indica more…I just didn't know I liked indica more."
Continuing on the topic of legal weed, Bridget Intessimone had this to say:
"People say: 'You don't know what you have 'til it's gone,' But you also don't realize what you don't have until you have it! I visited Colorado and I didn't feel paranoid at all. For the first time, I felt like the paranoia doesn't even have to be a part of smoking weed as long as you live in a place where you don't get arrested for it.
Moving forward, Bridget is excited to keep on smoking and creating her beautiful, vibrant work. She also has some surprises coming soon for her fans.
"I definitely want to keep doing exactly what I'm doing..but on a bigger scale. I'm actually just waiting on samples from a print company that I'm going to hopefully be working with, and I'm going to be doing posters and canvases. None of my followers know about that, so it's a surprise for anyone who reads this interview! I'll eventually get that going again because people have been begging for posters."
A slightly more long-term goal involves turning Cabin 7 into an entire aesthetic, akin to a dispensary-meets-studio vibe.
"I had this vision that it would be really cool to have a cabin somewhere in Colorado or NorCal. It would be set up like a dispensary, but obviously I wouldn't sell weed. It would just be a cannabis-themed, hippie-like vibe with bright colors where you can come in, hang out, and make friends with people.
"Maybe by then they'll legalize smoking lounges, because I really like connecting people together. I found that – especially living in non-legal states – the moment you're smoking with someone else, a bond is formed…and I want an in-person place where I can actually talk to people, and they can meet the person who makes all the art. I just want it to be really interconnected."
The ultimate goal for Intessimone is to find a way to give back to the community…to nurture the craft and talent belonging to aspiring young artists who may not have the social or economic support system necessary to aid them in honing their skill.
"I get what it's like to be pretty poor growing up, and to not have anybody really believe in what you're doing…and even the ones who do believe, can't really do anything for you," Bridget says quietly.
"Even if it starts with a contest for a line of t-shirts. The winner can create the design and I'll take care of the printing, promo and selling. The artist would get a cut of the money that comes from people buying it and the rest of the profits would go to a scholarship fund for kids who want to go to art school…especially the ones whose families don't want to support them when they do it."
It's abundantly clear that the "failure-is-not-an-option," "defiant-in-the-face-of-adversity" spirit which shaped the artistic path of Bridget Intessimone is one which also yearns to ease the journey for those in similar situations. The electrifying colours which inundate the Cabin 7 creations serve to reflect the vibrant nature of their creator, and there's no doubt that whatever comes next is gonna be so bright that you gotta wear shades.
Check our more from Bridget Intessimone and Cabin 7 Originals:
Instagram: @cabin7originals
Twitter: @cabin7originals
Facebook: Cabin 7 Originals
Pinterest: cabin7originals
Website: www.cabin7originals.shop