Mori Pablo: Canvas, Cannabis, Culture and Creativity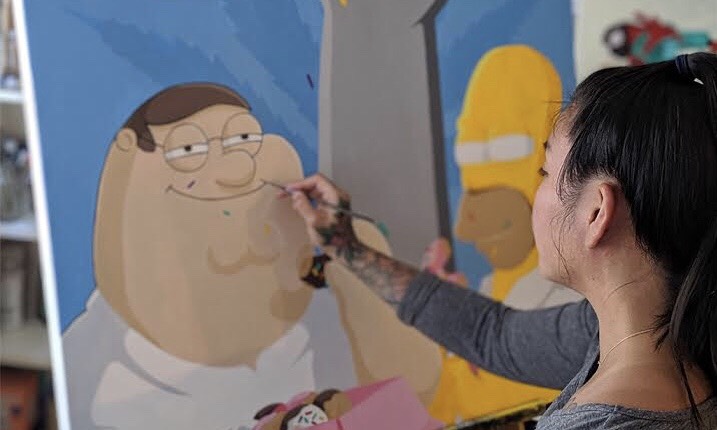 Nestled somewhere between the cascading and crashing waves of the Pacific and the treacherously towering peaks of British Columbia's Rocky mountains, a ninja lays in wait. More specifically, Mori Pablo – AKA  Acrylic Ninja – hones her craft, ready to unleash her creative gift upon the masses.
"I paint anything that I feel like painting," says Pablo. I like to paint things that interest me, which also happens to interest a lot of other people –  pop culture type of scenarios. So I do a lot of portraitures. Usually, something or someone will inspire me…and then I'm caught.
"I start thinking, how do I want to represent this person? Do I want to represent their character? Or do I want to represent them as an actor?"
An everyday consumer of weed and an avid advocate for marijuana, Mori often blazes when creativity comes calling.
"For me, personally, cannabis plays a role in several ways.
"I smoke every day, and it helps me actually concentrate when I paint," Mori continues when asked about the role weed plays in her creative process. "My day job isn't painting. I work in engineering during the day. So, when I come home from work, I smoke to help be able to relax.
"Sometimes my mind is already thinking of what I want to be working on next, and when I smoke I come up with the ideas behind my paintings. I feel better, and more focussed.
Weed helps to bring out the creative role for me."
A great number of artists have cited the psychotropic properties associated with THC as a major creative aid; a tool to help enhance and entice the already inherent creative aspects of the individual to be summoned forth and brought to their full expressive fruition. Mori, like most creatives who celebrate smoke, also believes that different strains carry with them different benefits and properties. The various types of bud can be harnessed to bring out varied results.
When questioned about her personal tastes for the burning of the herb, Pablo admits that she tends to skew more toward indica over sativa, with the Black Tuna and Pink Champagne strains currently occupying the top spots in her smoking regimen.
But what came before the haze of the blaze and the amazing talent? While it's true that some people are simply born with incredible skill, even the most gifted phenom tends to have been given a push forward by someone at some point in the development of their craft. For Mori, it was her uncle.
"I was about five years old," Mori remembers, "and my uncle drew all the time. Very realistic, and he did typography too. The way he just kind of finessed a lot of things…it was inspiring to me as a kid."
Mori, fascinated with her uncle's skill, was continuously curious and wanted to see more.
"I always asked him to draw me typical five-year-old girl type of things," quips Mori, "butterflies, this and that."
Her uncle constantly, and with great care, indulged her interest in what he was capable of, but there came a point where it was time for the student to take the reins. Pablo recalls the moment where it was time for the spotlight to shine upon her.
"It was kind of low key." Laughing and paraphrasing in the voice of her uncle, "I really don't want to draw for you anymore. This is hella annoying. Why don't you draw me something?
"And then I remember I just started drawing frogs for some reason. He didn't consciously do it, but he influenced me growing up.
"The one thing I wanted to do differently was to actually pursue it. In Asian culture, your parents don't want you to be an artist. You're just going to struggle for life."
Mori, casting off cultural norms, continued her pursuit of art throughout her young life straight into young adulthood. She followed her passion as it carried her to New York City, where her talent afforded her the opportunity to fuse art with her other love; hip hop culture.
Adding photography to her artistic repertoire, Mori was invited to showcase some of her work as part of someone's birthday. "I was like, yeah, sure, no problem. The deal was that I do a painting for this person's birthday and then I get to showcase some of the work that I did out of New York." Adding excitedly, "Then I found out it was actually for DJ Red Alert. It didn't really hit me right away. It was a one night only type of situation, located pretty much in Chinatown. Then I started seeing people that were rolling through, like Kool Herc."
As her time in New York came to end, Pablo moved back to Vancouver, BC where she continued to hone her craft in the medium of acrylic portraiture where she often fuses vibrant colours with a pop culture spin. Her current endeavour, still in its pre-exhibition stages, is a fusion of weed and art in an attempt to analyze and make sense of the stigma which still surrounds much of cannabis culture.
"It's based on cannabis, but it's more of a whimsical take." Mori explains about the series, "I'm taking pop culture and putting it into a subtle mix of cannabis leaves. It's based on munchies."
More than that, Mori Pablo's current work is designed to take a somewhat playful look at the still prevalent belief held by many which views cannabis consumption, despite its legalization, as a negative force in society-at-large.  
"Alcohol is legal and all that but, but we sometimes see more violent tendencies with people who drink – as opposed to people who smoke," wryly adding "I don't really see someone smoking a J and then all of a sudden getting in a fight.
"I don't know why cannabis still has such a bad name, and I'm trying to use this platform to explore that."
While diligently ramping up her current work, Pablo is always focussed on the future and the pursuit of her ultimate goal. She envisions development and ownership of an inclusive space which can function not only as a gallery, but also as a school.
"I don't want to be like the bigger schools." Mori proclaims, stating that she would like to see an institution based more around community.
"I'd love a place where people can go and learn something about spray painting, printmaking, drawing and all that other stuff.
"I want to supply those classes to the community, as well as having the gallery space for not only my art, but to actually showcase local art that people never see." Happily adding, "I want to be able to build an artist community where people can just leave their egos at the door and powwow with each other."
When asked to share a piece of advice which served to help shape her path and attitude toward her place in the world of art, Mori Pablo proudly served up her mantra:
"Who cares what anybody thinks? Do whatever the fuck you want!"
Sage advice from the Acrylic Ninja.
"Some additional pieces from Mori are below, including a work from her latest series titled "Munchies" featuring Homer and Peter chowing down."