Buzzin' With Bea Hawkins: Indica, Illustration, and Inclusion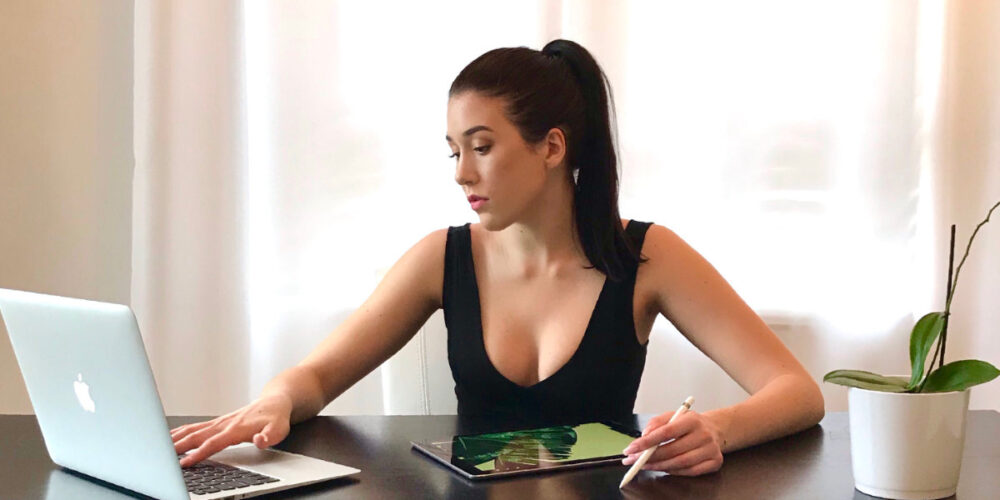 Beatrice "Bea" Hawkins is a fiercely independent up-and-coming Toronto based illustrator. She conquers her creative output with a critical eye and a calm, cool swagger – but if a client coming to her for commissioned content isn't connecting to her work, or can't hang with her vision, she's never afraid to stand up for her integrity and move on to other opportunities.
"I think we're lucky to be in a pretty cannabis friendly part of the world. But I do get clients all the time that say, 'well, your brand is a little bit edgy and we kind of need to tone it down.' And, you know, sometimes I just say to them that it looks like they're looking for someone with a different brand," laments Bea. "And at first it kind of disappointed me, and I thought that maybe I should tone it down or try to cast a wider net, but at the end of the day, I think that to make the industry more cannabis friendly, especially now that it's legal in Canada, you can't be catering to clients that expect you to hide a part of your life.
"Anybody who doesn't really support what I'm doing is not a person that I want to have around me, especially being a woman in a male dominated industry, but I try not to let that get to me. " quips Hawkins. "I don't need too many outside opinions telling me what I should or shouldn't be."
As is the case with many young artists whom project a pro-cannabis attitude in both their work and personal life, Bea found herself to be somewhat trepidatious when sharing her art and lifestyle with her family.
"I was a little nervous to show my family my Instagram account when they had questions about what I was doing, but they're over it now," laughs Hawkins.
The acceptance by her family toward her character and belief system is, in part, what helped to shape Bea Hawkins into the strong, 23 year old woman she is today, but it's her independence and knowledge of self which tends to guide her path as a creative.
This, coupled with her adventurous and spirited approach to design, has allowed her to work in a way which doesn't confine her to a singular medium. Where pen and paper used to serve as a preferred method of creative conveyance, her focus in recent years has turned to pursuing digital design when developing content for both herself and for clients alike.
"I took the plunge on an iPad Pro and an Apple Pencil and now I'm using it more than I thought I would," says Bea when asked about her recent digital work. "Before that, I always knew that I wanted to be an illustrator – I've been drawing forever – but I kind of miss the physical mediums. I'm thinking about going back to doing some ballpoint drawings pretty soon, but it's pretty much exclusively digital right now."
Regardless of the chosen medium, Bea is very forthcoming in discussing the role which cannabis plays in her creative process. Preferring the mellow, creativity enhancing buzz of an indica or hybrids like Blue Champagne and Snow White over a full sativa, Hawkins often smokes while working on a piece. Occasionally a marijuana plant or the immediately recognizable methods of weed consumption (such as a well-rolled joint) become the highlighted subject of Hawkins' work, but she is…well…blunt when pointing out that there is a time and a place for reefer when it comes to her creations.
"It's a pretty large part of my life and my relationships. We're blessed to live in a country that supports creatives who smoke weed and I'm pretty open about it. I like to depict a 420 friendly place, but I don't think that in order to be an artist you have to be that artist in a certain way. I like to show people that you can be different and you can be yourself. A big part of myself is the fact that I am a cannabis user, so I try to use it in my work.
"I'm very lucky to work with a lot of other creatives and musicians who are cool with smoking weed," says Bea, laughing. "But I do some work for speakers and journalists as well.
"I'm contracting for Canada Public Health through Stitch Media right now, so I'm definitely sober when I'm drawing for them," she adds. "But, yeah, if it's a personal piece I definitely like to get high."
Looking to the future, Hawkins' attitude reflects the very pragmatic, take-life-as-it-comes, strength with which she carries herself. She isn't looking to conquer the peaks of mount Everest or reinvent the wheel, but her personal drive is a very tangible entity, and complacency is certainly not an option. There are projects that she wishes to explore, and there are different tools with which she would like to have her creativity expressed. One such possibility involves the very funny and poignant digital illustrations from early on in her Instagram posts which depict her experiences as a woman working as a bartender.
"Those were a lot of people's favorite pieces. I'm considering revisiting it now that I know how to illustrate digitally. Maybe in a coffee table book or something like that. The interaction with shitty people was definitely a source of inspiration for me when I was still working in bars," Bea notes.
The series of images serves as yet another example of the strength-of-character and attention to detail which defines Bea as an artist and as a person.
"If you are an artist, it's your opportunity and your platform to push your own agenda. I've said no to clients that don't want to depict certain people in their art. I say yes to clients, and prioritize clients, who are disadvantaged because of their skin color, or religious beliefs, or sexual orientation. We've all heard the expression: 'You vote with your dollar,'  and it's important to support companies that align with your values. I think that it is just the same to support creatives that align with your values and to work with clients that align with your values. Don't underestimate your voice and your ability to say no to people who are going to be detrimental to your values."
Whichever path, medium, project, or subject Bea Hawkins pursues moving forward, it seems to be a safe bet that it will be met with the same integrity and inclusive voice which permeates the core of who she is.
Additional Links:
Portfolio – http://beatricejhawkinsd188.myportfolio.com/home
Instagram – https://www.instagram.com/bitchwithaballpoint/