Viper Cookies Strain: Sativa-Leaning Hybrid With A Sting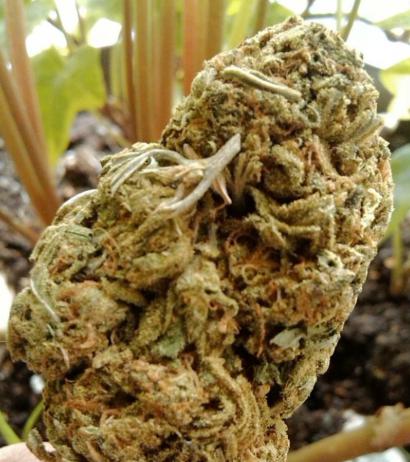 Viper Cookies strain is a sativa-leaning hybrid descended from parents that give an extremely buzzy, cerebral high with an irresistible citrusy aroma. Namely, the parents are a strain native to Burma and a sativa-dominant Mexican strain. It's impressively strong genetics are the reason why the Viper Cookies strain has a serious sting to it.
Viper Cookies strain: A close-up
You may wonder why the name Viper? Well, its reputation is not accidental. With a set of parents like that – who give an extremely buzzy, cerebral high along with a refreshing, head-hitting citrus aroma – the Viper Cookies strain has a THC (psychoactive content) between 15% and 20%  and has definitely earned its title.
The looks of the Viper Cookies strain
The Viper Cookies strain has a different appearance than some of the other strains I have reviewed before, but it is true to its sativa genetics. Namely, it has particularly large and solid flowers, with its buds being of an elongated, round shape that resembles bullets. As another significant characteristic of sativas, the Viper Cookies strain has its buds in a relatively loose and fluffy structure that makes the whole plant look fluffy. Its leaves are of nice olive green color and are growing twisted and on them, you will notice brown and orange pistils. The trichomes aren't missing either and they form a beautiful translucent white coating throughout the whole plant, and, of course, account for the Viper Cookies strain's high psychoactivity.
The aroma and taste of the Viper Cookies strain
If you cure your Viper Cookies strain properly you will be awarded a tangy and slightly astringent scent of orange that is rather strong, almost as if it had the aroma added to it beforehand. Along with the fruity upper tone, there is the herbal undertone that reminds you of grass and mostly sage. Due to its Southeast Asian lineage, when you are grinding your plant's buds you will feel its strong notes of spice together with hash, but regardless, when smoking the weed, you will sense an extremely smooth, palpable smoke. This makes the Viper Cookies strain a great choice for newbies or those who get a sore throat by smoking. Then, on the exhale, you feel the citrus mixed with some pepper, and trust me, when it comes to weed, it's the perfect combo.
What happens when you smoke the Viper Cookies strain?

via Leafly
As mentioned before, the Viper Cookies strain got its name by the strong buzzing high it gives you when smoking. Thus, when it hits you (which happens pretty quickly) you get strong, head-focused effects. You can sense its high by the sudden rush of blood to the head that manifests in your temples as the pressure at first. You may feel sudden salivation too which greatly helps with the cottonmouth feeling you may get after. What you feel shortly after is a sudden rush of thoughts coming your way. You change the way you think, and honestly, you shouldn't even do much thinking with all those thoughts moving swiftly, jumping around in a freely associative manner. Then, when you are able to control this rush of thoughts you can reap the real mental benefits of the Viper Cookies strain.
That means you can thrive while working on complex projects and tasks that require a lot of focus, but also you can do very well on more creative projects and with brainstorming. Furthermore, this bud has the power to induce internal monologues and make you want to socialize and talk to like-minded people all the time. The buzzy effects of the Viper Cookies strain tend not to be tempered by any strong physical sedation.
What do to when smoking the Viper?
So, if you want to get out and hang with your friends or meet new ones, run errands outside the house, or stay at home and clear or organize, the Viper Cookies strain is your go-to choice. Alternatively, the physical high that the Viper strain gives you can surely be burnt off with some light exercise, listening to stimulating music and dancing, or with sex, of course. You can savor the high by being on your own, or enjoying a smoking sesh with your buddies laughing and chilling because of its upbeat, active vibes. However, what you should not do, (and you ultimately won't be able to) is smoke and go to sleep. This is somewhat impossible with the Viper Cookies because it boosts your energy too much to be able to fall asleep. Additionally, it can leave you somewhat hyper and agitated if you don't go and spend all that energy first.
Thus, the best way to take this strain is in a wake-and-bake weed-edible treat along with your tea or coffee. Now that's a breakfast I'd gladly wake up to!
Using the Viper Cookies therapeutically

via Leafly
Medical cannabis patients can enjoy Viper's lasting feeling of focus if they have attention deficit disorders. This will help them stay focused and tuned into a single task for a prolonged period of time, and will help their mind stay creative throughout that entire period.
Furthermore, as you may have assumed by now, the euphoria and energy of the Viper is much suited to those suffering from depression and are under a lot of stress. It can also soothe pain with its strong inflammatory properties, so if you are having menstrual cramps, headaches, or nausea, Viper is there to support you.
However, note that you if have a low tolerance of THC's psychoactivity, and/or you are prone to anxiety, panic attacks or paranoia, this cookie strain isn't your best pick.
via Leafly
Where can you get the Viper Cookies?
Unfortunately, the Viper Cookies strain isn't made available for sale. So, your best shot at getting this strain would be to find people who grow it and obtain clippings so you can grow your own clones of it.
For the best growing experience, you should put your Viper in a semi-humid climate with temperatures resembling those of the Mediterranean part of the world and, of course, you can grow it in and outdoors too. The Viper flowers within a long 10 weeks when grown indoors and is ready for harvest in mid-October when grown outdoors.