Green Dream Strain: Into The Heights of Trippy Euphoria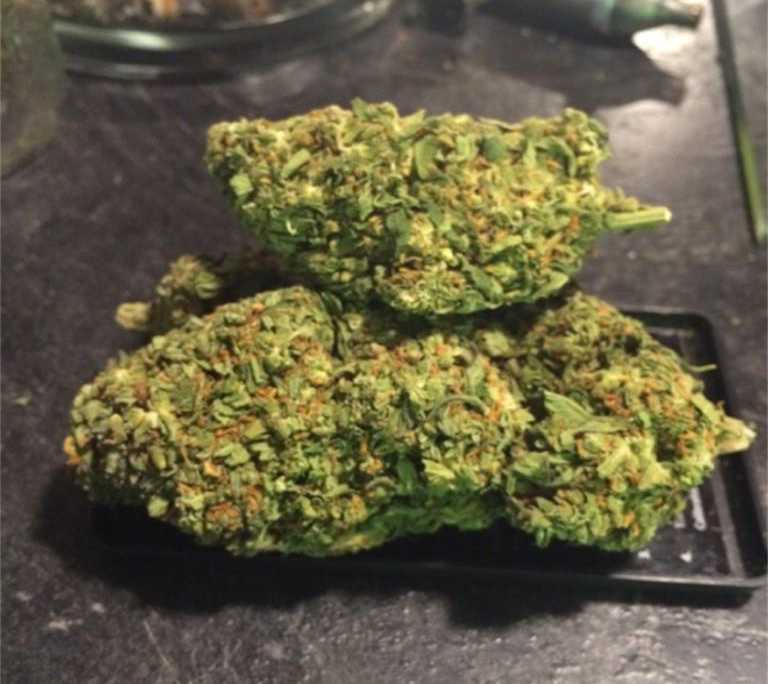 The Green Dream strain is an impressive sativa-dominant hybrid that has potent genetics behind it to support its effects when smoked. Namely, the ancestors it relies on are the uber-popular sativa Green Crack and the notorious Blue Dream. Even though the people behind the Green Dream strain are unknown, its genetics are well-documented.
An overview of the Green Dream strain
By smoking the Green Dream strain you get an irresistibly refreshing citrus and floral scents that carry an enduring high with them. Regardless of your sativa to indica preferences, you will find this strain equally appealing to you as if it was your fave one. Its complex aroma accompanies a THC content of 11% to 24% depending on the plant and the breeder.
The externals of the Green Dream strain
It isn't called a dream for no reason. The flowers of this strain are dreamy-looking indeed. They stay true to their sativa structure, with ragged-looking leaves that hang loosely and look as if can be easily removed from the stems. Also, the buds give off a feeling as it was a miniature cypress tree with their forms and the way they hang in elongated shapes. You can find this strain's leaves being fluffy with a dark tone of forest green twisting their way up to a nice volume of orange-brown pistils. The trichomes of the Green Dream strain are the final décor to its flowers making them extremely sticky and hard to break up – but some good-quality weed accessories and a sturdy grinder will help you do the job.
Green Dream's scents and aromas
The first aroma you will sense without even going too close to the plant is the musky and earthy one resembling wet soil. Then, as you get closer you start to feel its bright citrus undertones that refresh the entire experience. The third set of aromas you will feel is by picking apart its flowers. Now, this is when you start to feel the ancestry behind the plant. Its skunky odor has been passed to the Green Dream strain by its parent strain Green Crack. Then, when combusted, the buds release a pleasant and smooth smoke from the joint, especially favorable to newbies or people who suffer from cottonmouth or sore throat when smoking. On the exhale, you feel the other parent prevailing with its lemony flavor paired with flowery, fruity essence that gives a nice finish to the whole Green Dream experience? Sounds promising, huh?
What to expect when puffing the Green Dream strain
via Leafly
The effects of the Green Dream strain are initially felt throughout your temples and forehead. You feel throbbing around your face with an increase in saliva production. This is actually great to deal with your cottonmouth feeling afterward. Your senses get aroused and you feel more alert overall. Your surroundings take up a new perception and you feel as if you are entering odd new dimensions. The coolest of it all? If you completely ease into it, you might feel time dilation and visual distortions. This can indeed be confusing for newcomers into the cannabis world, but for more experienced smokers, when they get accustomed to the sensations the Green Dream strain induces, they will be able to experience a shift in their thinking too. This makes it great for working on open-ended creative projects and brainstorming just like the Viper Cookies strain.
via Leafly
However, you have to be wary with it if you have a low tolerance of THC's properties and are prone to paranoia and/or anxiety and panic when smoking. This can be quite unpleasant at times, especially until you find the right way to ease into the strain and find enjoyment. But if you look at it on the brighter side, the potent psychoactivity and stimulation can give new meaning to the same old boring chores like cleaning the house and work-related tasks you have to complete day in, day out. As the high continues to wear you on, you will sense physical relaxation after a while. This is when you start to feel some decrease in stress and physical tension you may have been feeling before, but it still will keep you active and on the alert. This continuing stimulation is excellent if you want some added energy for working out, but also an activity that requires physical and mental coordination, both at the same time like playing video games or hiking and doing some sports activities that require mental alertness as well.
Then, when the high wears off, it's best if you find a near lounge to sit and possibly fall asleep and rest well.
The medicinal use of the Green Dream strain

via Leafly
As with the Grape Kush and the Jillybean strain, the Green Dream strain is great for people who struggle with attention deficit disorders. It greatly helps with staying focused, but in a productive way altogether. With it you are able to take your mind off of depressive episodes or stress you might be feeling, but note that it is only temporary, since those things have to be remedied from within rather than with external aid. However, in the short term, it definitely helps with those ailments.
If you suffer from chronic pain due to arthritis or lupus, overall inflammation of the body and similar conditions, then the Green Dream strain can help you ease them up. Also, temporary pain due to injury or muscle spasms, menstrual pain, and the like can all be remedied by it.
Buying seeds and growing your own Green Dream plant
Online retailers do not have this strain's seeds for sale, unfortunately. This means that if you want to grow the plant at home you have to get clippings from a trusted grower. This will enable you to grow your own clones.
Growing-wise, the Green Dream strain is a bushy plant growing rather short and has its branches positioned laterally. This plant flowers within 8 to 9 weeks when you grow it indoors.