Herb Vaporizer: Hera 2 vs. Atmos Boss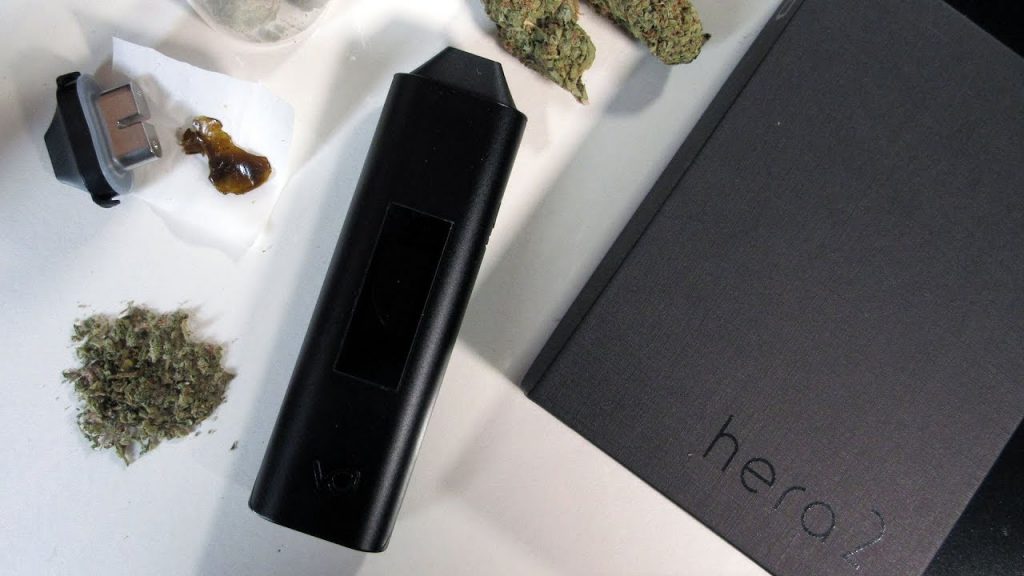 What is A Herb Vaporizer?
A herb vaporizer among people known as a vape in short, is a device used to vaporize substances for inhalation. Plant substances can be used, commonly cannabis, tobacco, or other herbs or blends. Sometimes even wax, hash, shutter and other marijuana derivatives can be used, depending on the device and user's preferences.
Vaporizers contain various forms of extraction chambers including straight bore, venturi, or sequential venturi, and are made of materials such as metal or glass. The extracted vapor may be collected in an inflatable bag, or inhaled directly through a hose or pipe. When used properly, cooler temperatures due to lack of combustion result in significantly more efficient extraction of the ingredients. Hence, the irritating and harmful effects of smoking are heavily reduced, the cottonmouth feeling, as is its secondhand smoke.
As cutting-edge technology enters the cannabis space, portable vaporizers are often at the forefront of cannabis innovation.
From vaporizers featuring water filtration to app-synced offerings, innovation is moving forward. Above all, we found the best vapes are designed for use with cannabis flower. Are you looking to get a new herb vaporizer? Why not try the Hera 2 or the Atmos Jump!
So, set your preferred temperature and enjoy hours of perfect pulls with the awesome handheld vape picks below.
Hera 2
Design and Function:  First of all, this is beautiful a patent claimed design. Also, rated for its precision and amazing capabilities. For that reason, Hera 2 promises an even and sustained vape of either your concentrates or herbal blend. This herb vaporizer can flip through over 100 temperature settings, and in addition, its hybrid dual chamber gives users an option to use both extracts and herb. Also, it's one of the most advanced and easy-to-use, dual-use vaporizers ever designed. This herb vaporizer is built to take a hit or two and keep on vaping. The outside body is stainless steel and it has a thick 2mm touch screen.
The simple one button for on, off, and vape mode is a breeze to learn and the temperature screen works just like you would want, allowing you to easily scroll between a hundred degrees of variable settings.
You can swap out different chambers to use with flowers or oil which gives the Hera 2 fantastic versatility. The ability to use this herb vaporizer for both types of cannabis really makes it outshine other vaporizers of the same price.
Unlike other pocket vaporizers, Hera 2 vaporizer was built to survive absolutely anything including a 90-minute session.
It comes with a custom 2680mAh capacity, which is pretty good. That will get you through a day's worth of sessions most likely and it takes a mini USB charger which can be found pretty much anywhere. Also, the fact that the battery is removable, it gives you two charging options. You can either remove the battery and charge it externally or charge it via USB with the battery still inserted in the herb vaporizer.
Best of all is that the Hera 2 pretty discreet. Other vapes look like e-cigarette most of the time but the Hera is flat enough to look like an MP3 player, which makes it easier to hide in plain sight and use them anytime and anywhere.
Furthermore, Hera 2 vaporizer features an advanced microprocessor that allows a number of control settings. This herb vaporizer features a bright and clear OLED screen which displays the temperature, herbal/concentrate modes, battery power, and Fahrenheit/ Celsius modes. The herb vaporizer also features vibration notifications which inform you of your vape sessions. Also, the LED lights on the side let you know what command the vaporizer is processing.
The vape is strong enough to produce thick, milky vapor in every session. In addition, its components are state-of-the-art. Furthermore, this vapes detail show a commitment to perfection.
Photo by Isabella Mendes via Pexels
Contents:
Seamlessly switch between Dry Herb & Extract modes (dual-use).
Ceramic & Stainless Steel hybrid dual-chamber
Hybrid heating technology
Compact sleek design with a VUI touch screen.
High precision temperature settings ( 350°F-450°F)
2680 mAh Li-Ion replaceable battery
Who is it for? This herb vaporizer is for people who use extracts and herb both. So, if you are looking for a long lasting smoking session, friends on a long trip. For someone who likes quality and durability without overpaying for the pricier competitive products.
Where to purchase? The Hera 2 can be purchased HERE for $149.99. It comes with a 1-year warranty and an optional 10-year warranty.
Atmos Jump Herb Vaporizer
Function and Design:
 One of the most compact true vaporizers on the market today, the Atmost Jump Herb Vaporizer amazed us, its truthful fans, ever since it came out. Namely, this herb vaporizer doesn't use a conduction style heating chamber. Many other vape pens have in the past which lead to uneven and combusted herbs along with an unappetizing taste. Instead, your material is heated evenly into a pure vapor that passes through a ceramic filter resulting in an exquisite flavor that can be enjoyed anytime and anywhere.
It is worth mentioning that The Jump improves on the portability of other Atmos models, so if you've been using an older model of the brand, know that there are a lot of improvements inside and out with the new Jump herb vaporizer.
Furthermore, this herb vaporizer is equipped with a long-lasting 1200mAh battery. Nevertheless, the Jump combines powerful performance with even and efficient heating. Designed to look like a pen-style vaporizer, this herb vaporizer was definitely built to perform like a true portable vaporizer. In addition, the Jump provides convection-based heating with all of the benefits of vaporizing. As a result, since the packed plant material never comes into direct contact with a heating coil. And, you're only inhaling pure vapor without the smoke and harmful byproducts caused by combustion and conduction.
Speaking of portability, this herb vaporizer comes in a compact 5.75" length, easily small enough to fit into your pocket or small bag. Another advantage of the Jump is its carbon fiber construction. This creates a strong shell that's also extremely lightweight so it's easier to handle when vaping or just carrying around.
What is your go-to herb vaporizer? Here we have reviewed two of the best that left an excellent impression on us. If you know any good be sure to let us and our readers know for a better smoking experience.
Contents:
1 x 1200mAh Lithium-Ion Battery
An Easy Access Mouthpiece
A beautiful Packing Tool
Cleaning Tool
Micro-USB Charger
Carbon Fiber Housing
Easy Access Mouthpiece
Heats Evenly & Efficiently
Anodized Heating Chamber
Single Optimized Heat Setting
How to use the Atmos Jump?
When you want to vape with this herb vaporizer what you need to do it simply to unscrew the mouthpiece, loosely pack your dry herb and twist the top back on. Just note that the Atmos Jump is not equipped to use waxes at all, so pure herbs is what you should be using at all times.
Then, after 3 presses to the power button, the unit will turn on, as it heats the indicator light will glow orange. In less than 10 seconds your material will be evenly heated and ready to inhale as shown by the light turning green. As was the case with some of the other products of their line, the Jump is set to a single temperature. This can be both a plus or minus depending on how you look at it. For those who like to experiment with different balances of flavor and cloud size might find it limiting. Most, however, should appreciate the simple to use the functionality of the preset 392F chamber. This is slightly higher than some other herb vaporizers we have reviewed previously which heat to 385F, but it sure it is a good choice for those who like their herb vaporized a little hotter.
Who is it for? Those looking for an affordable flower pen, young adults over 19+,
Where to purchase? The Atmos Boss can be purchased HERE for $59.95.