Grinders: Sharpstone or Cosmic Case?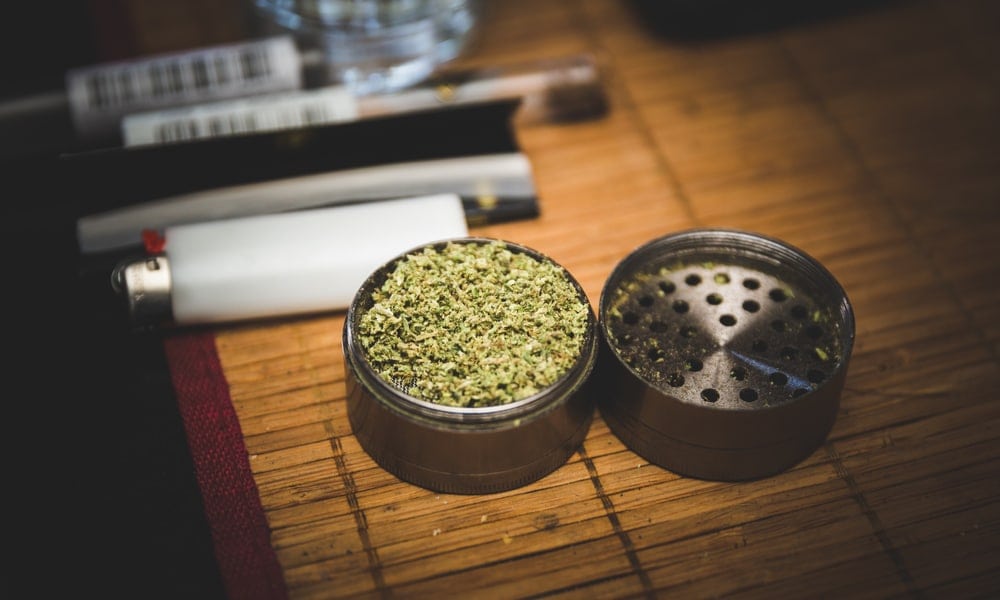 If you're a hardcore weed smoker, it's no secret that the best grinders remain an important part of your paraphernalia collection. But, let's talk about the best ones on the market!
A great grinder is a thing of beauty. Just dump your weed in, make a few twists and voila—you have smokeable weed. Without the use of a good grinder, preparing to smoke weed can be annoying. No one likes to bust weed with their nails. Well, that might not be entirely the case, but you get the point.
That being said, not every grinder on the market makes your job exponentially easier. There are obviously some duds and some spectacular products available for your weed-smoking convenience.
You can compare a good grinder to a good weed. If the weed is not what you hoped you would get, you still would get high yet it won't be to the degree and with the effects, you desired the experience to be. Same with the grinders – every grinder would grind the weed, it is just a question of how well would the grinder do the job.
The market for weed-related gadgets has spread significantly after more and more countries started legalizing weed for recreational use. The number of grinders on the market is ginormous. They come at different prices yet at the end of the day, what you pay for is what you get. Cheap grinders are available to buy everywhere, like for example on websites like Ebay or Amazon. There are more exclusive grinders which will cost you more, but the design quality and the final product that you get out of them is worth the money if you are a passionate weed consumer who would actually use the product a lot.
Because let's face it, grinding the weed manually and then rolling it is okay if you smoke every once in a while, but if you are a regular user then it will end up being a chore rather than pleasure.
If you are thinking about investing in one such product for your weed grinding needs, here are some of the best grinders that you can find on the market!
But which is better? Sharpstone or Cosmic Case? It's hard to say really. Check out our comparison below.
Sharpstone 2.0 – 4pc Grinder
Description: 
This re-designed grinder still provides you with the same great features of the original SharpStone Grinders, but with a few modest upgrades in ergo design and quality. You also still get the authentic SharpStone experience. In addition, there have been a few more features to help prevent counterfeiting and improve your overall grinding experience. Overall, you just can't beat a Sharpstone!
Design:
Made from Aircraft Grade Aluminum Rod using the newest in CNC machining technology.

Anodized for a smooth finish

Diamond Cutting Blades for extreme efficiency.

Stainless steel pollen screen 

Powerful Neodymium Magnets for incredible closure.

Thin poly ring around the top grinding section, for smooth grinding and no friction.

Comes with protective pouch and pollen scraper!
Price: $44.00 online here – get it today and choose which color is best for you!
Recommended for: The everyday smoker, great for dense nugs and if your weed is a little wet it will still do its job.
Cosmic Case Grinder
Description: 
The Cosmic Case small single chamber grinders are available in two styles: Classic Polish (not anodized) and Anodized Colors. Both styles are made of medical grade aluminum and feature heavy-duty magnets and precise shredding blades. The triple chamber has a non-replaceable mesh screen for sifting pollen. In addition, they are fingerprint and scratch resistant. They are popular, stylish and long-lasting!
Design:
• Unique shredding teeth that are super strong
• Heavy Duty Magnet for an ensured grip
• Medical Grade Anodized Aluminium
• Mesh screen chamber for pollen catching
• Small measures approx: 2 1/8″W x 2″
Price: $54.99 online here – you can mix and match with your best friend!
Recommended for: best friends, artists, and makes a great grinder for your favorite sticky herb.
Phoenician Engineering
Phoenician Engineering Gold Grinder via Phoenician Engineering
Being one of the more exclusive weed grinders in the market, the Phoenician Engineering grinder looks like a real piece of art. The products from this line are 'Medical Grade Standard' meaning that the materials they are made of are of top-notch quality.
This grinder is especially made for users of medical cannabis, yet if you like it and would like to get it, who can stop you? The interesting part is that the Phoenician Engineering grinder has a knurl grip for an easy twist, meaning that it is suitable for people who have arthritis or injured or weak hands.
The Phoenician Engineering grinder comes as a two or four piece model according to your needs.
If this grinder wasn't remarkable enough, it also comes in a 24k gold plated and chrome version for those who enjoy the fine things in life.
Design:
No Threads, Patented Fast Lock System
Patented Diametric Teeth
Replaceable Screens
Exterior Lobe Gripping designed for multiple grip options and styles
Top has built-in ashtray and rolling papers, holder
Price: There are multiple different grinders from Phoenician Engineering that come at different prices. You can get a small yet high quality grinder, you would need to pay $49.99, while if you want to go for the more elite models, the platinum model will cost you $499.99, while the gold plated one comes at a whopping price of $1499.99 (but who would expect less for something made out of real gold!)!
Suitable for: mainly created for medical marijuana users, yet it really suitable for anyone who is willing to pay such price
Look at this beauty in action!
Kannastor
Kannastor Grinder via Kannastor
There are several products in Kannastor's line of product, but their most remarkable product is the GR8TR model. Consisted of 8 pieces, removable screens, and removable grinds, you can choose which extent do you want to grind your weed too.
This is a high-quality weed grinder that comes with a limited lifetime warranty. The best part is that you are covered for wear and tear as well! They come in different colors and a different number of chambers, so you have the opportunity to choose the one that will really satisfy your needs.
Design:
Premium Food Grade Quality
Engineered for a Perfect Grind
GR8TR Storage Lid
Spare Grinder Plate Storage
Bonus Storage
Anti Friction & Residue Rings
Micro Teeth
Deep Dish Grinding Chamber
Easy Change GR8TR Plates
Grounds Storage & Screen Chamber
Jar Body Design
Easy Change Screen
Polished Puck Base
Price: Depending on the number of chambers you decide to go for, the price is anywhere between $79 for the single chamber grinders and $95 for the models with 8 pieces.
Suitable for: recreational weed users who are looking for a high-quality product at an acceptable price
Zip Grinders
Wave Mandala Grinder by Zip Grinders
The products in the Zip Grinders series are not only affordable, durable and come with a lifetime warranty, they are also artsy gadgets and look amazing. The company offers different models of their grinders, yet they all come with big storage space.
Design:
Premium aluminum herb grinder
49 Sharp CNC DIAMOND CUTTING, RAZOR SHARP TEETH
Stainless Steel Pollen Catcher Screen
Powerful Neodymium Magnets for a tight seal and easy grind
Textured sides on the lid give the best slide free grip
Large yet smooth and powerful grind
Price: The prices of the products in the Zip Grinders series vary, yet they are in the affordable range. The Wave Mandala comes at the regular price of $29.95, yet at the moment there is a discount and you can get it for $19.95. Other products in the range come at as little as $14.99
Suitable for: anyone looking for an affordable grinder that will do a good job.
Who knew that choosing a grinder can be so difficult? There are so many awesome products on the market, so in the end, it comes down to how much you are willing to pay. Hope we made your decision easier, yet chances are – we just made it harder for you, presenting you with all of these amazing grinders!