EDITORIAL: Puff and Paint – The New Trend in Cannabis and Mental Health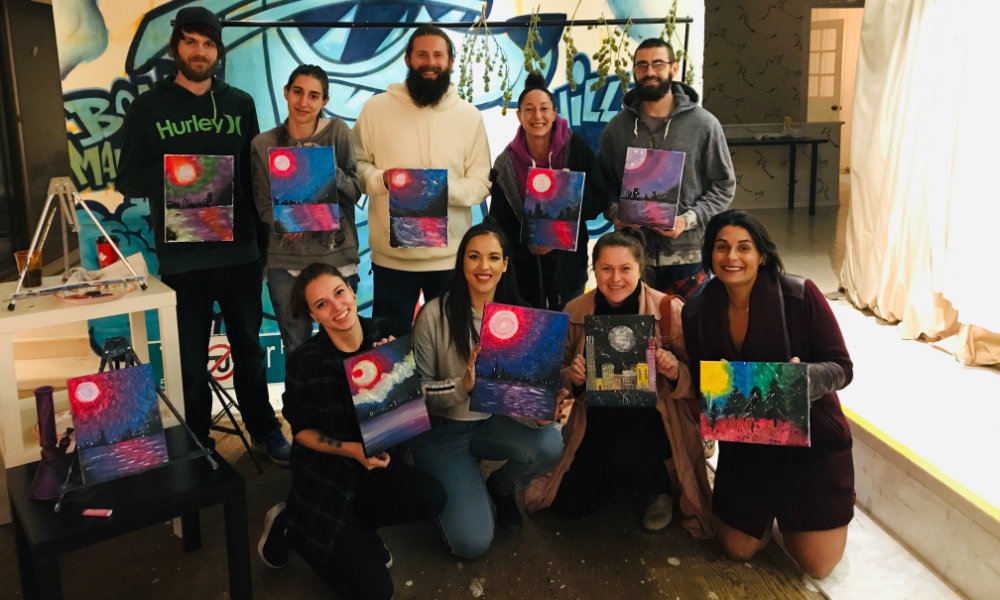 What is Puff and Paint?
You might be thinking, the concept seems self-explanatory. However, the benefit of combining medicinal cannabis with a creative outlet tends to be overlooked. Cannabis has been helpful in aiding those suffering with a variety of physical and mental ailments. Combining these health benefits with a stress reducing activity, such as painting, creates a productive outlet. The idea is to provide an opportunity to remove oneself from the chaos of our own thoughts and focus our attention on a creative project. The goal is not to produce an identical painting to that of the teaching artist, but to let yourself go and express yourself creatively.
Painting and Mental Health
Painting has been a life-saving outlet in my own journey with mental health. In my early teen years, I was diagnosed with Generalized Anxiety disorder. The severity of my aliment was like a roller coaster; one where the twists, turns and drops were dictated by the events unfolding in my everyday life. In my early 20s, my anxiety reached a peak that I had yet to experience. I was unaware of the resources available outside of traditional medication. I knew that I wanted to incorporate some sort of practice into my daily routine that would aid in reducing my high levels of anxiety. During this difficult time in my life, I began to paint again. Painting was a childhood passion of mine that I was unfortunately discouraged away from at a young age. Little did I know that art would not only become a flourishing career for myself but would aid in the significant improvement of my stress-management skills.
Combining Cannabis with a Creative Outlet
When I first began to teach paint night classes, cannabis was not involved. I would host these classes at pubs, and it did not take long for me to recognize a pattern of behavior with the attendees. Many of the patrons would become frustrated with themselves, and project that anger on to the teaching artist or others in the class. This created a hostile environment that would sometimes overpower the class atmosphere, preventing the purpose of a creative outlet. Utilizing cannabis in my creative process has always encouraged me to take a step back, be kind to myself, and practice patience. I noticed similar results in others. Those who were nervous before class were able to relax, let go and enjoy the experience more. The stress-reducing benefit of cannabis, in combination with the act of painting, creates a fun and relaxing environment.
Puff and Paint on YouTube
If you find yourself on a budget or unable to find enough time to attend a Puff and Paint class, no need to worry! I provide Puff and Paint tutorials online, that are easily accessible through Youtube!

Take some time to yourself, smoke, relax and follow along as we create a painting together.
Connect with me:
Instagram: happylittletreez.art
YouTube: HappyLittleTreez Art
Patreon: HappyLittleTreez