I Went To MedMen In Los Angeles And OMG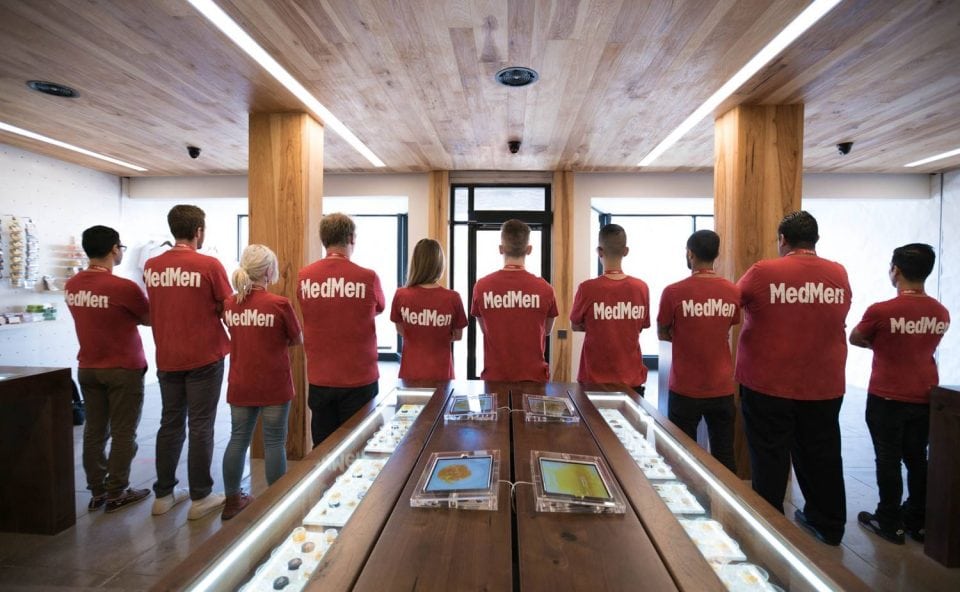 MedMen was hands down the most impressive dispensary I've ever seen. It was a flat-out marijuana store.
A few weeks ago, I was in Los Angeles visiting some friends, attending some meetings, and generally avoiding the frozen tundra that is Canada in February. Since legalization, the cannabis climate over there has utterly exploded and has become a shockingly mainstream thing.
Everywhere you look there are new dispensaries popping up, and it seems like everyone and their grandparents are suddenly getting high. Seriously, friends of mine who never used to smoke before are suddenly experts and their once-reserved parents and grandparents are suddenly smoking or taking edibles on the regular.
I'd been to a couple of different dispensaries before and the protocol was usually the same: show your ID, wait in a waiting room, and get called in to speak with a "doctor" who writes you a prescription. This trip, a friend of mine told me about a new spot called "MedMen" that I had to check out.
He brought me to one of their locations on a Saturday afternoon. The first thing I noticed was the massive line-up outside and I immediately wasn't willing to wait. "Trust me, it's worth it" he assured me, but I couldn't comprehend why this dispensary was going to be so much greater than any of the other ones I'd been to. I reluctantly stayed in line for a solid 20 minutes before the security guard at the door allowed us entry.
"I kid you not, the place was a freakin' Apple store."
The moment I walked through the MedMen doors, I instantaneously knew what all the fuss was about. I kid you not, the place was a freakin' Apple store. No joke, there are only two major differences between MedMen and an Apple store. Firstly, the employees all wear red shirts as opposed to Apple's blue shirts. Secondly, they sell weed as opposed to Apple's overpriced gadgets. That's it.
The counters to the right offered a slew of different edible treats, as did a refrigerator in the back corner. The tables to the left featured an array of different strains and information about each one. The walls were lined with everything from vaporizers to disposable pens to oils and even canine-specific treats. There was also no shortage of employees roaming around, constantly offering assistance. The most Apple-esque thing about the entire establishment, though, was the Genius Bar at the back, where you could speak to cannabis professionals about your needs or exactly what you're looking for.
It was almost too much for my brain to handle. My friend and I spent a solid hour roaming around (it should be noted that the place wasn't very big), just looking at all the products and admiring the sheer fact that a place like this exists in real life. I didn't want to spend a fortune, though. After all, I was heading back home in two days and didn't want anything to go to waste; therefore I told myself I could buy one item.
"Holy crap were these things ever delicious."
After carefully inspecting a number of different products, I decided on a bag of cookies and cream bites that I found in the refrigerated section. The four treats cost about $16, which seemed pretty reasonable.
I couldn't wait to try these things, so as soon as I left the store I ripped open the bag and my friend and I tasted them. Holy crap were these things ever delicious. They were almost too tasty because I just wanted to keep eating them. In fact, after about a half hour of waiting for it to kick in without any results, we did that classic edibles mistake of talking yourself into having some more. To be honest, I just wanted to eat another square because of the taste; getting high was secondary at this point.
Let me tell you, these things certainly did the trick. We got back to my friend's apartment just in time for them to fully kick in. We sat on his balcony, attempting to have a normal human conversation but ultimately failed horribly. Once you're at that level, it's best to just shut up and stare at some trees.
I can wholeheartedly say now, MedMen lives up to the hype. It was one of the most impressive stores I've ever walked into; the layout, the staff, the professionalism and efficiently of a cannabis dispensary… the whole thing was mind-blowing. To this day, I can no longer walk into an Apple store without feeling a bit of a buzz.