How To Make Marijuana Rice Crispy Treats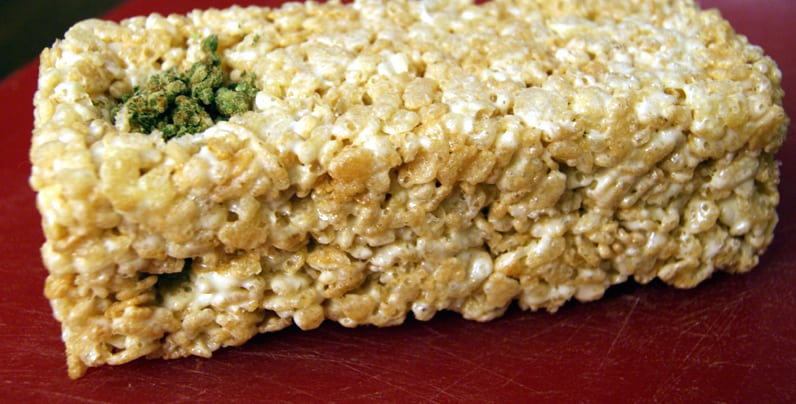 I haven't met too many people that don't like rice crispy treats, and when you add marijuana to the equation, the list gets even smaller.
There's just something about ripping off a piece of gooey goodness from a rice crispy treat that makes me smile every time. Plus the recipe below packs a punch, so it's a double bonus. Marijuana Rice Crispy Treats are perfect so you and your friends. Or just you!
Marijuana Rice Crispy Treats
1/2 cup of cannabutter
4 cups of miniature marshmallows
5 cups of Rice Crispy treats cereal
Melt margarine in large saucepan over low heat. Add marshmallows and stir until melted and well-blended. Cook 2 minutes longer, stirring constantly. Remove from heat.
Add cereal. Stir until well coated.
Using a buttered spatula or waxed paper, press mixture evenly and firmly in buttered 13 x 9-inch pan.
Let cool and serve
Sit back and snack. Remember to start with a 1/4 or 1/2 of the treat to make sure you don't intake too much at once. Some edibles take 1-2 hours to kick in fully.
Add a Weedy Twist to your Crispy Rice Squares
If you are someone who loves experimenting with Marijuana edibles then these weed rice crispy squares sure make for a great treat to experiment with.
Recipe 1- Skinny Strawberry cheesecake weed rice crispy squares
This soft and chewy treat is very easy to make, it can be stored up to 3 days in an airtight container.
Ingredients
½ cup cannabis butter
33/4 cup cannabis-infused marshmallows 
1 oz sugar-free, fat less instant cheesecake pudding mix
41/2 cup of rice crispy cereals
1 cup of frozen strawberries. Keep them thawed and diced.
Procedure
Lightly coat the baking tray with cooking spray.
In a big pot melt the cannabis butter over low heat. Then add the marshmallows and pudding mix into it. Keep stirring continuously with your spatula.
Remove pot from heat and mix the cereals and diced strawberries into it. Then spread the mixture on the tray and let it cool. Once it hardens up, slice it up into squares.
Recipe 2 – White Chocolate Rice Crispy Treats
If you love white chocolate, then you are going to enjoy making this quick 4-ingredient weed rice crispy square recipe.
Ingredients
12 oz of any cereal/RiceKrispies
10 oz bag of cannabis-infused marshmallows (mini ones)
½ cup of cannabis butter
12 oz bag of white chocolate chips
Sprinkles for garnish
Procedure
Grease the baking tray with butter and keep aside.
In a pot heat butter, when it melts adds the marshmallows and half of the chocolate chips and keep stirring it with your spatula.
Then add the RiceKrispies and mix till well-coated.
Then cool it off and spread it out on the tray.
Melt the remaining choco chips in the microwave. Then pour it in a piping bag and add it as a frosting over the spread.
In the end, add the sprinkles and refrigerate for 30 minutes before cutting into squares.
After 30 minutes just cut it up and pop it into your mouth.
Did you know? Foods like weed rice crispy squares tend to smell very good, in a study conducted by Nature Neuroscience it was discovered that the active ingredient in THC triggers the olfactory bulb in humans.
Recipe 3- Peanut Butter Mango and Cream Rice Crispy Treats
Mango, cream, and peanut butter makes for a heavenly combo. Here is a quick way to make this delicious weed rice crispy square-
Ingredients
Rice cereal- 3 cups
Crushed Graham crackers- 1 cup
Corn Syrup-1/2cup
Vanilla essence-1 tsp
Cannabis infused Peanut Butter– 1/3cup
Fat-free cream cheese- 4 ounces
Powdered sugar-1/2cup
Sliced mangoes- 2 cups
Procedure
Mix the rice cereal and graham crackers in a bowl.
In a pan mix-corn syrup, vanilla essence, and peanut butter. Bring to boil and cook it until the time mixture is absolutely smooth.
Mix the above mixture with the rice cereal and graham crackers.
Spread it on a greased brownie tray and freeze for 20 minutes.
In a bowl mix cream cheese, sour cream, and cannabis-infused peanut butter. Mix to form a smooth frosting.
Spread it over the rice crispy spread and top it up with sliced mangoes and let it chill for an hour.
Then just cut into squares and savor the flavors.
A study published by Neuropharmacology stated that cannabis edibles help establish a greater connection between you and your food.   So, cook exciting weedy treats and give your dopamine a double boost.
***Make sure to keep away from kids, they recognize these as something to eat!***