Cannabis-Infused Chocolate Peanut Butter Cereal Bars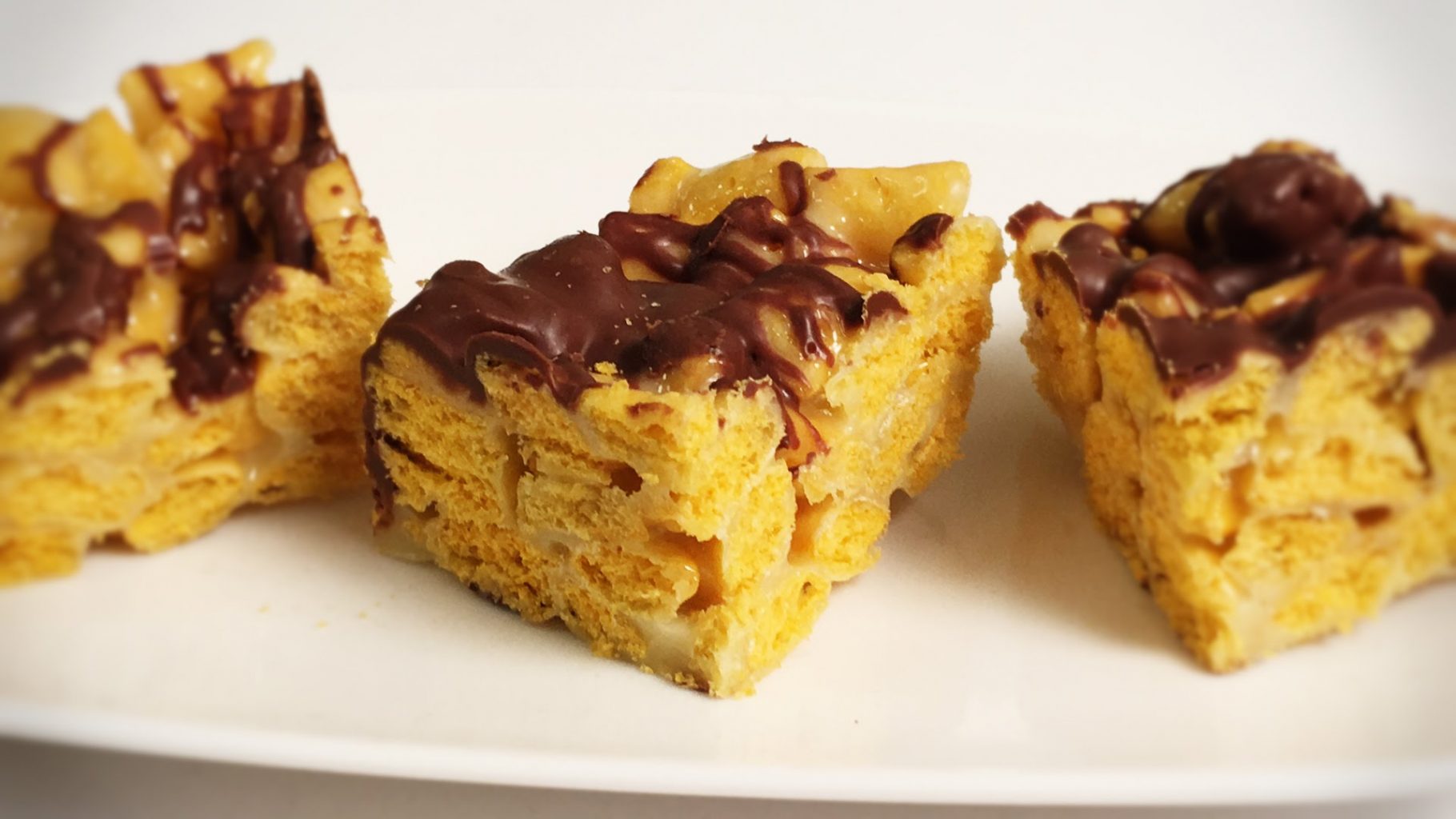 These crispy cereal treats are really simple and super delicious. Peanut butter, chocolate, and cannabis!
These Cannabis-Infused Chocolate Peanut Butter Cereal Bars are the perfect treat for you and your friends. For any chocolate and peanut butter enthusiast, this cannabis recipe will indulge all your taste buds. Can be kept warm or even frozen, either way, it's the perfect edible.
Cannabis-Infused Chocolate Peanut Butter Cereal Bars
Ingredients:
4 to 6 grams of cannabis flower
1 cup of butter
7 cups of marshmallows (1 bag)
8 cups of peanut butter crunch cereal or your choice of cereal
1 large milk chocolate bar (optional)
Directions:
STEP 1. DECARBOXYLATE CANNABIS
Firstly, weigh out and grind the cannabis.  Place parchment paper on a baking sheet and set the oven to 225 degrees F. Remove any large stems and seeds of course. Place the marijuana on a sheet and spread out evenly. Cook for an hour and a half. When it's finished it will be noticeably darker or browner and have a very pungent and aromatic aroma.
STEP 2. CLARIFY BUTTER  
Cube your butter and put it in a medium sauce saucepan medium heat. Heat it until the white milk solids begin to separate from the oil and float to the top in a foamy white layer that you can carefully scoop out. This will leave you with only fats and oils. But, once you have finished your oil will be golden and clear and will be perfect for the cannabutter
STEP 3. INFUSE CANNABIS & BUTTER
Now we will combine the clarified butter and the activated cannabis in the top of a double boiler set up. The infusion can go in 30 minute or so increments to check the water level of the double boiler. In addition, stir the mixture for a minimum of 1 hour to a maximum of 3 hours.  When the butter is complete it will appear darker and more green. Now filter it through several layers of cheesecloth or a fine mesh screen. Lastly, squeeze out as much of the infused butter oil as possible resulting in potent cannabutter.
STEP 4. MAKE CEREAL BARS
The next step is separating the cannabutter. One tablespoon into our double boiler top bowl and a second tablespoon for buttering a 9X13 dish. Then the remaining butter will go into a large saucepan over med-low heat. Once melted, add in the marshmallows. Mix on med-low until the marshmallows are fully melted. Remove from heat and pour your cereal in while it is still hot and mix it fully. Keep mixing until the cereal is all evenly and fully coated. Now transfer the mixture into the pre-buttered 9X13 pan. Use wax or parchment paper and press the bars very firmly into the shape of the pan.
STEP 5. TOP WITH CHOCOLATE: Optional
So add the chocolate bar, broken into pieces to the double boiler with our tablespoon of infused butter and let it melt. In roughly 5 minutes or so it should be melted enough so that you can mix it and make it glossy. Drizzle the melted chocolate on top. Lots of chocolate or just a sprinkle.
***Let them cool completely before you cut them into at least 12 pieces. Delicious cold, warm, hot or even frozen.***