Product Review: MagicalButter.com

WATCH: Ever wanted to make cannabis butter in under 2 hours? MagicalButter.com has the perfect product for you! Make cannabis butter, salad dressing, soups, sauces and much more!Check out our review with Theresa Longo as she shows off the beautiful product!Visit MagicalButter.com to purchase!

Posted by Higher Mentality on Monday, July 9, 2018
Magical Butter Machine Review and Unboxing with Theresa Longo
Magical butter machine review: For many people, smoking or vaping cannabis is not an option.
Products like the Magical Butter maker offer consumers alternate ways of activating the benefits of cannabis. Marijuana edibles are growing in popularity. But it's a challenge to regulate potency, especially when many of the products on the market are homemade. As always, the first step to a good edible is a potent butter or oil.
Enter, the Magical Butter maker (MB2). The MB2 is an all-in-one cannabis extract maker able to produce cannabis-infused butter, tinctures, and oils in as little as 2 hours. This godsend of a machine is fully-automatic and features microprocessor-controlled program sequences. What does that mean?
Well, at the touch of a button, you can create great-tasting, healthy cannabis extracts or make natural skin-care products.
Enter Theresa Longo.
Theresa Longo Opens the Magical Butter Box 
Product Review: MagicalButter.com

WATCH: Ever wanted to make cannabis butter in under 2 hours? MagicalButter.com has the perfect product for you! Make cannabis butter, salad dressing, soups, sauces and much more!Check out our review with Theresa Longo as she shows off the beautiful product!Visit MagicalButter.com to purchase!

Posted by Higher Mentality on Monday, July 9, 2018
Theresa Longo has an appetite for the arts and cannabis. Her resume for performance is vast, including live television and radio appearances. Theresa's outgoing personality made her the perfect candidate to experience unboxing the magical butter machine.
Let's not forget that she's a cannabis enthusiast of the highest caliber with a real passion for the spotlight. With close to 20K followers on Instagram, Theresa makes an impact through fashion, travel, and an all-around zest for life that is contagious.
What's in the box?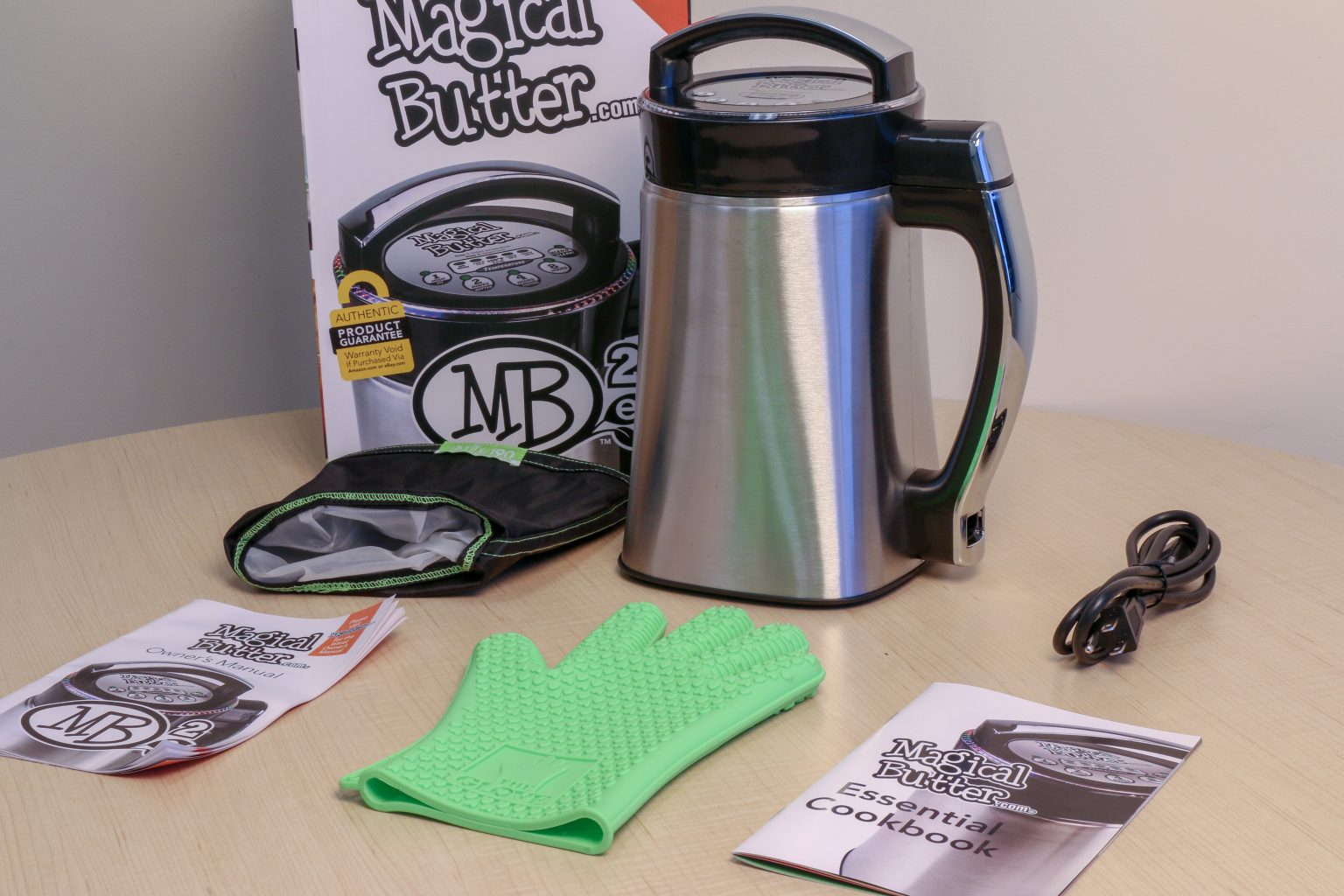 In-the-box you get:
The Magic Butter Unit with detachable lid and mixer
Silicone-based handling tool "The Glove"
1 Purify Filter, the purify190
The Magical Butter Essential Cookbook and Owners Manual
1 Power cable
Price: $175.00-US – Purchase it here. 
How does the Magical Butter work?
It is important to note that you must decarboxylate (decarb) your marijuana BEFORE putting it in the MB2. Once your cannabis is 'decarbed,' you can put it in the machine and pour in your melted butter over top.
The MB2 has an immersion blender combined with a powerful, digital thermostat and heating unit. Other than having to decarb your cannabis, much of the labor is out of your hands. The machine blends, heats, stirs, grinds, and steeps the ingredients at ideal temperatures to produce a consistent product every time.
The Magical Butter can make 2-5 cups of butter or oil per cycle, in as short as two hours. The machine has 5 temperature settings ranging from 130 degrees to 220 degrees Fahrenheit. It also has 5 timing settings for various tasks: 1 Hour – Oil, 2 Hours – Butter, 4 Hours – Tinctures, 8 Hours and clean.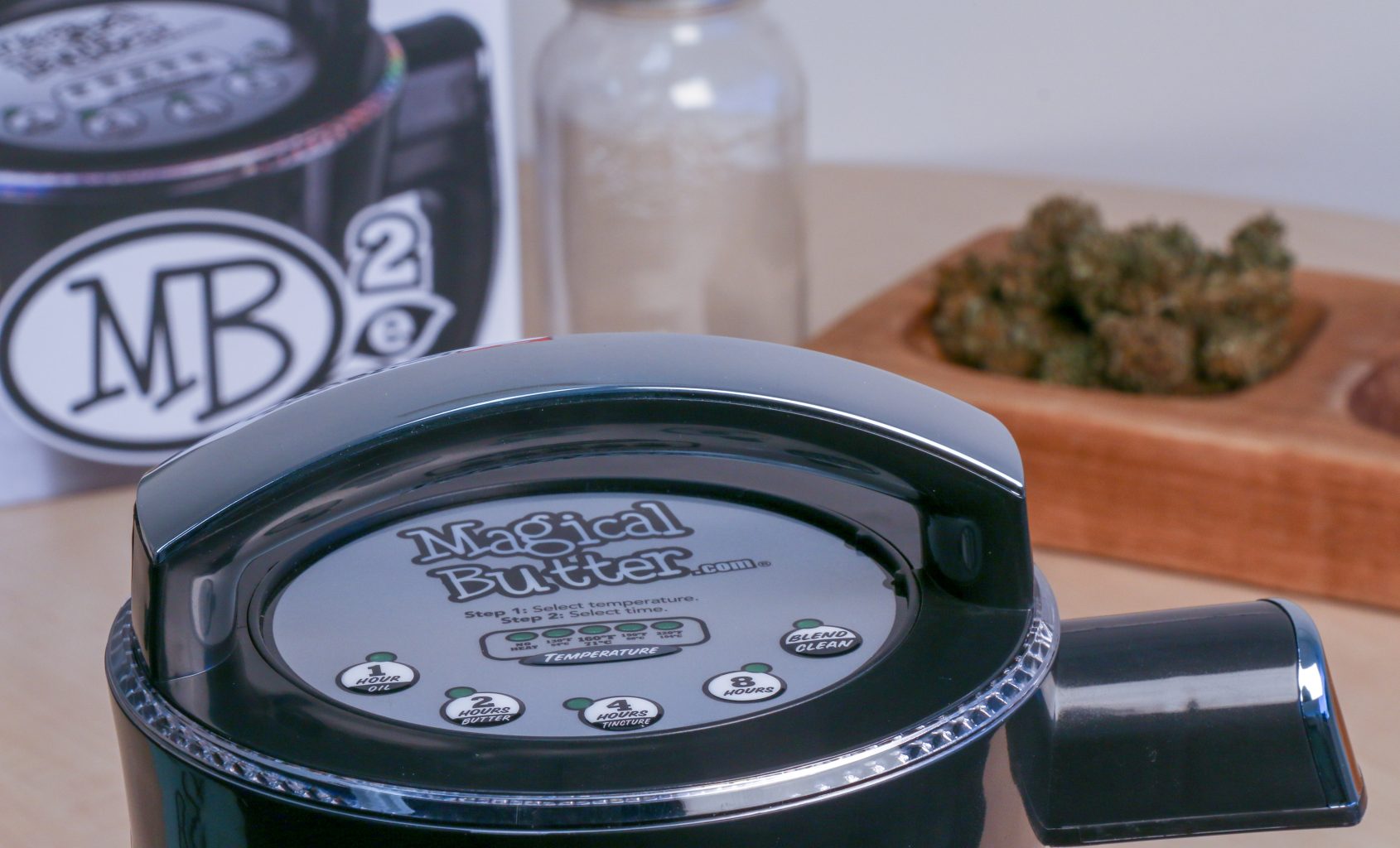 Design quality
Upon removing the MB2 from its box, it has an immediate quality feel to it. Its a sleek looking unit that won't look out of place on any kitchen counter. The machine resembles a large electric kettle and its made of durable stainless steel. Inside the container, helpful markers provide guides for ingredient amounts. In addition, all of the elements which control time and heating elements are conveniently situated on the lid.
One area of concern in the design is the plastic handle at both the top and sides of the machine. When opening or carrying the machine, the handles don't feel high quality like the rest of the unit. However, that is one of the only features that we didn't like. Overall, the Magical Butter is a sleek, well-built extract maker. Learn more here.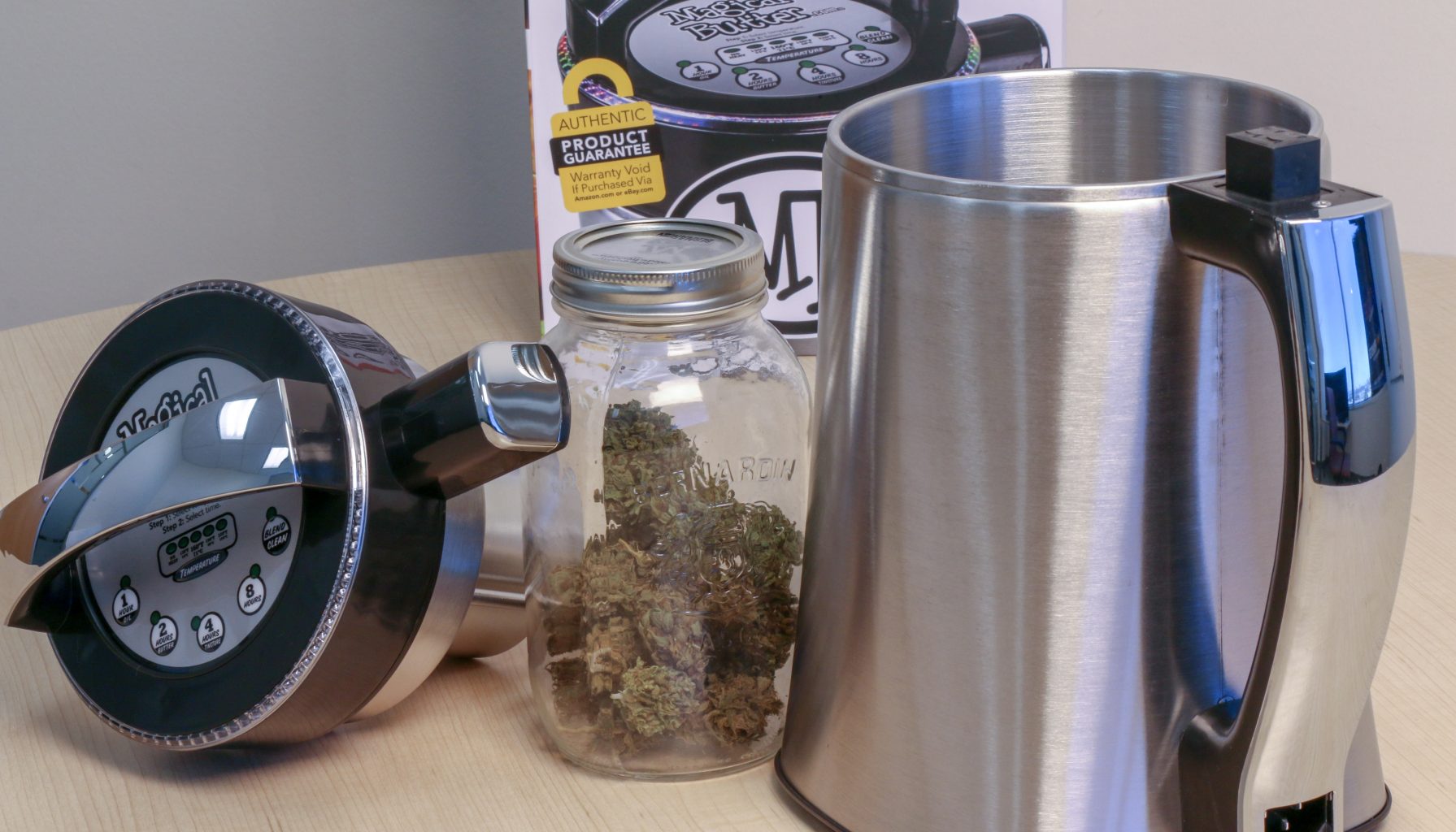 Is it worth the price?
The short answer – yes, absolutely yes. Marijuana extracts and edibles are extremely expensive when bought commercially. Companies use sophisticated processes and cutting-edge extraction techniques that make the end product more expensive.
The MB2 retails for around $175US. For that price, you can make your own extracts, tinctures, and oils for the long foreseeable future. Not to mention, every time you buy edibles or extracts you are paying for different levels of production.
After using the MB2 a handful of times, you will have already saved the price tag in production costs. So if you use edibles, extracts, and tinctures on a regular basis, the Magical Butter is probably the best way you can stay healthy and save money in the long run.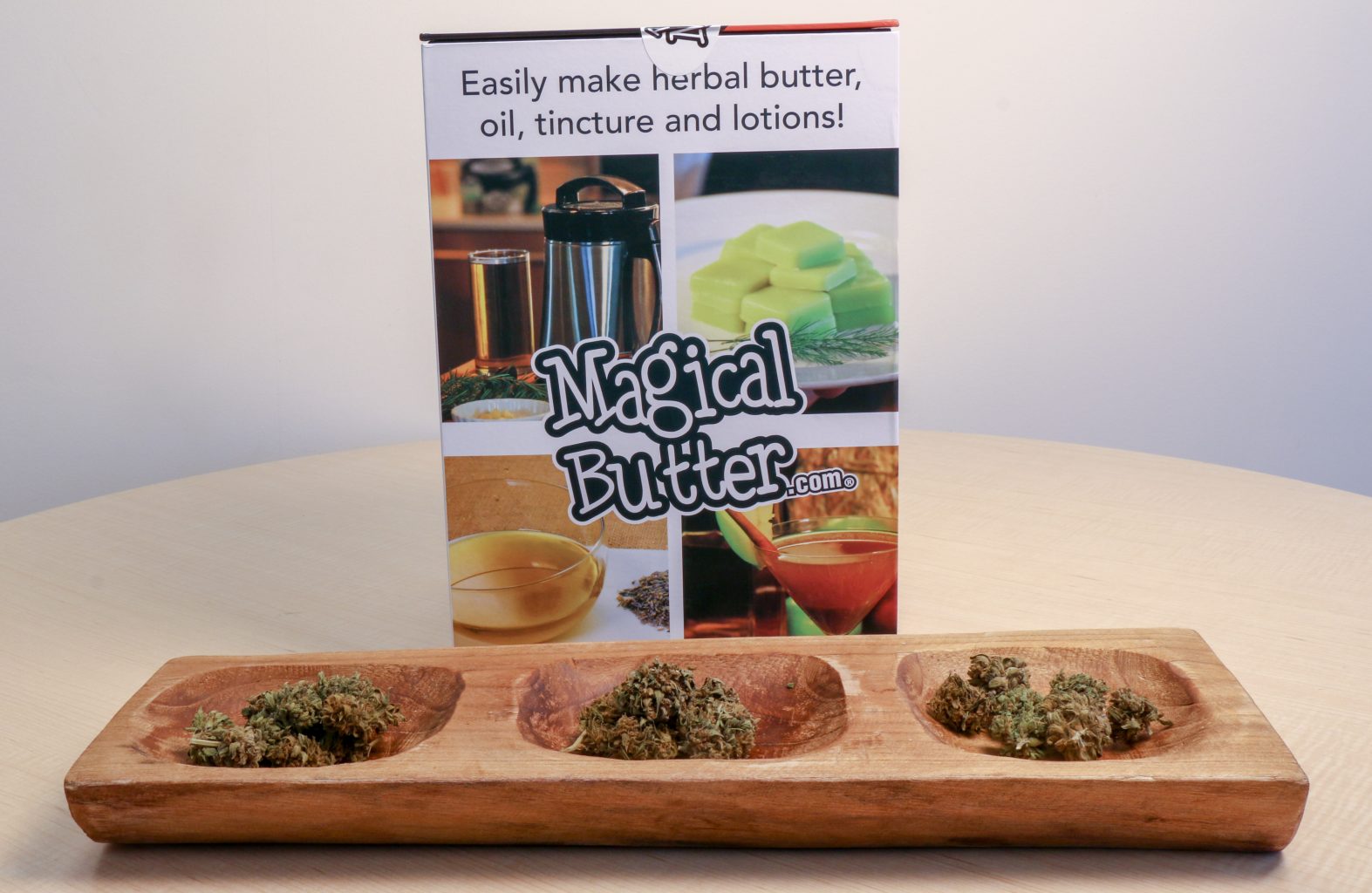 Wondering where you can get one of these amazing machines? Click here.