DIY Marijuana French Toast!! Classic Quick and Easy Recipe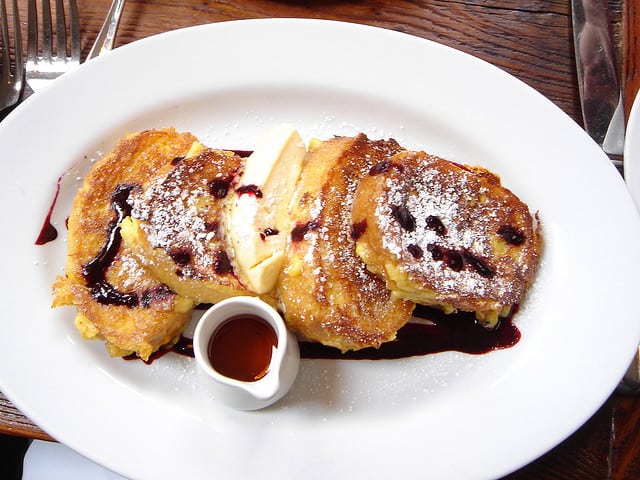 Ever tried marijuana french toast for breakfast? If smoke up is the first thing you do in the morning, then don't.
Wait until this delicious breakfast is ready and then you'll be able to have breakfast and get stoned at the same time. Marijuana French Toast is the best way to begin the morning that combines into a good treat for the body and which blows your mind too.
Marijuana French Toast
Ingredients:
1 French baguette
1 and ½ tablespoons of butter
3 tablespoons of cannabutter
4 eggs
1 cup of milk
¼ cup of sugar
3 tablespoons of maple syrup
1 teaspoon of vanilla extract
½  teaspoon of salt
powdered sugar
Directions:
Lightly butter the baking dish. Cut the baguette crosswise at an angle to make 8 pieces. Each slice should be at least ¾ inches thick. Keep aside. In a small bowl cream the two kinds of butter until they are thoroughly combined. Now spread this butter on one side of each of the 8 slices. Now arrange these 8 slices, butter side up, into the greased baking dish.
In a separate mixing bowl add the eggs, milk, maple syrup, sugar, vanilla, and salt. Whisk the ingredients until they blend. Pour this mixture over the bread and allow the slices to soak it up by pressing it down on it with a spoon. Cover the dish and refrigerate for 8 hours.
When you wish to have your Baked Marijuana French Toast, preheat the oven to 350°F. Once heated uncover the dish and place the baking tray in the oven and bake for 45 minutes or until the tops turn golden brown. Dust them with powdered sugar and enjoy the power. The potent baked marijuana toast is a great way to begin a morning as it gives you just the right fillip.