Marijuana Pizza with a Cannabis Olive Oil Infusion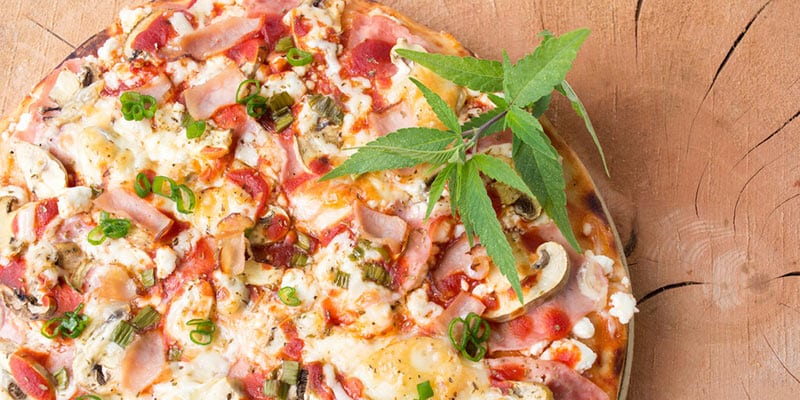 Learn to infuse olive oil with dried cannabis flowers and then use it to make crispy delicious marijuana pizza from scratch with your choice of toppings.
So, who doesn't like pizza? It can come however you want it, any toppings. gluten free, dairy free and extra cheese! This recipe will keep you wanting to eat more. It is perfect for a date night, game night with friends or just a Netflix night alone.
Marijuana Pizza
Ingredients
DOUGH INGREDIENTS: 
1 package  of active dry yeast
1 cup of warm water (110 degrees F.)
2 1/2 to 3 cups of flour (more if needed)
1 teaspoons of salt
1 1/2 tablespoons of extra-virgin olive oil
PIZZA RECIPE
1 Dough Ball
2 tablespoons of marijuana olive oil (see below)
1/2 cup of pizza sauce
8 0z of Mozzarella cheese
Your choice of toppings 
MARIJUANA OLIVE OIL EXTRACT:
1/4 cup olive of oil
2 – 4 grams of ground marijuana 
Directions
STEP 1: MAKE DOUGH
In a large bowl, combine yeast with water, olive oil, salt. Mix and allow to proof. Then add half of the flour and mix well to thoroughly incorporate. In addition, throw in all remaining flour except 1/2 cup and mix well with your hands. Transfer dough to a lightly floured work surface and knead dough for at least 5 and up to 7 minutes. Finally, transfer dough to a lightly oiled 2 o3-quart bowl. Make sure to turn to coat with oil. Cover with a damp towel and let rise in a warm place until doubled in size, usually at least 1 hour.
HM TIP: Make sure to add enough flour so the dough doesn't become sticky.
STEP 2: DECARBOXYLATE/ INFUSE OIL
Preheat the oven to 250 Degrees F. Grind the marijuana and then add 2 tablespoons of olive. Cover tightly with foil or a sealed lid. Place in oven for 30-40 minutes. Remove from the oven and let cool. If making your own dough divide dough into 2 portions ( 2 – 12″ pizzas) and form into balls. Place on a lightly oiled baking sheet and cover with a damp towel. Let rest for 15 minutes before shaping.
STEP 3: MAKE/BAKE PIZZA
Preheat Oven to 450 Degrees F and place on the center rack. Roll or toss your pizza dough into 2 – 12" pizzas. Transfer dough to Pizza Peel. (Or use an inverted cookie sheet with flour or corn meal underneath.) On each pizza, spread 2 tablespoons of the marijuana-infused oil and spread evenly. Then spread the sauce evenly onto the pizza, top with cheeses and your choice of toppings. Finally, transfer to the oven and bake 15 – 20 minutes until crispy and brown with bubbling cheese.
Serve and enjoy!