Canna Banana Bread Recipe – It Doesn't Get Much Better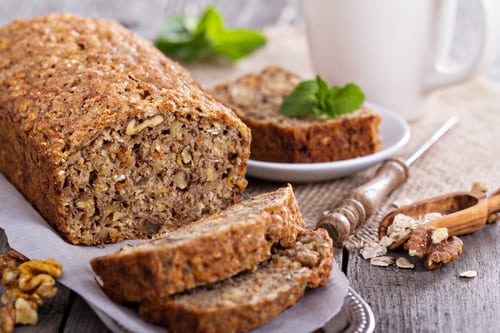 Transform those overripe bananas into everyone's favorite sliceable snack: banana bread.
Easy and moist banana bread recipes come in all forms, from banana chocolate chip bread and banana nut bread. But this recipe is particularly special because it's infused with cannabutter. So, grab your mixer, your bananas, and your cannabutter and make some Canna Banana Bread!
Canna Banana Bread
Ingredients:
1 ¼ cups  of sugar
½ cup of cannabutter, melted
2 eggs
1 ½ cups (3 to 4 medium) overripe bananas, mashed
½ cup of buttermilk
1 teaspoon of vanilla extract
1 tablespoon of orange zest (optional)
2 ½ cups all-purpose flour
A teaspoon baking soda
½ teaspoon salt
1 tablespoon cinnamon (optional)
1 cup chopped nuts (optional)
Directions:
Preheat oven to 350°F. Butter and flour the bottoms only of two mini loaf pans, or one large loaf pan.
Beat the cannabutter and sugar with a hand mixer on medium. Add the eggs, one at a time, and beat at a low speed until well blended. Add the mashed bananas, buttermilk, vanilla, and orange zest. Beat at medium-low speed until smooth.
Mix together the flour, baking soda, salt, and cinnamon. Add them to the wet mixture while beating on low speed, and continue beating until just moistened.
If using nuts, add them to the mixture.
Pour the mixture into pans and evenly spread.
Bake two mini loaves for 50–60 minutes, or one large loaf about 70–75 minutes.
When done insert toothpick into the center and it should come out clean.
Let them cool completely (approximately two hours) before slicing. If stored in an airtight container, loaves will keep about five days at room temperature, or 10 to 12 days refrigerated.
***Serve and Enjoy***