How To Make Your Own Cannabutter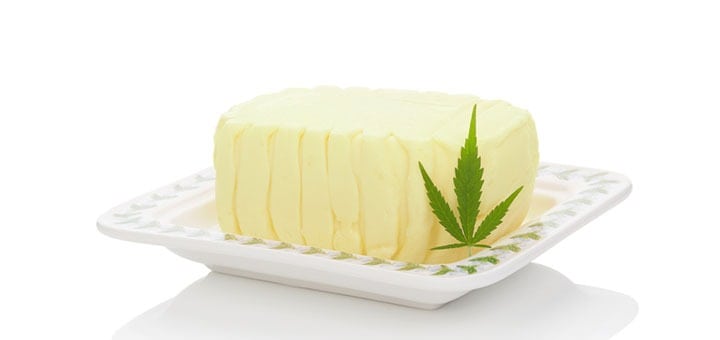 This is an easy, quick way to infuse cannabis into butter on your stove top. Be sure to use salted butter since it has a higher smoke point, and don't leave your saucepan unattended!
You can drizzle this cannabutter over freshly cooked pasta or popcorn for a delicious high! Plus, all you need is three ingredients: water, butter, and cannabis. The joy of the recipe is you can use it for any of your baking or cooking needs. From brownies to mac n' cheese, cannabutter is a must try!
Note: For medical patients, using two ounces of cannabis for each pound of butter will help to make a double-strength potent cannabutter.
Why Cannabutter?
Butter is an impressive carrier of cannabinoids – particularly Tetrahydrocannabinol (THC). Olive oil, coconut oil, and other fatty oils are delicious and versatile carriers too.
That said, remember butter burns fast. So, watch your butter closely as it cooks.
What You Will Need
A cup of butter

A cup (approx. 7 to 10g) of ground decarboxylated cannabis.

Oven
First – Decarboxylate Your Cannabis
This is an essential – but often skipped – requirement. Before anything, ensure you decarboxylate – or decarb – your cannabis herb. If you miss this step, the result is a weak low-potency product. Why?
Cannabis flowers contain a non-psychoactive compound known as THCA. When smoked or vaporized, the THCA is converted to THC, offering the much sought-after 'high' effect associated with the cannabis plant.
Pro Tip: Same procedure should be applied when making CBD infused edibles.
Some people decarb their cannabis flower directly in hot butter. But when buds are oversaturated, your weed-infused product may lose its taste. So, we suggest you decarb first in the oven.
How To Make Cannabutter
Now let's see the basic step-by-step recipe:
myrecipes.com
Step 1.

   

Decarboxylate Your Cannabis Buds
Preheat oven to 220° F

Spread your cannabis buds on an oven-safe baking dish.

Put on the center rack of your oven

For low-quality herbs, allow to stay for 20 minutes ( for high-grade buds, leave for 45 minutes; allow one hour for recently harvested, fresh herbs)

Check frequently and mix gently, intermittently – to prevent it from burning. You'll notice the color of the bud gradually transform from pale green to a brownish-green.

When you achieve the point above, congrats – your flower is decarboxylated.
Step 2.

   

Grind Your Cannabis Herb
Blend your decarboxylated buds with some pressure – using your hand grinder.
Step 3.

   

Melt Your Butter
Add a cup of butter and a cup of water into your saucepan or stockpot.

Simmer gently and allow the butter to melt
Chef's Note: The water will help with temperature regulation as well as prevent scorching of the butter.
Step 4.

 

Pour Your Cannabis
Add in your well-ground decarb cannabis flower as the butter melts.
Step 5.

 

Simmer
Keep the heat between 160 ° F and 200 ° F and allow the combination to simmer for between two to three hours – stirring, intermittently.

Do not allow the mixture to achieve a full boil.
Step 6.

   

Strain Your Cannabis-infused Butter
Put a funnel, lined with cheesecloth on a jar.

When the butter has fully cooled off, dispense through the cheesecloth funnel.

Allow to strain.
Chef's Note: Do not squeeze your cheesecloth. Adding pressure on the cheesecloth may force more ill-tasting plant material into your product.
Step 7. Refrigerate the Product
Put your jar in a refrigerator

If you discover excess water under the jar after refrigerating, no worries. Simply use a knife to take out the butter mold; then drain the water.
Chef's Note: Ensure you refrigerate your butter for at least one hour before draining off the water.
Dose Cautiously
Before you butter any snacks, dessert, or dish, refer to the dosing information.
For Slow Cookers
Here are steps on how to make cannabutter with slow cookers:
Thoroughly blend your cannabis bud with a hand grinder.

 

Coffee grinders can come in handy here– they pulverize your buds and hinder straining of ill-tasting cannabis compounds.

Set your cooker to around 160° F. Temperature exceeding 200° F may leave you with burnt or wasted cannabinoids. Adding a little water may also help avoid scorching.

Add your ground buds and butter. Stir in, say, 10 minute intervals.

Allow to heat for about 30 minutes, then switch off the crockpot.

Wait for your butter to cool off completely
Follow the same straining procedure as directed above.
Now we know how to make cannabutter, let's find out how to dose on this tasty edible.
Tips for Dosing
The potency of the butter depends on a lot of factors, from how potent the materials are to the duration and intensity of cooking. If you need to test the potency of the finished product, spread half a teaspoon of the butter on a snack, and watch the effect of the dose after an hour. You can then increase or decrease the dose depending on the effect it has on you.
From this experiment, you can then standardize your dose, but generally it is advisable to start small and then increase the dose over time. It is also important to note that the potency of your cannabutter will depend on the strength of the cannabis and other materials used in formulating it.
Chef's Final Note
You do not have to be a cannabis connoisseur or a pro chef to master how to make cannabutter fast. All it may require is a detailed guide (as above), patience, and, maybe, some sense of personal organization.
In the end, this product offers cannabis users an effective way to consume the herb and enjoy all its potential health benefits– without any weed-related stigma.
Caution – Remember, however, that the stronger the weed, the higher potency of your cannabutter. So, if you have a low tolerance to cannabis, apply less of your cannabutter.