Easy Cannabis Infused Fudge – Irresistibly Delicious!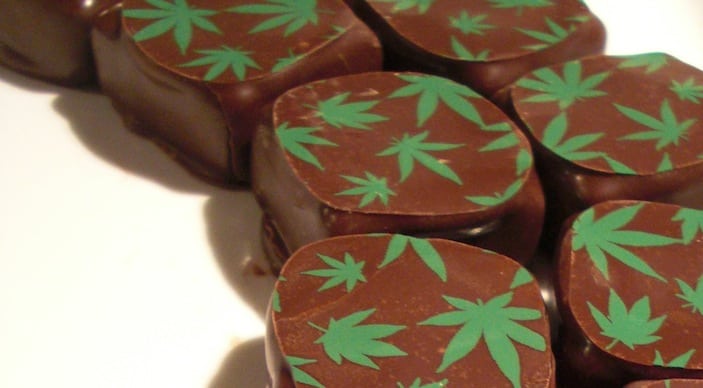 Whether you're craving something rich and chocolaty or creamy and nutty, we have a fudge recipe for you!
With this undeniably delicious fudge recipe, you're sure to find at least one that will satisfy your sweet tooth. This Cannabis Infused Fudge is a recipe must-try! It is so smooth and decadent that you'll wonder how you actually made it yourself.
Cannabis Infused Fudge
Ingredients:
1/2  cup of butter
3-5 grams of cannabis flower
1 can of condensed sweetened milk
3 cups of melting chocolate
1 cups of walnuts (optional)
Directions:
Activate cannabis by grinding and baking it in the oven for 25 minutes at 250° F.
Clarify the butter over medium-high heat scooping out all of the white milk solids leaving just a translucent yellow butter oil.
Infuse the cannabis into clarified butter over a double boiler for 1 hour. Strain and press oil from cannabis with a cheesecloth.
If using concentrated cannabis you can skip the first step and infuse the cannabis into the clarified butter for 20 minutes. If using both, wait until after dry herb is strained from the butter, then return the partially infused oil to the double boiler and add in the concentrates to continue infusing for 20 minutes.
After butter is infused, divide ¼ cup into a medium saucepan. Also, butter a 9X9 square pan for the fudge. Use remaining butter to pour over chopped nuts in oven safe dish. Salt the nuts and toast in the oven for 10 minutes or so on 350° F.
Heat the butter in the saucepan over low heat. Stir in chocolate and sweetened condensed milk. Stir constantly until smooth, then add in nuts, stir to combine.
Pour hot fudge into greased pan. Gently tap on the counter to remove bubbles of air and put in refrigerator for at least 2 hours to fully set.
Remove from pan, cut into squares, store in airtight container in the refrigerator. Serve cold.