MMA Star Cynthia Calvillo Suspended For Smoking Weed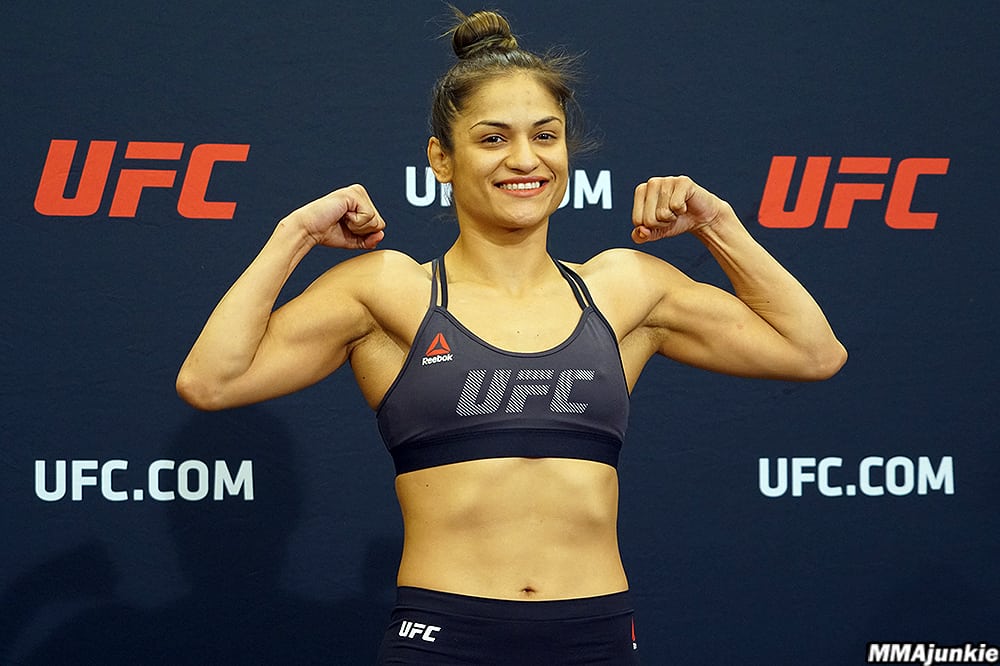 In the world of professional mixed martial arts, athletes who test positive for cannabis use experience harsh consequences.
Fighters are routinely subject to drug screenings from the US Anti-Doping Agency (USADA) and testing positive can really mess up a personal career. In the latest news, MMA star Cynthia Calvillo has been placed on a suspension. The strawweight MMA star was handed a nine-month suspension on Tuesday for failing a drug test. Calvillo tested positive for THC-COOH, a THC metabolite.
Cynthia Calvillo and Dual Suspensions
UFC Strawweight Cynthia Calvillo is undeniably a rising star. She began her professional mixed martial arts career in 2016. Then in 2017, MMAjunkie.com named her "Newcomer of the Year."
This MMA fighter is very popular and it's no surprise why. She currently has a 6-1 professional record. In addition, she has two TKO and two submissions. She currently sits at No. 9 on the UFC's official strawweight rankings.
But it was at UFC 219 that Calvillo tested positive for marijuana. Initially, the USADA strapped Calvillo with a six-month sanction for the offense. Calvillo could cut the suspension to three months but she'd have to go through a drug awareness program.
Then on Tuesday, Calvillo received an additional suspension, this time from the Nevada Athletic Commission. The NAC announced that it was suspending her for nine months for the same positive drug test. Furthermore, the NAC issued Calvillo a $6,150 fine.
Finally, the NAC requires Calvillo to submit a clean drug screening in order to regain her license.
Busted!
#TuesdayTip – USADA provides an annual athlete guide to the WADA Prohibited List to help you stay up-to-date on prohibited substances each year. #cleansport https://t.co/TKsF2lD42L pic.twitter.com/TgNxxzV39a

— USADA (@usantidoping) March 13, 2018
All signs suggest Cynthia Calvillo was busted for smoking weed with a urine test. The fact that she tested positive for the THC metabolite carboxy-THC, or THC-COOH, indicates that the screening tested the fighter's urine. Nevertheless, the presence of THC-COOH in Calvillo's system at UFC 219 doesn't necessarily mean the fighter was under the influence. It could just mean she has smoked at some point that day.