10 Hilarious Weed Tweets to Make Your Day Better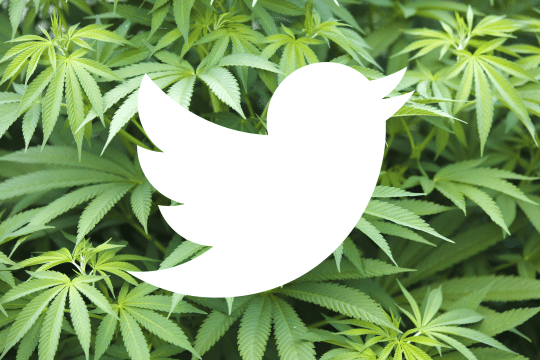 A collection of cannabis-fueled tweets to brighten up your day and have you giggling like you ate an edible.
Tweets can either be a gift or a curse to humanity.
On one hand, Twitter is a place to partake in important, thought-provoking conversations and interact with individuals across the globe. It can be a place for celebrities, influencers, politicians (*ahem*), and even regular folk to have their voices heard. It gives people a platform to speak up.
On the other hand, it can also be a place to tell the world about the stale milk you just used in your bowl of cereal even though you knew full well it wasn't good.
There's always a balance.
Twitter can also be a great place to have some fun while you're high. Some people find their creativity when they smoke, so Twitter allows them to come up with thoughts that would otherwise be forgotten. High thoughts can be hilarious, and Twitter is a fantastic outlet to tell the world about those weird places your brain goes to. Odds are you've been in the predicament where you ingest a bit of cannabis and start thinking about stuff you normally wouldn't. Rather than text your buddy out of context or forget about it altogether, you can tweet it! What's the worst that can happen? It comes back to haunt you and ruins your whole life? Sure, but YOLO!
Or perhaps you're more of the observing type, opting to survey the landscape before participating. Twitter is an absolute goldmine for hilarious high thoughts, and we scoured the platform collecting all the best ones.
Here are ten of the best weed tweets.
I just watched a documentary on marijuana. I think all documentaries should be watched this way.

— Spencer L. Hicks (@SpencerLenox) March 29, 2012
Mufasa: Everything the light touches is our kingdom.
Simba: What about the shadowy place?
Mufasa: That's where the cool kids smoke weed.

— The Volatile Mermaid (@OhNoSheTwitnt) September 4, 2016
[snapchat HQ]
Boss: anybody got anything good?
Guy (who smoked weed instead of working): people with big eyes puking rainbows?

— luke [from online] (@internetluke) September 16, 2015
people who celebrate 4/20 already smoke pot every other day i don't make up a holiday for jerking off & crying in the shower wtf

— mustard (@nice_mustard) April 20, 2012
I don't smoke weed, I smoke jokers like you on the soccer field. pic.twitter.com/cQ6WR2pQsI

— Oliver Tree (@Olivertree) March 8, 2018
Sometimes I wanna quit smoking weed but then I smoke weed and then I'm like Dam this weed is good

— dali (@whoisdali) March 9, 2018
https://twitter.com/ShowerBible/status/972145030776451080
One time I got so high I tried to use the internet to find my cat's real parents.

— Zachary? (@GreenishDuck) August 17, 2014
Guy is wearing a sweatshirt saying "ASK ME ABOUT BITCOIN."

I ask him about bitcoin.

He responds, "I smoke too much weed to give financial advice."

I got owned.

— Ryan Mac (@RMac18) March 13, 2018
Nate Dogg sang "Smoke weed every day," and now he's dead. Maybe that will teach us a thing or two about the dangers of singing

— [crying in spanish] (@SortaBad) October 17, 2016