High DIY: How to Make a Cannabis Stash Box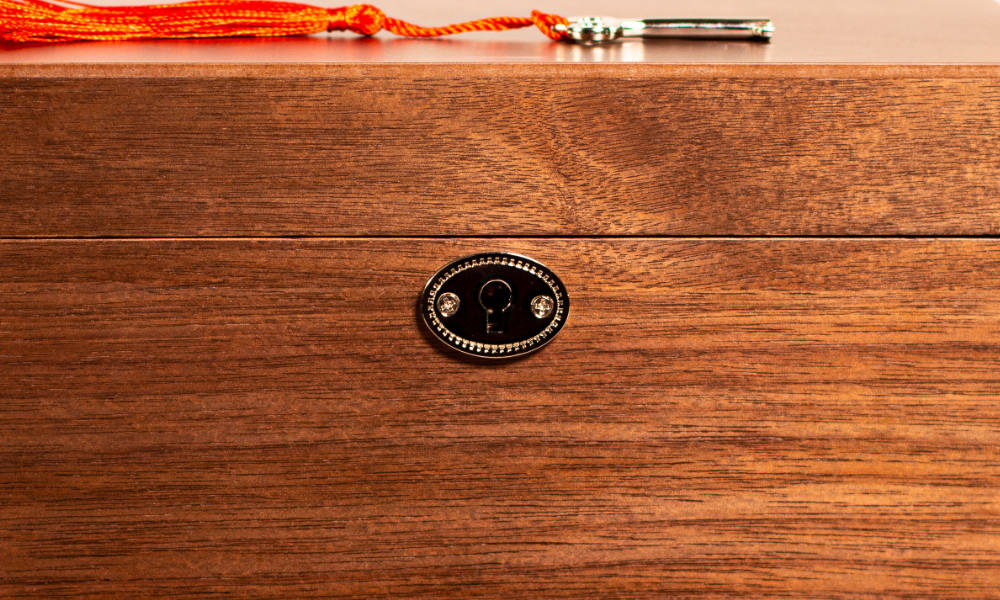 As a cannabis consumer, it is essential to have a stash box to keep your cannabis (and other smoking paraphernalia) stashed away securely and in an organised manner.
What to consider before making a cannabis stash box of your own
Do you want your stash box to be portable?

Do you want to keep your stash box discreet or on open display?

What are your commonly used tools?

Do you want your box to be smell proof? 

What type of smoker are you? Do you do pipes, joints, vapes, or blunt dabs?
Now let us get to work to create your cannabis stash box based on your needs. 
Materials needed to make a cannabis stash box
Choose a box based on your preference and availability (ie. Jewellery box, cigar box, bread box, recipe box, or a plain wood box)

Scissors

Paint (Acrylic and spray paint)

X-Acto knife

Fabric, wallpaper or magazines

Stickers

Sandpaper

Superglue, glue sticks and a hot glue gun

Hasps

Lock and key

Screws

A drill

Mod Podge
Step 1: Get your box
Before hitting the stores for a stash box, you should consider how much space you have available for your stash box. Measure the dimensions of your open space and also consider the amount of cannabis you want to stash away in your box.
Head to an appropriate store with tape measure in hand (and your dimensions in mind) to find a box of an appropriate size.
Step 2: Get the materials you need
Purchase the materials you'll need to create a stash box. Check through our suggested list of materials. You should note that it is not a necessity to purchase all of the materials listed above.
Step 3: create compartments in your box
If you're a woodwork hobbyist, you might want to create compartments in your box if your box does not come with compartments already built in. 
Compartments are great for holding your smoking paraphernalia. You can use smaller compartments for your joints and flowers, and the larger compartment for your pipes and other larger items. 
Step 4: Line the interior of your box with fabric
Sand the interior of your box with sandpaper

With your scissors, cut your fabric into an appropriate size

Apply wood or PVA glue to the bottom and spread the glue using a paintbrush

Fit your fabric to the bottom of the box and press your fabric gently to stick. Pay attention to the corners and use your X-Acto knife to trim away excess fabric.

Repeat the same process for the sides.
Step 5: Working on your box's exterior
Use the sandpaper to sand away old paint or glossy finish to make your paint stick properly to the surface and prevent it from peeling.

Use white acrylic paint to give your box a coat. You can give your box two coats to give it an even finish

Cut your decoupage papers into shapes, preferably square shapes with bright and bold prints

Apply a thick and even layer of mod podge to the surface of the lid

Stick the decoupage papers on the mod podge. You might want to start with the edges before covering the entire surface. 

Run a finger lightly on the surface to prevent air bubbles from being trapped under the paper

Apply an even layer of mod podge over the papers to seal it and protect it.

Paint the edges of your box using an acrylic paint colour of your choice to enhance the patterns.

For the box, you might want to give it a personal touch by using stones, wallpaper, cut-outs from magazines or other pictures to give it a unique look. All you need do is repeat the same process of painting, sticking and applying mod podge to seal and protect.
Step 6: Making locks for your box
It is necessary to create a lock for your box to Keep its contents  safe whenever you're away, or to prevent children from tampering with your stash box.
Drill and fix the hasp to the front of your stash box
Now you have successfully made a beautiful cannabis stash box with unique designs. Ideally, you get a padlock for your cannabis stash to keep the wrong people away from your box.
Tin boxes
Tin boxes are also great for stash boxes. Here are some pros and cons regarding the use of a tin box.
Pros
Tin boxes come in a variety of shapes, sizes and colours

They are easy to clean

A tin box is ideal for carrying around with you while on the go.

A Tin box is cheap and easy to get from local stores.
Cons
Tin boxes are not smell-proof or waterproof. They are not a great option if you intend to be discreet.

Tin boxes can dent easily, especially when dropped.
However, if you're willing to buy a stash box without going through the stress of DIY, there are a lot of manufacturers from which you can choose to buy your stash box.
Before buying a stash box, you should consider the features you want your box to have. Here are some key features you might want to consider
Does the stash box have a combo set? Combo set might include the following: UV glass stash jar, a grinder and a rolling tray

Does the box have a cushioned interior? The cushioned interior is the right way to protect your accessories.

Does the box have a lock fitted to it? Locks are good for protecting your accessories

Is the box odour proof?

Does the box have a rugged case? A rugged case should be air-tight, waterproof, crushproof and dustproof.
Conclusion
You do not need to be so skilled in woodwork before constructing a cannabis stash box. With this guide, and the materials listed above,  you can have a beautifully made stash box for yourself.