How to Choose a High-End Stash Box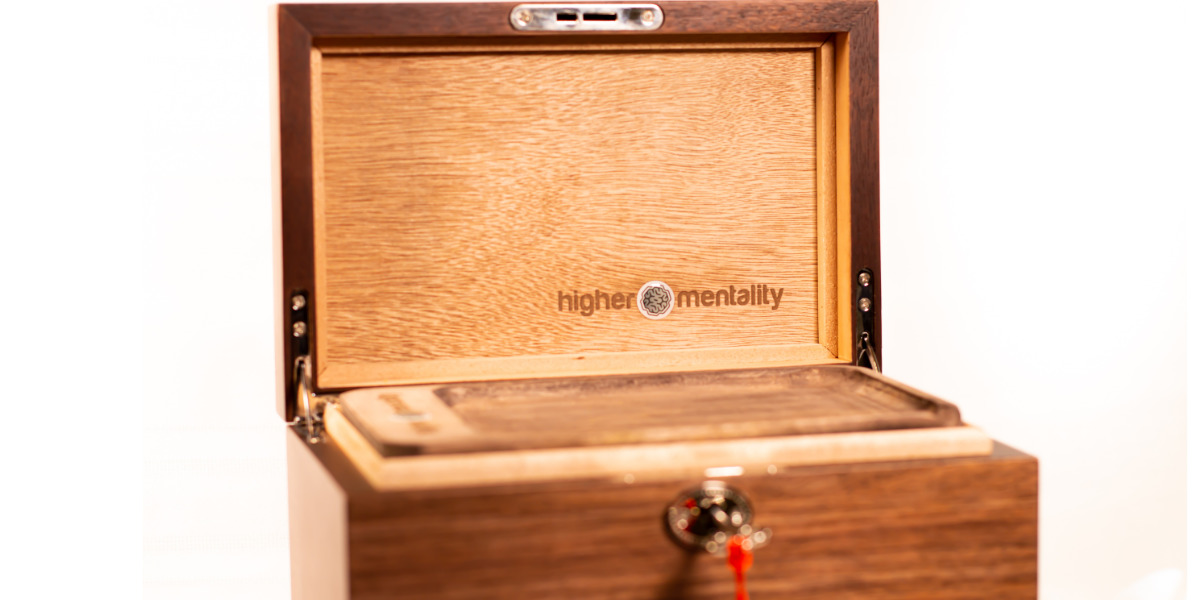 A stash box is a necessary item for stoners to keep things tidy and in one place. It can also keep unsavoury characters  away from your cannabis and accessories.
Gone are the days when weed and weed-related products were kept in plastic bags or other makeshift containers and hidden from sight. Now there are varieties of stylish and trendy high-end stash boxes to keep your weed accessories safe and your cannabis fresh for an extended period.
However, before choosing a high-end stash box, you should consider the following points.
If you're getting a high-end stash box, it should be made of opaque materials to reduce or stop UV light from reaching your cannabis.
The humidity of your storage environment affects the moisture content of your cannabis. A dry environment will make your stash lose flavour and potency, while a moist or highly humid environment will cause molds to ruin your stash.
The best humidity for your stash is from 58% to 62%. To keep your stash in the best conditions, you should get a stash box that enables you to monitor and maintain an ideal storage environment for your cannabis stash.
If you're storing different strains (ie. OG kush, Lemon Skunk or Jack Herer), you wouldn't want terpenes from these strains cross-contaminating each other. To prevent such, you should get a stash box which can allow for individually controlled environments.                         
Here are some of the best stash boxes available in the market. You can choose from any of the stash boxes discussed below if you desire a stash box that meets your demands, or you want to give the perfect gift of a stash box for a stoner friend.
Higher Mentality's Connoisseur's Stash Box
The Connoisseur's Stash Box is perfect for people who are serious about cannabis storage. The top compartment is equipped with a locking system that is opened by keys. It acts as the primary place of storage with its beveled edges to prevent odor from escaping. The bottom compartment is a drawer which acts as secondary storage for tools and objects of your choice.
The Connoisseur's Stash Box also features
4 piece metal grinder
Wooden tray
UV Glass Storage Jar
2 keys
Humidifier beads
You can pick up the Higher Mentality Connoisseur's Stash box from the Higher Mentality Store.
The Daily Toker
The Daily Toker is a sophisticated stash box combining functionality with elegance. The Daily Toker features the following:
Lock to keep your accessories safe

Rolling tray with lots of space for your accessories

Foam-lined interior to make your stash box smell-proof

Airtight glass jars fitted with a hygrometer. This allows you to measure the humidity level and prevent cross-contamination
The Daily Toker from StashhBox is available in multiple variants and can be purchased from STASHHBOX store.
The Stashtray by Myster high-end accessories 
The Stashtray is a stash box that contains a magnetic rolling tray and smoking station. Stashtray organizes your accessories and everything you need all in a place.  
When you order a Stashtray, you get the following from Myster
A stainless steel rolling tray

Storage jars

A 4-part Myster grinder

Ashtray 

18mm and 14mm bowl stand

Magnetic lighter case

Magnetic stickers

A pack of RAW papers

A High-End Book Box (optional)
You can purchase the stash tray from Myster High-end accessories
Mahogany Wood Stash box by Hakuna
The mahogany stash box by Hakuna fits well with your interior décor.  Hakuna is well known for manufacturing wooden stash boxes, but this mahogany wood stash box stands out with many amazing features. 
Mahogany wood stash box offers you the following:
A locking lid made With brass lock and key

Wooden rolling tray (removable)

3-compartment storage area

Two premium bamboo stash jars

Grinder

Kief catcher

Kief shovel
If you're a lover of wooden artifacts, the mahogany makes a perfect centerpiece display in your home. You can obtain this piece of beauty from the Amazon store
The Apothecarry Case
The apothecarry case is a well-designed, good looking case to keep your stash fresh at all times. The case comes with the following:
High-quality dual combination and key lock to keep your stash safe from intruders

Airtight Food-grade strain jars

Silicone-coated non-stick jars for your stash

Low-odour wooden box
You can purchase the Apothecarry case from Apothecarry stores starting from $299
SmokeSafe's CloudTen Mini Smellproof Stash box 
SmokeSafe's CloudTen stash box is an airtight and odor resistant stash box ideal for traveling. It is a pocket-sized stash case you can carry around during concerts or while traveling. The box features: 
Rubber lining and padded foam internal top which makes it a smell-proof case to carry around

Exterior dimension of 5.75 x 4'' x 2'' and an internal dimensions of 4.2" x 2.75" x 1.25"

A pressure-release screw for air pressurization control
BUDSTOR Premium Storage Case
BUDSTOR Premium stash case is designed to look like it is housing tech gears to make it more discreet. The BUDSTOR case is also designed to be smell-proof and to keep out light. 
The BUDSTORE premium stash case is an excellent choice for you if you're a stoner who is always on-the-move. 
Stashtite Smell-Proof Bag
The Stashtite Smell-proof bag is ideal for you if you're a female stoner. It is a discreet stash box designed to look like a makeup bag. It makes a perfectly suitable gift for a female stoner. 
The interior is lined with a carbon lining to keep the sun out and the smell in with enough space to store your accessories. The bag is fitted with zipper, a secure hook-and-loop to keep your accessories safe under lock and key.
Stashtite smell-proof bag is available on desertcart and Amazon. 
CVault Stainless Steel Airtight Humidity Container Stash Box
The CVault Stainless Steel Stash box is a unique stash box that looks like a pressure cooker. Its superior design ensures that humidity is controlled to keep your stash fresh. It also has an airtight seal which makes it smell-proof, a humidipak, and a high-quality latch design to keep your stash and accessories safe at all times.                                                                                            
STASHLOGIX Silverton stash bag
STASHLOGIX stash bag is a high-quality, customizable stash bag with movable dividers. The bag comes fitted with interior pockets with zips perfect for storing accessories. The bag also has a combination lock to keep out intruders. 
STASHLOGIX is smell-proof with rubber seals to minimize spills and a waterproof zipper
STASHLOGIX Silverton is available at Amazon starting from $59.