Cannabis Ginger Cinnamon Almond Maple Brittle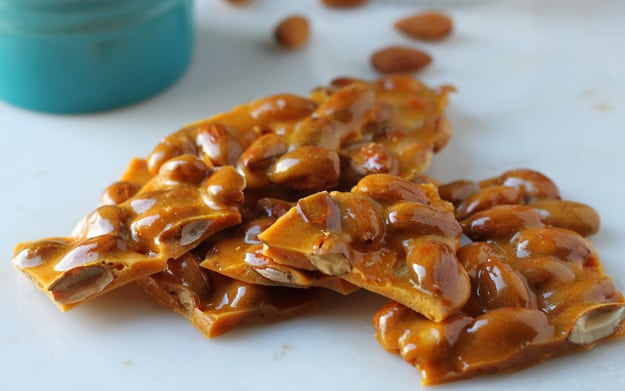 Turn to this old-fashioned brittle recipe when you want to make homemade candy.
The flavor of maple syrup is so heavenly in this nut brittle that you'll wonder why you haven't used it before. And this recipe is not your typical peanut brittle. It includes ginger, cinnamon and the best ingredient of all: cannabis! This clever sweet-and-savory brittle gets its unusual flavor from the almonds. The texture is light, crisp and almost honeycomb-like. So, make up a batch of Cannabis Ginger Cinnamon Almond Maple Brittle.
Cannabis Ginger Cinnamon Almond Maple Brittle
Ingredients:
1/2 cups of real butter
3.5 grams of dried cannabis flower
1/2 cups of brown sugar
2/3 of maple syrup
1 cup of raw almonds
1/2 teaspoons of cinnamon
1/2 teaspoon of ginger
pinch of salt
1/4 teaspoon of baking soda
Directions:
Clarify the butter by heating over medium heat.
Scoop out the white milk solids that separate from the yellow butter oil. Discard the milk solids.
Infuse the cannabis into the butter oil over a double boiler for 1 – 2 hours.
Strain butter through a cheesecloth.
Separate ¼ cup of the butter and reserve remaining butter for almonds.
Chop the raw almonds into large pieces and add to a large baking dish.
Mix the cinnamon and ginger into the reserved butter and pour over the almonds and mix.
Place into an oven preheated to 325° F for about 20 minutes or until lightly toasted brown.
Let rest in a warm oven while making the candy portion.
Combine brown sugar and syrup in a 2-quart heavy saucepan.
Cook over medium heat, stirring occasionally until sugar is dissolved and mixture comes to a full boil.
Add the ¼ cup of infused butter; continue cooking, stirring occasionally.
Remove from heat; stir in baking soda.
Immediately pour mixture into the large buttered baking sheet with the almonds in it, spreading evenly to 1/8 to 1/4-inch thickness.
Cool completely. Break into pieces. Store in airtight container.