Cannabis Infused Chicken Alfredo Sourdough Pizza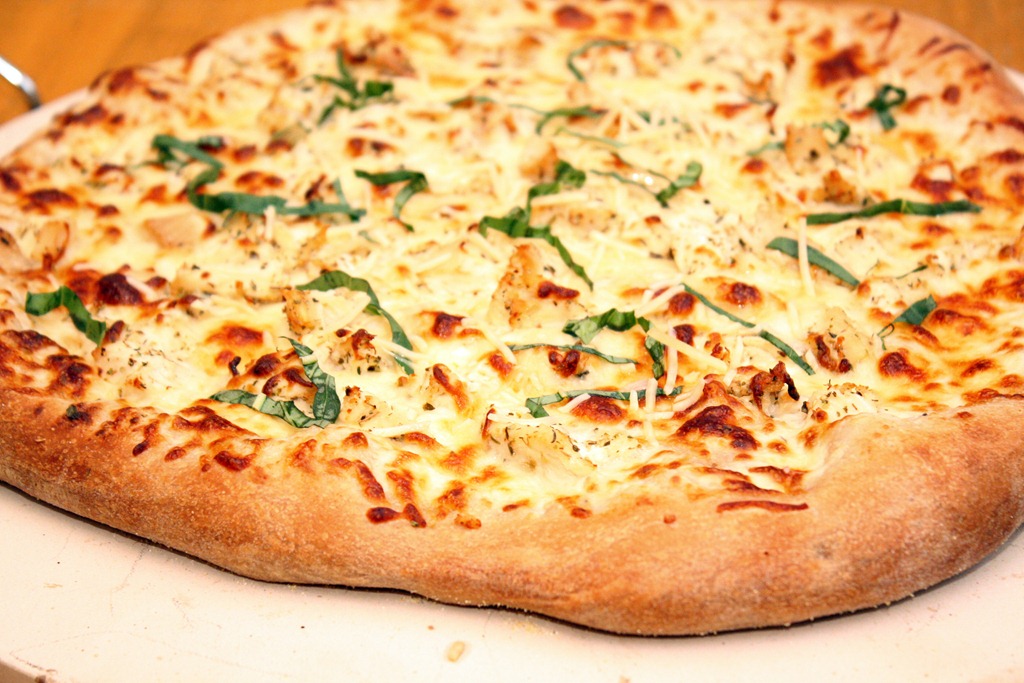 Settle in for a meal of homemade pizza. With a prebaked crust and simple Alfredo sauce, it's easy and delicious.
Have you tried chicken alfredo in pizza form yet? If not, I'd say to you it's a must. It combines some of the best foods into one. And it is a fun recipe to try with a bunch of friends. Mix it up to find what ingredients you like best. Get ready to stay elevated! Try this Cannabis Infused Chicken Alfredo Sourdough Pizza today!
Cannabis Infused Chicken Alfredo Sourdough Pizza
Ingredients:
DOUGH:
2-3 grams of dried cannabis
3 tablespoons of olive oil
1 cup of warm water
2 teaspoons of active dry yeast
1 tsp of sugar
1/2 cup of sourdough starter
1 teaspoon of salt
2 to 3 cups of all-purpose flour
SAUCE:
2-3 grams of cannabis flower
2 tablespoons of butter
1/2 cup of heavy cream
1 small clove of garlic, peeled and minced
2/4 cups of freshly grated parmesan
1 tablespoon of chopped fresh parsley
TOPPINGS:
4-5 chicken breasts, cubed
1 tablespoon of olive oil
1 clove of garlic
salt
pepper
A cup of sliced mushrooms
1/2 cup of red peppers, sliced thin
1/2 of red onion, sliced thin
1 tablespoon of chopped parsley, to garnish
2 cups of shredded mozzarella cheese
1 tablespoon of butter, melted
1 tablespoon of freshly grated parmesan, to sprinkle
Directions:
THE DOUGH:
Grind and decarb the cannabis in the oven at 250° F for 25 minutes.
Add olive oil and cook for another 1 hour.
Strain cannabis from olive oil.
Combine infused oil, hot water, yeast, sugar, sourdough starter, salt and 1 cup of flour and whisk until smooth.
Add in next cup of flour and mix with a wooden spoon until it comes together in a sticky dough.
Use the remaining cup of flour and knead to form a moderately stiff dough.
Continue kneading for 8 – 10 minutes until it's a soft and supple texture.
Place dough ball in an oiled pan turning to coat the dough.
Cover and let sit in a slightly warm place for about 30 minutes or until doubled in size.
Punch dough down and let sit for 10 more minutes.
Form into a tight dough ball by turning the dough into itself a few times,
Cover with flour and place in refrigerator for roughly 24 hours.
THE SAUCE:
Use reserved cannabis from the olive oil step.
Combine in the butter, cubed.
Place in oven at 250° F for 1 hour.
Strain the butter from the cannabis through a fine mesh strainer or cheesecloth.
Combine the infused butter and the heavy cream in a small saucepan on medium heat and simmer for about 5 minutes stirring frequently.
Add the garlic in.
Stir in the parmesan and let cook for a couple minutes to fully melt the cheese.
Stir in the chopped parsley.
Remove from heat and let fully cool and thicken before making the pizza.
THE PIZZA
In a frying pan over medium-high heat, place the olive oil.
Then add the garlic and cook until slightly browned.
Add the chicken and salt and pepper to taste.
Cook the chicken until cooked through.
Drain juice and set aside to cool.
Slice the mushrooms, red peppers and onions.
Preheat the oven to 475° F
Grease a large pizza pan.
Form the dough into a pizza shape in the greased pizza pan.
Spread the thickened alfredo sauce across the pizza evenly to about an inch from the edge.
Top with about ¾ of the mozzarella, spreading it evenly.
Add the mushroom, onions and peppers.
Top with remaining mozzarella and place in the centre of the preheated oven for about 12 to 14 minutes or until the edges are browned and crispy.
Remove from pizza.
Brush the edges with melted butter and sprinkle with Parmesan cheese before slicing and serving hot.