Funky Monkey Bread – Cannabis Infused Pull Apart Coffee Cake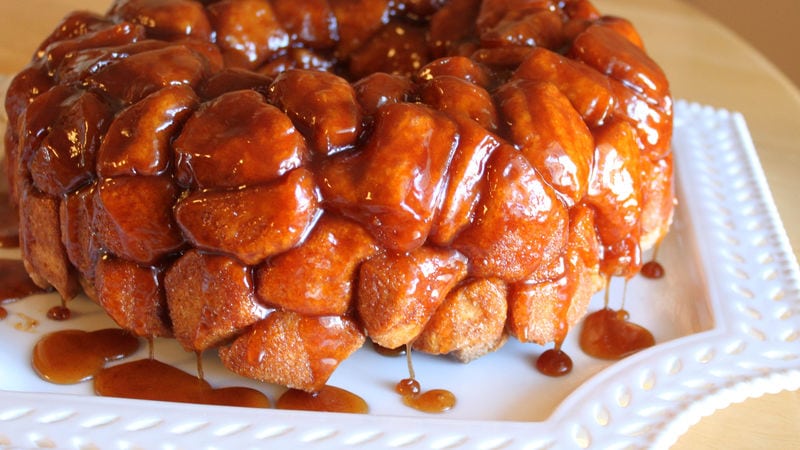 This cinnamon-scented pull-apart is an ooey-gooey mess of a dessert!
This pull-apart cinnamon monkey bread is so moist, delicious, and easy to prepare : ) It's great served as an appetizer or snack. The nuts add a great texture and the cannabis adds a great high. This is meant for you and your group of friends. Don't try to tackle this alone! Funky Monkey Bread is the perfect pull apart recipe to keep you nice and stoned!
Funky Monkey Bread
Ingredients:
1/2 cup of unsalted butter
2 grams of dried cannabis flower
1/2 of sugar
3/4 teaspoon of ground cinnamon
2 cans of biscuit dough
1/3 cup of brown sugar, packed
nuts (optional)
Directions: 
Clarify your butter in a small frying pan over medium heat.
Skim all of the milk solids as it renders from the butter oil.
Grind your cannabis and combine with the butter over low heat.
Simmer in a small frying pan for 1 hour at 225° F, do not exceed 250° F.
While butter is infusing prepare your dough.
Combine the sugar and cinnamon in a medium bowl and whisk to mix thoroughly.
Open the cans of biscuits and reserve ⅔ of 1 can for other future use or discard.
Cut the biscuit doughs in half.
Roll each piece of the dough until completely coated with the cinnamon sugar or toss them in a plastic bag to coat them.
Set aside the dough and keep chilled.
Strain infused butter through a cheesecloth filter to remove plant material.
Add 1 – 2 tablespoons of the infused butter back into the same pan
Place the coated dough pieces into the pan with the butter on low heat.
Pack them in until the surface is covered and the dough is bunched up.
Combine the remaining infused butter and the brown sugar and whisk together.
Pour the sugar mixture on top of the dough balls.
Add the nuts on top (optional).
Place a lid tightly on top and cook over low heat for about 6 – 8 minutes.
Flip the bread with a large plastic spatula, cover and let cook for another 5 or 6 minutes.
Place onto a plate and scrape remaining liquids from the pan over the bread.