Sour Cream Coffee Cake Infused with Cannabis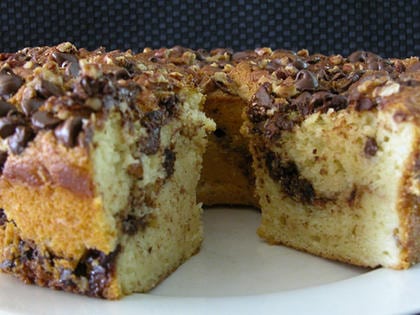 This cake is so moist. Enjoy it with a delicious cup of tea or coffee in the morning.
Savour a classic! A nut and spice filling is layered and baked in a rich sour cream coffee cake. This recipe for Cannabis Sour Cream Coffee Cake is a perfect dessert for after dinner or a great breakfast starter! Infused with cannabis and caffeine! 
Cannabis Sour Cream Coffee Cake
Ingredients: 
Baking spray
2 sticks of cannabutter, room temperature
2½ cups of sugar, divided into 2 cups and ½ cup
2 large eggs, lightly beaten
2 cups (1 pint) of sour cream
1 tablespoon of vanilla
2 cups of all purpose flour
1 tablespoon of baking powder
¼ teaspoon of salt
1 cup of walnuts, chopped
½ teaspoon of ground cardamom
1 cup of chocolate chips
1 tablespoon of cinnamon
Directions:
Heat oven to 350.
Spray your 9 x 13 inch baking pan.
In a small bowl, mix a 1/2 cup of the sugar with the walnuts, chocolate chips, cinnamon and cardamom.
Set aside.
In a separate large mixing bowl, cream together the butter and 2 cups of sugar.
Add in your eggs, blending well
Then add the sour cream and vanilla.
Sift the flour, baking powder, and salt.
Fold the dry ingredients into the creamed mixture, and beat until just blended. Do not overbeat.
Pour one-third of the batter into the prepared pan.
Sprinkle with half of the nut/chocolate mixture. Repeat. Then add remaining batter.
Bake until the centre of the cake is set, about 50-60 minutes.
Insert a cake tester or toothpick in the centre and it should come out clean.
Check for doneness after 45 minutes, it's a bummer if this delicious cake is overcooked.