I Took a Cannabis-Infused Bath: And it was UNREAL!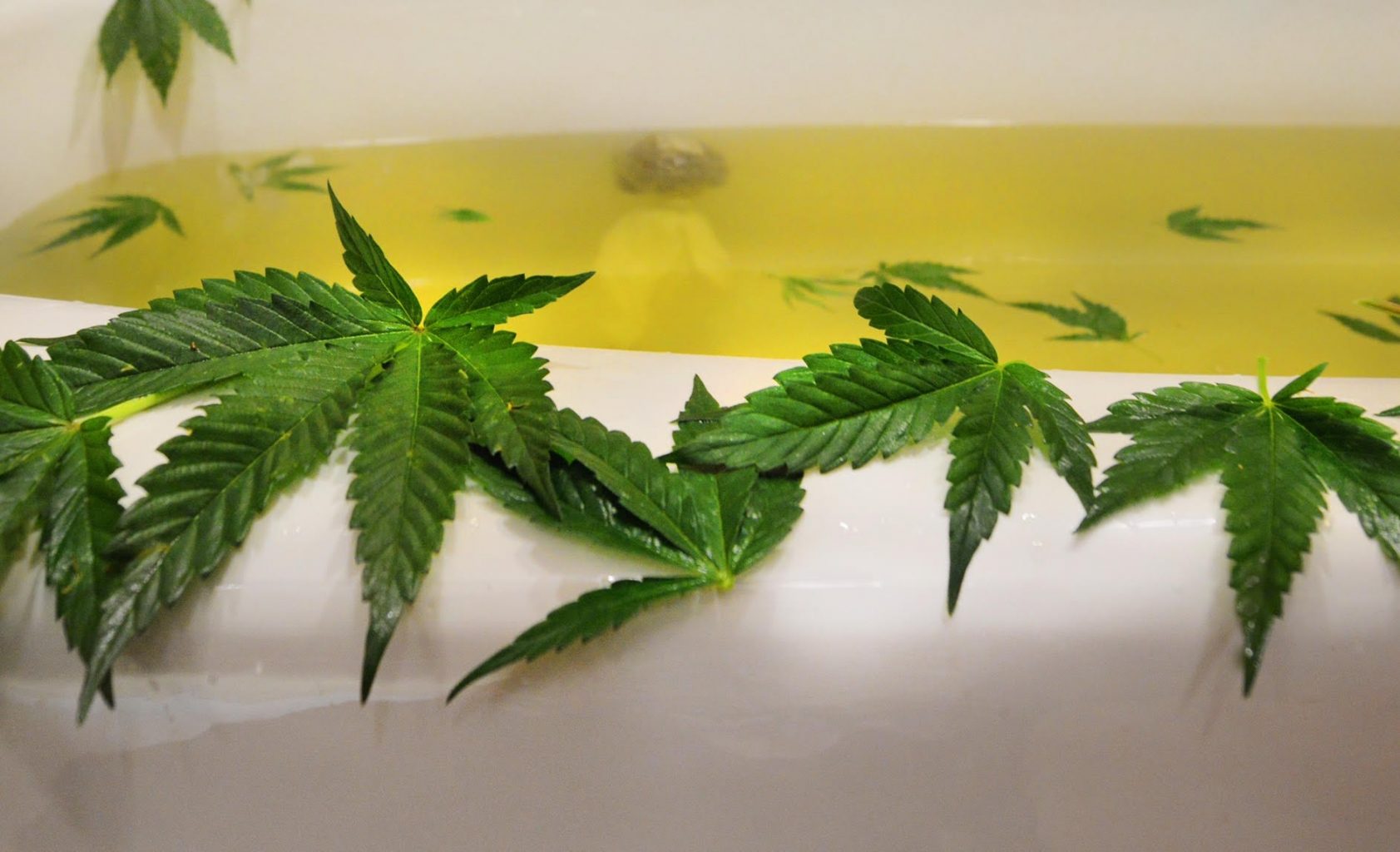 It seems that for those living in big cities – the shower scene is taking over. But when it comes down to it, there really is nothing more relaxing than a bath. And a good old-fashioned bath just might be what you need to get yourself going again.
There are tons of people out there in pain. Whether it is daily pain or cause of injury, nobody likes to be in pain. And the new pattern for healing seems to in natural health. So if you are eating healthy, exercising, why not try a more pleasant and natural option for relieving your discomfort? In these changing days, we recommend a cannabis-infused bath.
Let me just tell you, from personal experience, it is UNREAL! Especially if you have deep muscle pain or sensitive nerves, this will be a huge treat in your life. Seriously, it is a better version of Epson Salts!
The Experience Can be Strange
It is all up to you how you like to run your baths. But if you want to go for the full-on experience purchase one of those little bath pillows and some delicious smelling bubble bath. If you feel fancy why not grab some music, a glass of wine and your spliff.
Truly, at first, the experience was a little weird. Because you don't get high off the cannabis in the bath. However, there is this sense of relief that makes you have a body high. Now, you can bath salts or bath bombs. Both are really nice, but with the bath salts, you can add as much as you need. But everyone loves a good bath bomb.
How does it work?
Essentially, they help gain access to the anti-inflammatory aspects of therapeutic cannabis. In fact, cannabis baths work in the same way cannabis topicals work, however,
"cannabis baths cover more surface area and can offer more bodily relief and relaxation overall. CB-2 receptors are responsible for the anti-inflammatory effects of cannabis. So, baths can aid with complexion and relieve skin irritations,"
said Laura Rivero. Rivero is the Operations Manager at Yerba Buena Farms, one of the first eight legal cannabis farms in Oregon.
The Benefits of a Cannabis-Infused Bath
Epsom salt has natural healing compounds.
It soothes sore muscles, reduces inflammation, acts as a mild exfoliant and can help temporarily relieve bloat.
Epsom salt has magnesium, bathing in it helps your body absorb this the THC, which can improve bone health.
Magnesium in the Epsom salt may help lower the stress hormone cortisol.
Reduce pain and aids in pain management
Aids in the balance of chakras
Menstrual Cramps
Helps with skin issues or rashes
May help to fight colds
An Easy Version of Self Care Therapy
The best part of baths at this level of relaxation aids in self-care therapy. Self-care is being a proper and valuable part of life. Self-care describes the actions that an individual might take in order to reach optimal physical and mental health. And I what mixes best with optimal health? Cannabis! See how this all comes full circle.  This will help to reduce stress, meet emotional needs, maintain one's relationships and find a balance between personal and business.
Products You Can Try
Kush Queen Bath Bomb
This product is really amazing and one of the most popular topical lines on the market. They are gorgeous, smell amazing and a great amount of THC. Each type of bath bomb is specifically designed for a specific ailment. This company has combined certain terpenes with certain essential oils to most benefit you.
Miss Envy Bath Bomb
I used to love these but now they are hard to get a hold of. But they are well priced, shaped in cute hearts and smell delicious. I would have to say the lemon-lime has to be my favorite. They are 100% organic THC infused bath bombs and each made with 50mg of THC. My favorite part is how my skin feels after. Soft, refreshed and super relaxed.
Empower Soaking Salts
These wonderful bath salts come in two different bags. CBD and THC. Both super beneficial. Buy both and you can mix it! The Black THC Bag and the White CBD Bag are made with Pink Himalayan salts and ethically-sourced Dead Sea salts infused. In fact, they are infused with botanical essential oils and organically-grown cannabis extract. Designed to support full body relief from pain, inflammation, and stress.
Final Results
Well, as they say at McDonald's, I'm lovin' it! But unlike McDonald's, it won't cause long-term damaging body effects. In fact, it will help to fight off inflammation and pain. Now, it can be a little pricey to have a cannabis-infused bath every day but why not once a week. Do it for your body and for yourself.
I truly loved the experience, plus it helped me to check out and relax for a bit – which can actually be hard for us to do. Leave your phone in your room, grab a good book or some good music and take an hour to yourself.
Cannabis baths are the most fabulous way to take advantage of recreational cannabis for self-care so maybe it's time to treat yourself buds and suds!
Are you a cannabis-influencer, you want to do an interview? How about a day at the spa? Do you make your own infused products? Comment below and we will write back.