Cannabis Deviled Eggs – Fluffy and Light!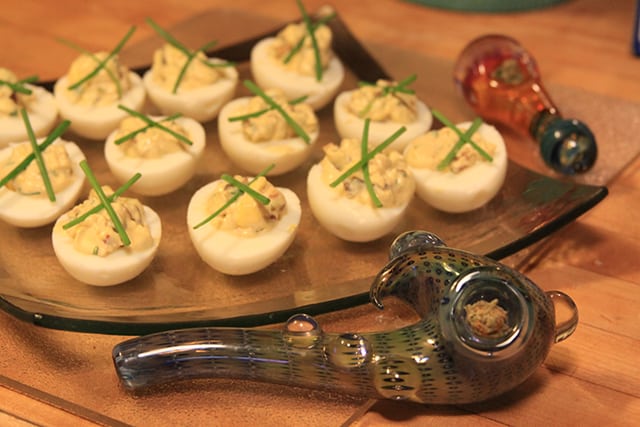 You would be hard-pressed to find a person who does not like deviled eggs, the perfectly delicious side for any occasion.
The filling for a Southern-style basic recipe is nothing more than egg yolks, mayonnaise, and mustard. These deviled eggs are perfect for potlucks, tailgates, and summer suppers. This remixed version of deviled eggs uses a cannabis-infused mayonnaise! It is incredibly simple to make and perfect to have on deck in your refrigerator. Garnish these bad boys with sprinkles of paprika or Cajun seasoning for an extra kick!
Cannabis Deviled Eggs
Ingredients:
12 eggs, hard-boiled and peeled
1/2 cup of Canna Mayonaise
2 teaspoons of white vinegar
1 teaspoon of ground mustard
1/4 teaspoon of salt
1/4 teaspoon of black pepper
paprika, for garnish
Method:
Slice eggs lengthwise in half.
Remove yolks and place them in a mixing bowl.
Mash yolks with a fork.
Add Canna Mayo, vinegar, ground mustard, salt and pepper to yolks.
Mix everything together until creamy.
Fill egg whites with egg yolk mixture.
Sprinkle top of each deviled egg with paprika.
Cover and refrigerate up to 24 hours.
Serve cold!