Bad Gal Rihanna: We Love Her as Much as She Loves Weed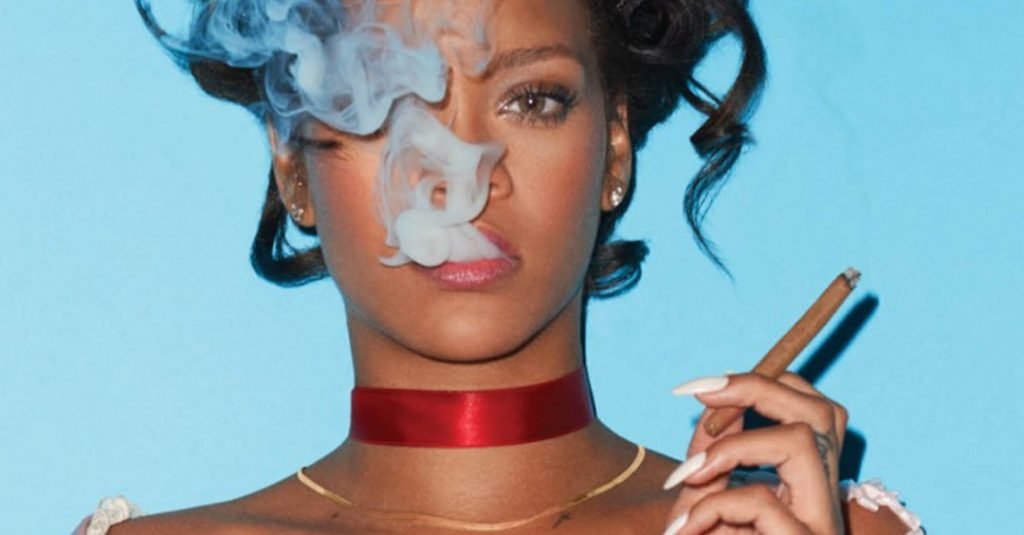 It's possible that Rihanna is one of the most loved and respected bad gals out there. With her advocacy for weed, for women, for people of color, it is no wonder she is Time's 100 most influential people.
Down to early, stunning, killer music, great style, and the list goes on. Our love for Rihanna is real. And her love for smoking weed is just as real. And really she is the Queen of Hustle, and does it all. She is a powerful and influential woman that we are proud in support of cannabis!
Full Name: Robyn Rihanna Fenty
Born: February 20, 1988. Saint Michael, Barbados
Residence: Hollywood Hills, Los Angeles, US.
Occupation: singer, songwriter, actor, designer
Rihanna HigherBio:
Rihanna is a Barbasdos grown artist who comes from a home of struggle.  She sold clothes with her father of Afro-Barbadian and Irish descent. Sadly, her early life was deeply affected by her dad's addiction to crack and alcohol. This led to the divorce of her parents. Rihanna then entered the army as a cadet in a sub-military program. Her drill sergeant was a singer-songwriter named Shontelle. Not soon after Rihanna formed a musical trio with two of her classmates. Her talent was noticed by an American record producer named Evan Rogers who then shared her demo tape. This led to her signing the best deal of her life with Def Jam Recordings.
Since then, Rihanna has risen to fame starting with ehr debut album "Music of the Sun". This was just the beginning to her trending in the Top 10 charts. She has won multiple Grammys, it multi-platinum and many of her songs have ranked as worldwide best-selling singles.
Recognized as not only the best icon of today's music, but she is one of  best-selling music artist o all time, with over 250 million records sold. She is the youngest artist to have so many billboard hits. Claiming titles such as Hot 100 artist, most streamed artist on Spotify, 9 Grammys, 12 AMA's and 12 Billboard awards.  Furthermore, she was awarded with the inaugural American Music Award for Icon in 2013 and the Michael Jackson Video Vanguard Award in 2016. In addition, Rihanna received the Fashion Icon lifetime achievement award in 2014. She's also been Forbes most powerful celebrity, and a number of recognitions for being the sexiest woman alive.
Overall, she is literally the greatest! She does it all from fashion to music.
Bad Gal RiRi and Cannabis
Everyone knows that Rihanna is the real deal when it comes to smoking. She has always been open about her love for weed. She has been honest about it on several occasions through her fashion, music and even at her concerts. And while lately, she has claimed to being "slowing down" on her consumption, that hasn't stopped her advocacy for the drug.
It comes to no surprise that her album cover for Talk That Talk  feature both a blunt rolling and smoke clouds. Or that she did a marijuana interpretation of Marie Antoinette for CR Fashion Book.
Timeline:
April 20th 2011 – rocks some weed leaf and pro cannabis fashion wear
October 2011- deluxe version of her 'Talk That Talk' album featured her smoking on the cover
October 2011 – smoked with a Chris Brown lookalike in her music video for 'We Found Love.'
January 2012 – caught smoking a blunt in a Hawaii
April 2012- Rihanna hilariously rolled a blunt on her bodyguard's bald head.
September 2012 – traded her green buds for diamonds for the artwork of her first  "Unapologetic" single.
October 2012 – dressed up as Mary Jane for Halloween
2012 – Snoop Dogg and Warren G smoke up with RiRi
March 2013 – Ten of Rihanna's tour buses were stopped at the Ambassador Bridge and searched for marijuana.
February 2014 – Rihanna says she is cutting back on her use
April 2014 – celebrates 4/20 in a marijuana themed bikini and smoking weed on a beach with friends
March 2015 – rumour cannabis line called Mi-Rihanna
Feb 2016 – Rihanna and Drake smoke up at a restaurant in Toronto
2017 – instagram trends for marijuana photos and creative blunt photos
2018 – making more hustles in cannabis, lingerie, make up, music and film
Higher Conclusion:
Still, even though Riri has stuck to her passions, she's also clearly committed to variety. Every single photo of Rihanna smoking a blunt also serves as illustration and creativity. From smoking while swimming to smoking while fishing to smoking while promoting music videos to smoking as a means to get ready to party with Dior. Rihanna really has created a culture and lifestyle out of cannabis. Showing that can be apart of everyday life. Nevertheless, with her list of accomplishments no one can argue that the weed makes her lazy or uninspired. Cheers to the Queen of Hustle!