Activist: Comedian Chelsea Handler and Laughing with Cannabis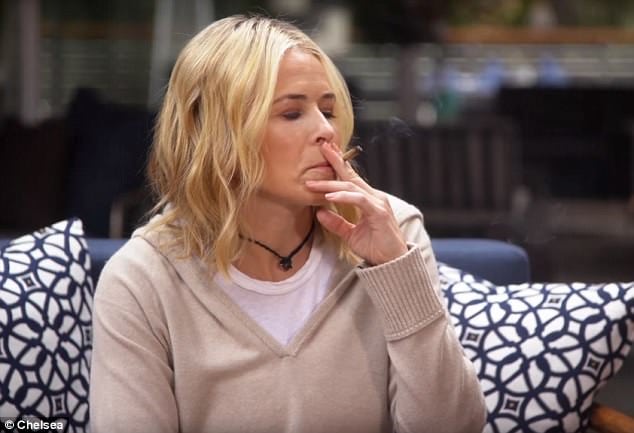 It's hard to take Chelsea Handler seriously, she is a comedian. But despite her best efforts, Handler is slowly becoming a comedian with a purpose.
Full Name: Chelsea Joy Handler
Born: February 25, 1975, Livingston, New Jersey
Residence: Bel Air, Los Angeles
Occupation:  stand-up comedian, television host, actor, producer, writer,
Chelsea Handler has always been a popular comedian but now she is making headlines as a growing cannabis activist and creator. And, mostly it is because she likes to stir the controversy and talk about things that some have steered away from. She has pretty much done it all from dating 50 Cent to posing for Playboy (no nudes!), She has endorsed "free the nipple" and will never back down from a political debate. And, can you believe she was in a beauty pageant – not that she isn't beautiful but even she knew it was weird.
"You have to be in a bathing suit and they want you to play an instrument, and that wasn't going to work. I mean, I played an instrument, but it was called a bong, so…"
But, to no surprise, we are very thankful for Handler. Because aside from everything else she has accomplished, she has also openly supported marijuana.
HigherBio:
Handler has had not the easiest life. Despite what many may think. She was raised in a Jewish home to a great family. But things turned tragic before hitting fame. With the loss of her mother and brother, she has still found a way to continue to make us laugh. She started at the young age of 19, moving to Bel Air to pursue comedy. In addition, she began to write for comedy. This created published best selling books such as "It's Me, Chelsea" and "Are You There, Vodka?" With her continued success she lander herself with a talk show on the E! Network  "Chelsea Lately," where discusses celebrity gossip, culture, politics, and interviews while accompanied by a roundtable of guest comedians.
With her newfound success, Handler played the smart business move and released a comedy special with Netlcik called "Uganda Be Kidding Me Live." Naturally, Netflix and Handler succeeded. This went on to create a docu-series leading to her new talk show "Chelsea." She pushed boundaries of media creating the first talk show to stream across the world.
Chelsea Handler and Cannabis:
Chelsea Handler has always been blunt… about her cannabis use. And although she openly jokes about it she did make sure to legalize her self on her 40th birthday with her medical card, but has been smoking since she was a teen. And on many occasions in her books, she has referred to her cannabis use.
She even created "Chelsea Does Drugs: where Handler consumes cannabis in a five-course cannabis-infused meal. In fact, she included friends such as with marijuana advocate and cultivator Willie Nelson.
" I literally couldn't open one of my eyes… So as we're talking I'm like 'Oh my god, what am I going to say next?'"
Furthermore, during Snoop Dogg's appearance on "Chelsea Lately," where they talked about his new food line for dogs. This lead to Snoop and Chelsea smoking one up as he introduces her to the idea:
Now, Chelsea is making bigger moves with her announcement in February. The TV host has revealed in a recent Instagram Story that she's developing her own line of marijuana. She may have even said it was the only thing keeping her sane during the Trump presidency. Her main goal is to educate those on who know and don't know. She believes she needs to spread the word about weed grows and weed in controlled doses. Not to miss any mistakes she has made sure to back herself with the research and even talked to the plants in California.
"I want everyone to know that I'm going to a weed farm today. Yep. I'm gonna go pick a grow,"
Higher Conclusion:
Doing my due diligence on weed grows so I know how I can best help spread the word. Weed is fun again and in controlled doses. I'm into it big time.
Chelsea Handler really seems to be it all: beautiful, funny, smart and honest. She has always been real about her life and real about her activism for marijuana. She is even more wonderful than you think, setting up college funds for her friend's kids. This best-selling author is a great example of a powerful woman who really has no f*%$s to give. She is a great advocate for cannabis and we hope to continue watching her and her company grow-up!