Whoopi Goldberg: Leading the Path for Woman and Pain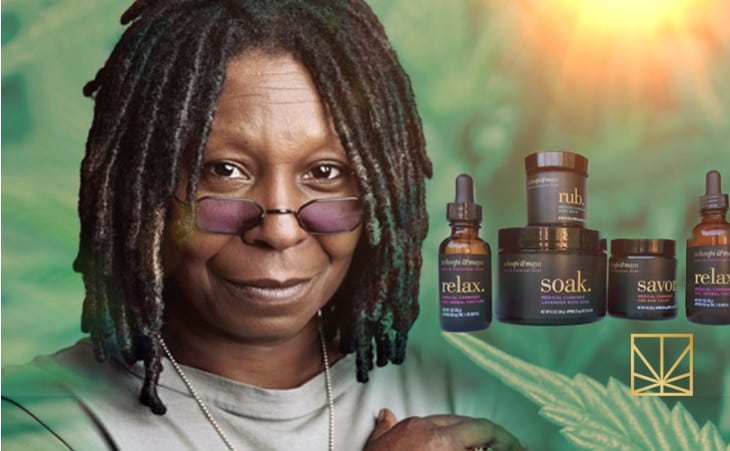 Women have long used over-the-counter pills to treat cramps. But the 'View' co-host, Whoopi Goldberg has an herbal remedy: medical marijuana.
For more than five decades, women have been dealing with agonizing menstrual cramps and would turn to over-the-counter medications for pain relief. But Whoopi Goldberg found out that another substance worked just as well. Medical cannabis!
There are medical marijuana products for anxiety, muscle spasms, glaucoma, and migraines. But in an industry where women are becoming a dominating force, there is still this untapped market for cannabis use. And that is menstrual cramps. Little advancement has been made in the way period pains are treated since Midol was invented in the early 1900s.
Medical Marijuana for Women
Whoopi Goldberg noticed a gap in the cannabis market. So, the comedian, actress, and TV host decided to add cannabis entrepreneur to her resume.
"The fact that this is a women-dominated industry," Goldberg tells Rolling Stone. "I can't believe no one has thought of this."
Last year, Goldberg and cannabis industry leader Maya Elisabeth launched Whoopi & Maya, a brand of medical cannabis products targeting menstrual pain relief. The line has cannabis bath soak, a THC herbal tincture, CBD, and beeswax body balm. In addition, an organic cacao with either THC or CBD, which is also rich in magnesium and iron. Plus, this is another thing that can help ease some pain for women.
None of Whoopi & Maya's products have psychoactive properties, according to Goldberg. "This is not about getting women high," she says. Right now, Whoopi & Maya products are only available for sale in California dispensaries. However, Goldberg says there are plans to expand. In particular, advocates are focusing on states that allow medical marijuana, but don't count dysmenorrhea, the medical term for severe menstrual cramps.
A Woman's Point of View
Bills were introduced in the New York and New Jersey legislatures to extend medical marijuana eligibility. However, it may be a long fight in Goldberg's home state of New Jersey. In April 2016, Governor Chris Christie implied that dysmenorrhea isn't a real medical condition.
"Obviously he's never experienced the pain and symptoms that come with menstrual cramps," said Democratic Assemblyman Tim Eustace, told Rolling Stone.
"The only thing he suffers from is bombast. He should be empathetic to the citizens of the state." The bill has been referred to the Assembly Health and Senior Services Committee and is currently waiting for a committee hearing. Whether or not dysmenorrhea will become an approved ailment under medical marijuana programs across the country is up in the air. But with Whoopi & Maya, it's at least given women a new option. In addition, its begun a new conversation.
"Periods affect your life, affect your productivity," Goldberg said. "We need to talk about this."