Cannabis Red Velvet Bars with Cream Cheese Icing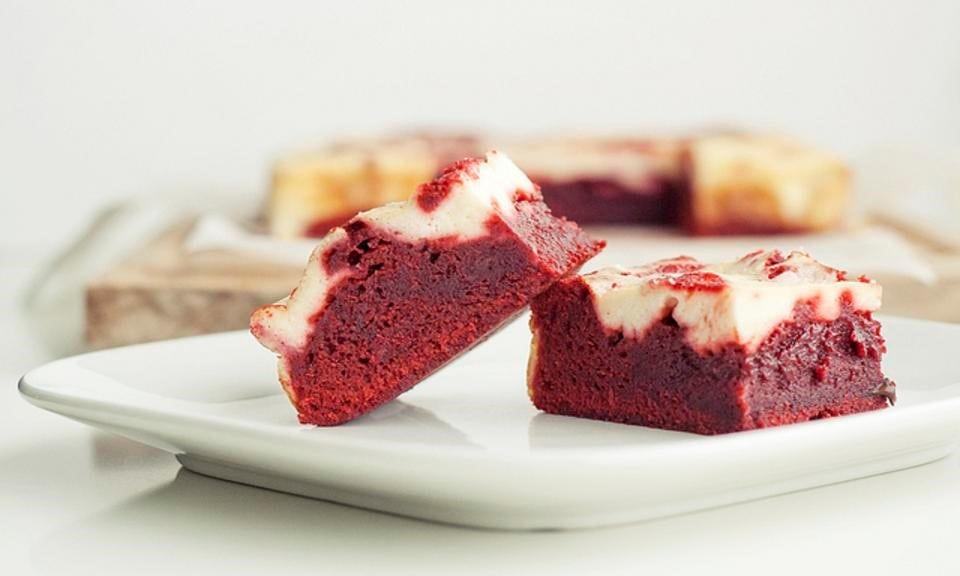 So these red velvet cookie bars? They're kind of awesome. They're dense and chewy, which is so unlike a typical red velvet cake.
Your mind will be tricked! And it won't be because of the cannabis. Red Velvet Bars are exactly what it should be for something so decadently delicious. You can't just eat one bar. In addition, when you cut them up and plate them, they look so pretty and divine. People will swear you had to have spent hours making this recipe. If only they knew!
Cannabis Red Velvet Bars with Cream Cheese Icing
Ingredients:
MARIJUANA BUTTER RECIPE:
1.5 lbs of real unsalted butter
1 oz of marijuana shake
COOKIE INGREDIENTS:
3 1/3 cups of flours
1/4 of unsweetened cocoa
1/3 teaspoon of salt
1 teaspoon of baking powder
1 cup of cannabutter, softened
2 eggs
1 1/2 cups of sugar
2 teaspoons of vanilla extracts
2 tablespoons of red food coloring
CREAM CHEESE FROSTING:
2-8 oz of cream cheese softened
1/2 cup of cannabutter, softened
2 cups of sifted powdered sugar
1 teaspoon of vanilla
Directions:
BUTTER INFUSION:
Cube all the butter into a thick bottom medium stock pan or saucepan. On med-low heat, melt the butter scooping out the white milk fat surfacing to the top.
Keep heating and removing the butter oil until all of the milk fat is removed. (You can use a candy thermometer to ensure keeping your temperature below 250°F.)
Add the ground marijuana into the butter oil. Continue on very low heat for about 25 minutes.
Remove butter from heat and strain through cheesecloth or fine mesh screen.
Let the butter cool and harden before continuing.
MAKING THE COOKIES:
Preheat oven to 350 degrees. Prepare a 9×13 inch baking dish.
In a medium bowl, whisk together flour, cocoa, salt, and baking powder.
In a mixing bowl, cream together 1 cup of cannabutter and sugar until light and creamy.
Beat in the eggs and vanilla. In addition, add food coloring until combined.
Lastly, add the flour mixture until a soft dough forms.
Press into the bottom of the 9×13 inch pan.
Bake for about 20 minutes until the edges start to pull away from the sides.
Test with a toothpick
Allow to completely cool before frosting.
MAKING THE ICING:
Beat together the cream cheese and butter.
Add the powdered sugar and vanilla.
Beat together ingredients until smooth.
Finally, frost the top of the cooled bars with your cream cheese icing.