Mass Nerder – 91st Oscars and News Round Up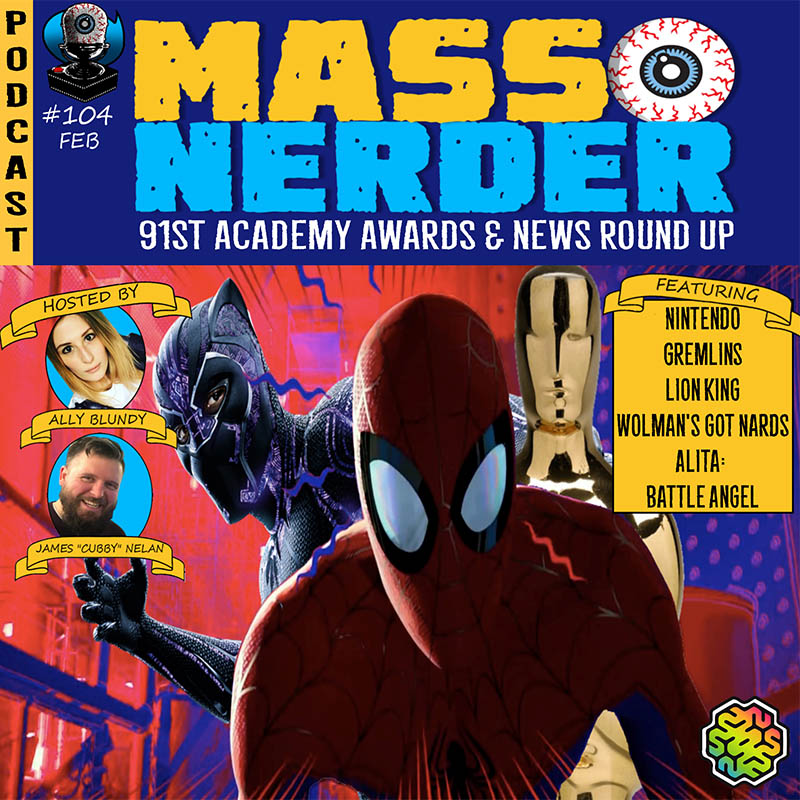 Mass Nerder Podcast –
[104] Mass Nerder – 91
st
Oscars and News Roundup-
SEO SUMMARY SNIPPET
This episode of the MassNerder podcast, Ally and Cubby are left alone to get together and discuss this weeks share of news and info. They cover the Oscars, Alita: Battle Angel, and the new documentary "Wolfman's got Nards" shown at the Hamilton Hexploitation Film Festival.
Make sure to tune into MassNerder 103 and get your herb handy for some entertaining and slightly strange discussion!
Discussion overview: Mass Nerder Episode 104
The first Rispin-less podcast episode! Ally and Cubby have been abandoned for this episode. Continue they will and they kick off by talking about the Oscar winners. In the eyes of Cubby, Black Panther's 3 Oscar wins are well deserved.
Into The Spider-Verse narrowly edging out The Incredibles 2 for the Best Animated Movie was not surprising to most. Completely deserving in our eyes too, it was quite an incredibly well done film.
In the best alternate universe, Reggie stepping down from president of Nintendo to make room for Bowser has made headlines. How could it not? Literally Bowser is the new president of Nintendo. Not the real Bowser actually, but a man named Bowser.
Salad Fingers returns! After a six year hiatus since the last episode, our favorite creepy creature returns. Gets the nostalgia cogs churning and we even recommend watching the three part analysis of Salad Fingers. Gotta love those rusty spoons.
The new Lion King done via live action looks incredibly exciting too. We hope for a solid performance from Donald Glover, Eric Andre, and Beyonce. A great cast for a legendary film.
With a small cast for todays episode, the podcast ends with Ally displaying her affection for 'How to train your pet dragon' as well as the excitement over Captain Marvel. Ally has also just booted up her Pateron page, so if you want to support her cosplays and show your support, head on over to that!
Check out the previous iteration, episode 103 of Mass Nerder, where the crew discusses the series Gotham, Mexican Spider-Man comics, Black Mirror, and the related Bandersnatch debacle.
Episode 105 of MassNerder features the gang alongside Adam George Palios, one half of 'Hashtag Adam and Steve'. They discuss Hellboy, Steven Spielberg films, the Netflix streaming industry, and Umbrella Academy which takes place in Toronto!
You can follow the team of @massnerdercast at their respective Instagram pages below if ya want ti stay up to date with the team and their thoughts. Make sure to tune in frequently to Mass Nerder to get the most up-to-date news as the best podcast for comic, gaming, and movie discussion!
Cole Rispin
Ally Tamara