How to Make Infused Chicken Noodle Soup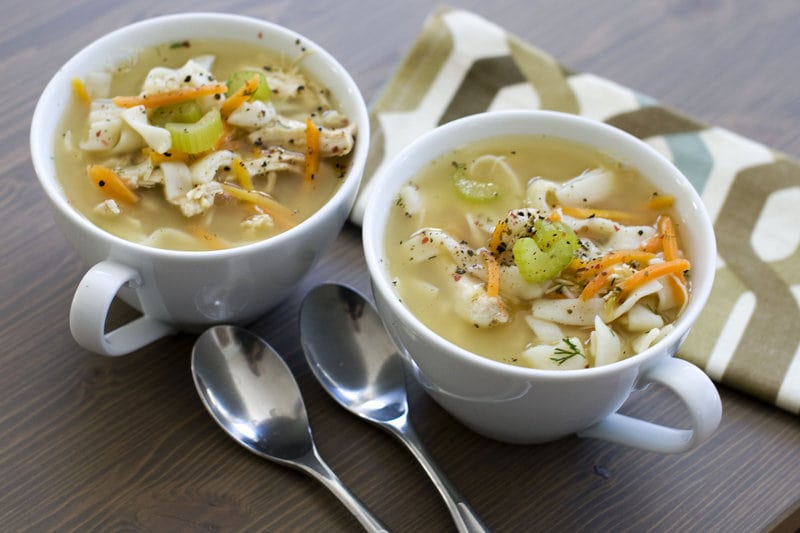 It's definitely that time of year where everyone is getting sick. Especially with all the weird weather occurrences around the globe.
Feeling a little sick? Tired? Have a sore throat or a cough? You might be getting sick, but that's okay because cannabis may be a cure. Thankfully, this recipe for infused chicken noodle soup will make you feel better, all without ever having to take a hit!
Infused Chicken Noodle Soup Recipe
Ingredients:
1/2 pounds of chopped cooked chicken breast
1/2 cup chopped celery
60 ounces of chicken broth
7 grams of ground marijuana OR 6 droppers of marijuana tincture
1/2 teaspoon of dried basil
1/2 cup chopped carrots
Salt and pepper to taste
1/4 cup of peas
1/2 cup chopped onions
1 tablespoon of butter
1/2 teaspoon of dried oregano
14.5 ounces of vegetable broth
1 1/2 cups egg noodles or noodles your most prefer
Directions:
Take a large pot and melt the cannabis butter over medium heat, making sure that you never boil it. Use the butter to cook both the onion and the celery for about five minutes.
Add the chicken and the broths. Start to stir. Proceed to add the salt and pepper. Then add the chicken, oregano, basil, carrots, peas, and noodles. Now put in your ground up cannabis (or your tincture) and bring everything to a low boil. Once you begin to see the bubbles, turn the heat down and simmer everything for about twenty minutes. Your chicken soup is ready to eat! You can either eat it right away or store it in the fridge for later. Grab some crackers or bread and enjoy!
TIP: If you don't like any of these ingredients, or you would like to add some of your own, that's totally fine! You can change it to vegetable broth and tofu for a vegetarian version.