Bacon and Bowls: Best of Both Worlds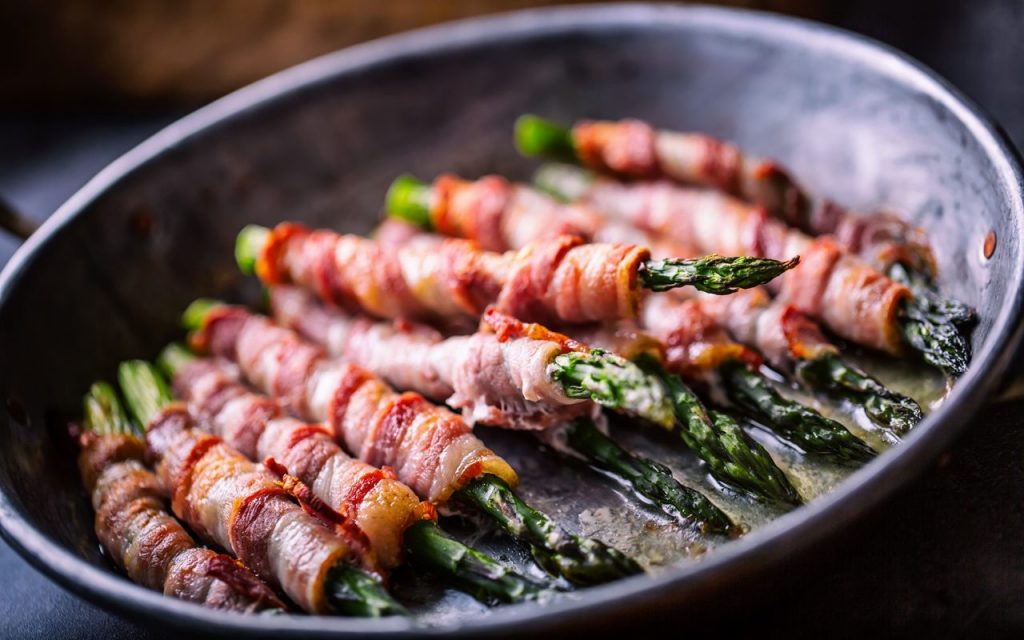 There is nothing quite like the smell of bacon being cooked or a bag full of weed. Both are distinctive and delicious.
It may seem crazy or it may just be genius. But bacon is really one of the best breakfast foods, munching foods and its the best on a juicy burger. What is a great appetizer for bacon? Marijuana. Whether you smoke it out of your joint, vape it from a pen or like to hit a bong toke, bacon will always be the same. Perfect, tasty, and super easy to make. And now with the creation of edibles, people are expanding into new recipes and ways to infuse their food. What if I said to you – Cannabis. Infused. Bacon? Would you s*%$ a brick? Right?! It is the best idea to ever grace our mouths! And you can make it yourself! So take a hit of your favorite strain and dig in!
5 Scientific Reasons Why Bacon Is Really F*cking Good For You
No Carbs
Great hangover reliever
It actually does have vitamins
It's great for a paleo diet
High in Protein
Why You Should Eat Bacon
It is a mix of sweet and salty
Soul food – good for the hard days
Comforting
Easy to make
Goes with ANYTHING!!!
Even when it's bad….its good!
All types of bacon from chicken to tofu.
Saturated fats, such as butter, bacon fat and coconut oil help to absorb THC
Cannabis Infused Bacon Recipe
Many of the more conventional edibles, like baked goods, require a time-consuming process of infusing fats like butter and oils with cannabis. Weed bacon takes advantage of the natural fats of the bacon itself. Quick and easy!
Ingredients:
Bacon, sliced
Cannabis, ground into a fine powder
Directions:
Preheat oven to 225°F.
Spread the ground cannabis onto a cookie sheet and bake for 45 minutes.
Place the desired number of bacon strips or full package on an ungreased cookie sheet.
Once the cannabis is done baking, remove and preheat the oven to 275 °F.
Sprinkle the baked ground cannabis over each strip of bacon, adding more or less depending on the desired potency.
Bake the bacon for 10 minutes.
Remove from oven, flip the strips, and sprinkle cannabis over the other side.
Bake for another 10 minutes.
Enjoy!
Tip: Make sure to save all the bacon grease from this recipe! Store it in a jar in the fridge. Every last drop of it is medically activated cannabis bacon fat. Collect that weed-infused fat and use it in all kinds of recipes. Potatoes, brush on your burgers, or add a drop to your morning eggs!
Try this Strain
Breakfast Kush – Coffee Kush x Tang Tang
This indica dominant hybrid strain said to be the perfect wake-and-bake strain, offering an influx of energy and influx of hunger. Breakfast Kush has a super strong and zesty sour orange flavor with a smooth coffee aftertaste. In addition, breakfast Kush buds have thick spade-shaped bright neon green nugs with vibrant orange hairs and lots of oversized chunky crystal trichomes.
This is truly the best stain to mix with a plate full of bacon in the morning. It heightens cerebral energy and it will leave you with a creative and motivated edge. In addition, it helps with anxiety and eases the pain. Nevertheless, it really is the best of both worlds. Just like weed and bacon – it will have your mind question life but your body in a deep relaxation mode.