Who Ran Down Stone Cold? || The High Risk Maneuver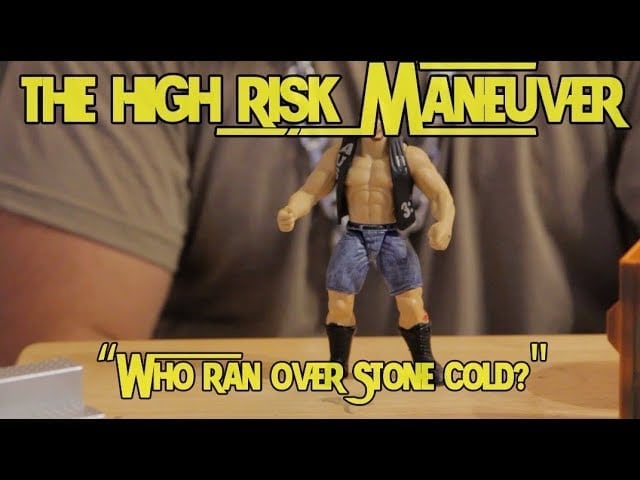 This episode of The High Risk Maneuver is about one of the most peculiar whodunnits to come from the world of professional wrestling; it's the story of Stone Cold Steve Austin getting ran over by a car!
First and foremost, I was particularly wobbly while attempting to film this episode of The High Risk Maneuver. Someone had given me a bottle of home-made vodka that definitely went bad. Not being one to promote wastefulness, I opted to drink it all anyway. That was a bad choice during filming, and an even worse choice the following morning.
Oh well, the show must go on.
This episode is about the time Stone Cold Steve Austin got completely ran over by a car, and we had no idea who was behind the wheel! Granted, the car ran INTO him, not OVER him. He hit the top of the hood and went flying in the air, which sounds awful, but is probably a lot better than literally getting run OVER.
It was the night of Survivor Series 1999, and Stone Cold was set to face off against Triple H and The Rock in a championship triple-threat match. As he entered the arena, a car came screeching out of nowhere, ran him down, and peeled off.
Clearly unfit to compete, Austin was replaced in the main event by The Big Show, who would go on the win the championship, although that's not so relevant to the story. Either way, congrats Big Show.
I find it interesting how, in pro wrestling, nobody gets tried for murder. Think about it; someone attempted to murder Steve Austin by running him down with their car. Yet, there's no real life repercussions other than matches and payback. It's an interesting fantasy world and best not to think about it too hard. Then again, the point of The High Risk Maneuver is basically to think about it too hard. Alas, I digress…
After months of being out of action, Steve Austin finally returned, hell bent on finding out who tried to kill him.
Assisting Austin in figuring out the culprit was WWE commissioner Mick Foley. Foley, also knows as Cactus Jack or Dude Love or Mankind, is one of my personal favorite wrestlers of all time. However, he's a pretty garbage detective and didn't do much to help solve the case. Austin was particularly aggressive and abrasive about interrogating people; rightfully so, considering he was hit with a car.
At first, Austin thought it might be The Rock, who you may know as the lead actor in The Tooth  Fairy. Stone Cold and The Rock had a longstanding rivalry, but The Rock swore it wasn't him. Austin then thought it was Triple H, but was assured that if anything were to happen between the two of them, Triple H would do it to his face like a man.
After months and months of investigating, the truth finally came out: it was Rikishi! That's right; it was the dancing fat guy who enjoyed shoving his ass in people's faces. Rikishi explained his motives, stating that he did it for The Rock because he was tired of his Samoan relative constantly being held back. The Rock, upon hearing this news, wasn't pleased with the dastardly act on his behalf. In fact, he was quite bothered by it.
To make matters even worse, it then gets revealed that Rikishi's accomplice in this whole ordeal was, in fact, Triple H. After swearing his innocence, it turned out that Triple was a part of the hit and run, after all.
This resulted in a series of gruesome, bloody matches between Stone Cold and Rikishi, as well as Stone Cold and Triple H.