Weed Clothing for Women and Other Ganja Garbs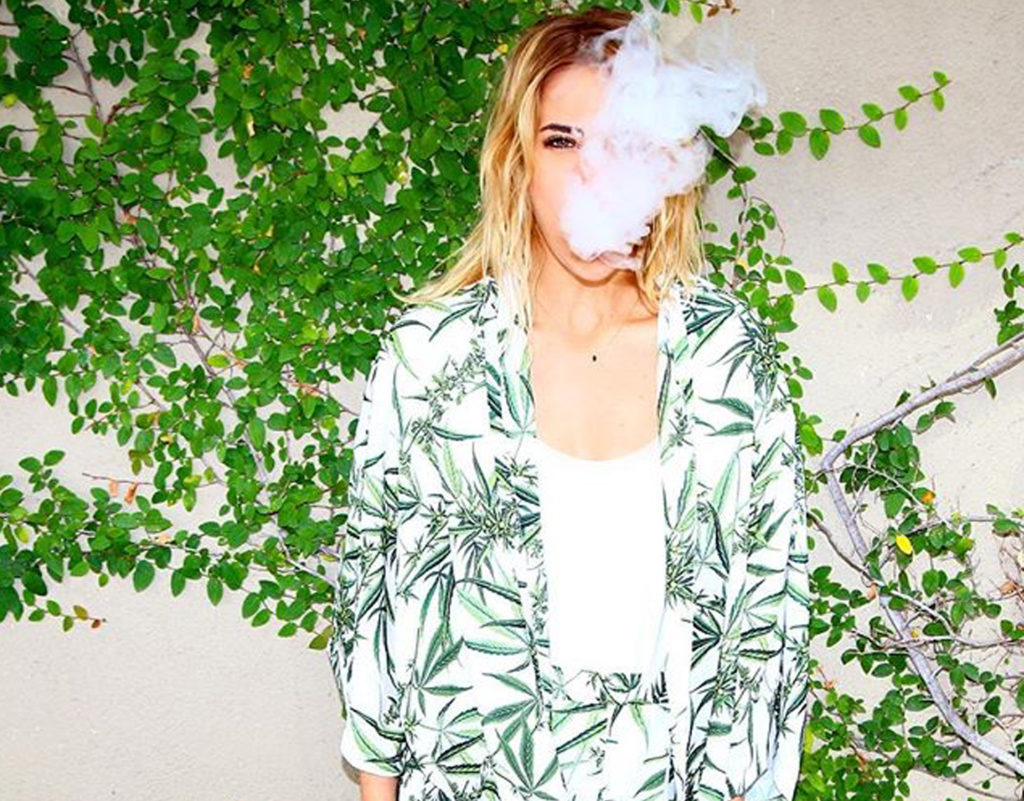 Females are leading a fashion-forward fight against cannabis stigma and bringing creative paraphernalia out in the open.
Fashion has always been a way to express feelings, politics and personal creativity. Weed clothing for women is pushing the stigmas of the cannabis scene and creating new sustainable looks. For decades, cannabis and fashion have been progressive and alternative. From the old school hippie vibes to the new school Rihanna vibes. And whether you believe it or not that cannabis culture from the rainbow days is now being revamped.
Here of some of the newest favorite items to have.
Weed Clothing for Women
Women's marijuana clothing and accessories are only growing in popularity. Now you can find stuff in smoke shops, television and online.  Understandably, cannabis clothing comes in so many different colors and styles especially when it comes to cannabis clothing for women. So whatever your taste, you will most likely find something for you. And if you aren't a fan of the weed leaf or the rainbow, maybe it's sustainable hemp clothing which is trending in the fashion scene.
1. 
FRIEND WITH WEED TEE
Isn't it time to be upfront with your squad goals? Are you and your girlfriend smokers and ganja gurus? This shirt is perfect for the cannabis clique. Furthermore, if you are friends with Mary Jane then this shirt speaks true to you.
2. 
ALEXANDER WANG BAG
For when you need your aesthetic to say "down" but also "chic AF." This piece is a beautiful black and white simple purse. If you want to let p[oeple know you are a fan of the plant, this would be a great way. Simple stenciled marijuana leaves cover the purse, remaining tackles. Weed clothing for women can come designer!
3. 
YOU CAN'T SMOKE WITH US SWEATSHIRT
Pretty much every pre-teen and teen in their day have seen the movie "Mean Girls". Well, this shirt pays homage to the quotes of the shirt with a cannabis spin. While the cannabis community is always open and inviting, sometimes drama still exists. In the case, if you are trying to make a statement, but also want to make people laugh, this sweatshirt is a great choice.
4. WAKE AND BAKE T-SHIRT
This t-shirt is a strong statement to those who know how to start there day off right. So, if you like to get up early, have a nice puff and then continue your day, you need this! But, this can also couple as a great bedtime top, making your morning smoke preset for comfortability.
5. HUF SOCKS
Weed clothing for women may not just be tops and bottoms. One of the most popular and well-known pieces of cannabis clothing. They are cute, super comfortable and affordable for not just celebrities. And, everyone can wear them and they come in all sorts of mixed and matched colors!
6. 
BLUNTED DOUBLE RING
This doesn't mean it can be used as a weapon, although it does look that badass! Popularity in double rings has grown since 2016 and is still a fad that people are fond of. This ring is simple yet extra and will really stand out from other jewelry women are wearing.
7. 
CANNABIS SLIPPERS
More like flats, these killer shoes show that weed clothing for women can be modern and comfortable. While the leaf makes a statement about your favorite plant it also is classy and can be dressed up or down with an outfit.
8. 
PRIMO EARRINGS
Show off your love of weed with some simple marijuana earrings. This awesome piece of jewelry is perfect for the woman who doesn't love flashy but still wants to be apart of the movement.
9. KUSHCOMMON MARIJUANA
Weed Clothing for women can be a little flashy. But sometimes, that is what makes it so special. In this case, these tops have funny and clever statements. So, grab one today that best suits your personality.
10. FROM NY CLOTHING
A perfect trippy fashion company that takes a new spin on cannabis wear. Weed clothing for women can be pretty consistent with leaves, the color green and slogans. Nevertheless, this company will bring a new edge and creative options to choose from.