Suicide Girl Ella Thrasher Chats Harley Quinn's Suicide Squad Sequel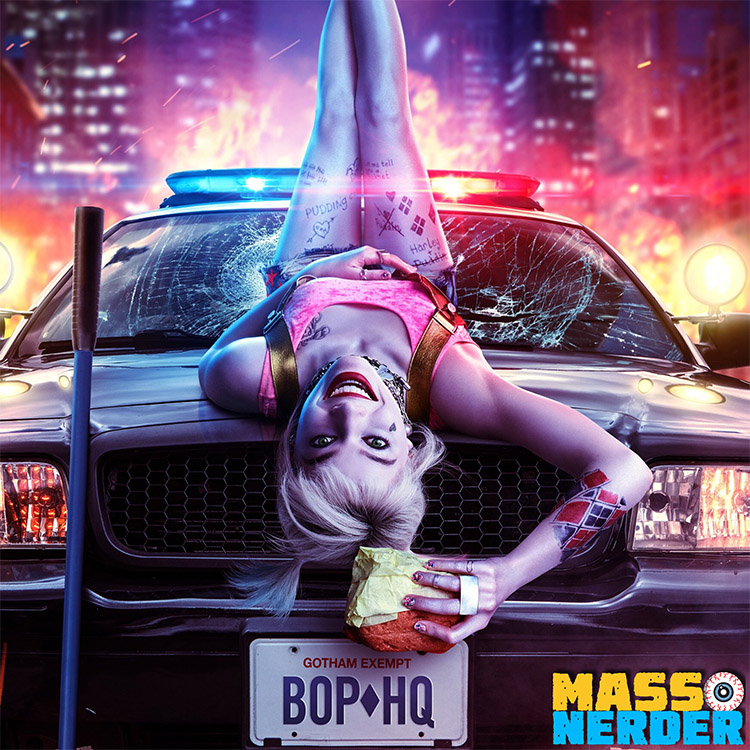 Suicide Girl Ella Thrasher discusses Harley Quinn's Suicide Squad Sequel, "Birds Of Prey" on Mass Nerder
On February 7th, the Margot Robbie led "Birds Of Prey: And The Fantabulous Emancipation Of One Harley Quinn" hit theatres to an abysmal turn out. The film is the lowest grossing Warner Brothers Produced DC Comics film since launching the DC Expanded Universe (DCEU). The DCEU started with Director Zack Snyder's Man Of Steel way back in 2013. Since then, DC has seemingly been trying to catch the Marvel momentum with its shared universe.
It would seem the viewing public is far more interested in seeing DC properties taken a bit more seriously. Todd Phillip's Joker film, which crushed at the 2020 Oscars, made over a billion dollars world wide and was produced on a modest 80 million dollar budget. A feat that even Disney's mighty Marvel Cinematic Universe has yet to accomplish on such a small production spend.
Mass Nerder on Harley Quinn: Birds Of Prey
This week, on Higher Mentality's own cannabis infused pop culture podcast, Mass Nerder, hosts Cole Rispin, Ben Rispin, Cubby Nelan, and Ally Blundy are joined by Suicide Girl and content creator Ella Thrasher. Sadly, the group claims film doesn't seem to hold up amongst the group, who notoriously panned its Suicide Squad predecessor.
Harley Quinn: Birds Of Prey is directed by relative new comer, Cathy Yan (Dead Pigs). The film functions as a direct sequel to the critically panned yet academy award winning Suicide Squad released in 2016 and directed by David Ayer. Birds of Prey has officially changed its name to "Harley Quinn:Birds Of Prey". This is most likely due to low viewer turn out. Despite the character of Harley Quinn's popularity, the film is struggling to find an audience.
Hosts of The Mass Nerder Podcast and Ella attribute the lack of public interest to audiences experiencing DCEU fatigue. The group agrees that not even spectacular performances by Margot Robbie who returns as Harley Quinn and Ewan McGregor as Black Mask are enough to save the jumbled production. Birds of Prey struggles to fully realize a complete story. There is a lot crammed into 1 hour and 49 minutes.
Listen Here:
Episode Description:
Episode 154: The gang welcomes Suicide Girl, model, and content creator, Ella Thrasher to discuss the latest film in the DC universe; Birds of Prey and the Fantabulous Emancipation of One Harley Quinn. Plus! Our takes on the big winners of the 2020 Academy Awards winners!
Download: https://bit.ly/32GlciV
Spotify: https://spoti.fi/2Sjatcg
Apple: https://apple.co/2SCTHnl
Mass Nerder – Harley Quinn: Birds of Prey Synopsis
"It's open season on Harley Quinn when her explosive breakup with the Joker puts a big fat target on her back. Unprotected and on the run. Quinn faces the wrath of narcissistic crime boss Black Mask. His right-hand man, Victor Zsasz, and every other thug in the city. But things soon even out for Harley when she becomes unexpected allies with three deadly women — Huntress, Black Canary and Renee Montoya."
Mass Nerder – Harley Quinn's Character Bio
–Taken from DC Comics Dot Com
"The multiverse would be a much less lively place without the hijinks and shenanigans of the former Dr. Harleen Quinzel, the one and only Clown Princess of Crime.
Sometimes love can make people do crazy things. Other times? It drives them completely insane. Such is the case with Harley Quinn, formerly Dr. Harleen Quinzel. A promising psychologist and intern at Arkham Asylum in Gotham City, Harleen was given the chance to get up close and personal with the Joker, an experience that wound up ending…badly. Harleen became obsessed with her subject, and after falling madly in love with the Clown Prince of Crime, she helped him escape the asylum.
Her love for the Joker inspired Harleen to adopt a new identity, that of Harley Quinn, The Joker's sidekick-slash-love interest—whether he wanted one or not. (Most of the time? He did not.)
In time, Harley came to realize the Joker was holding her back, and she struck out on her own. She became an entrepreneur and a member of several slightly less-than-reputable super teams (including the Suicide Squad), Gotham City's all-girl gang (the Gotham City Sirens) and a traveling sideshow. Along the way Harley has become one of the most popular super-villains in the DC Universe, thanks in part to her versatility, charisma and cheery-but-deranged outlook on life.
After all, as Harley would say, if you're going to go a little crazy, you may as well sit back and enjoy the ride!"
About The Mass Nerder Podcast
The Mass Nerder Podcast is Higher Mentality's premiere cannabis infused fan culture podcast. Hosted by writing duo Cole Rispin (Nerdy Lasagna) & Ben Rispin (Puff Digital's Into The Weeds Podcast), cosplayer and gamer Ally Blundy, and musician James "Cubby" Nelan (The Reason, Born in the 80's), Mass Nerder tackles the most controversial topics taking place in our most favourite fictitious worlds