The 5 Best Marvel Movies to Watch While High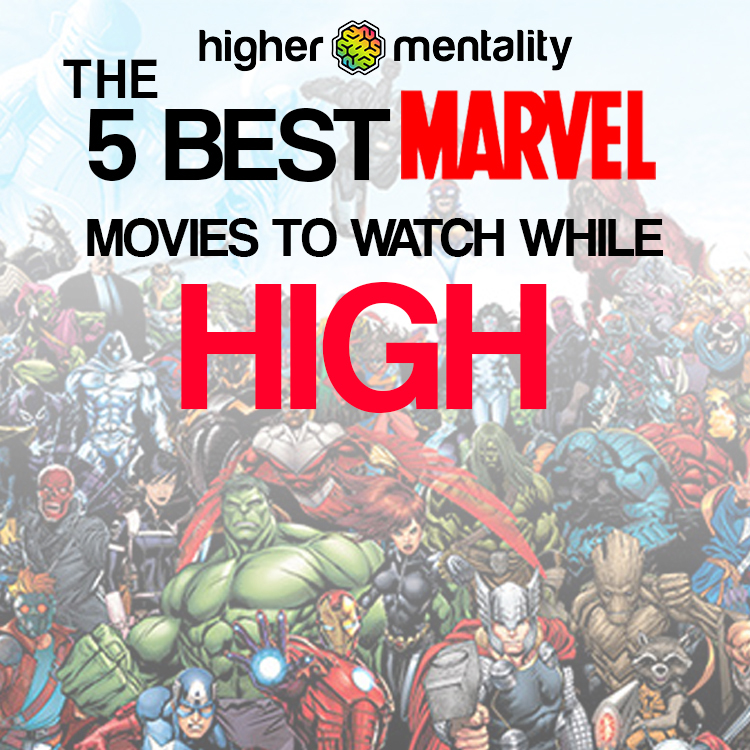 The 5 Best Marvel Movies to Watch While High
There's nothing quite like going to your local theatre, blazing a big ol' joint, grabbing some snacks and watching a fantastic flick. Here follows a deep dive into one of the greatest genres for cannabis-fueled entertainment: Marvel Comics on the big screen! These are the best new releases and classics to view after getting as high as Tony Stark flying into a Chitauri Horde. These selections are judged based on the big five stoner movie pillars: Visual Stimulation, Jokes, Music, Story, General Radness.
The 5 Best Marvel Movies to Watch While High: 
SPIDER-MAN: INTO THE SPIDERVERSE
Visual Stimulation – A++
So much of the pure, unadulterated joy you get from watching Into The Spiderverse comes from the jaw-dropping animation. The blend of art styles lends depth to the familiar (and unfamiliar) Spider-hero origin stories. It is highly recommended to time the initial peak of your high for the very start of the opening credit sequence (with some extra edibles in your pocket for later in the movie). It's trippy eye-candy of the highest grade.
Wise Cracks/Comedic Elements – A
One of the most important elements in any baked movie experience are some well-placed jokes, gags, and/or quips, all of which this movie nails perfectly. Humour and Spider-Man have always gone hand and hand, but never better than this. Just the right amount of silly, smart, witty and wacky to tickle every one of your (dopey) funny bones. Every Spider-character shares the comedic burden well, with no one taking over too much.
Music – A+
And the fucking music…Wow. Guilty pleasure of Post Malone aside (Not a complaint), there's SO much to enjoy. A fantastic score and an awesome soundtrack that hum perfectly along with a buzzy brain.
Story – A
It's a tale as old as time. Various Spider-People cross into another dimension, discover each others' existence and realize their diverse yet similar narratives bind them together driving home the central theme of the movie: Anyone can be Spider-Man. And THAT is truly what Spider-Man is all about. It's just so fucking satisfying.
General Radness A++
This movie just fucking rips. There's no way around it. It's an instant classic that I will surely watch (really high) another thousand times.
The 5 Best Marvel Movies to Watch While High: 
DOCTOR STRANGE
Visual Stimulation – A+
From the building-bending, portal-diving, trippy as hell magic battle sequences to Steven Strange's final time-frozen, mini-Groundhog-Day showdown with Dormammu, this movie masters the mystic art of making me feel as baked as a cake. When The Ancient One taps the center of the good Doctor Strange's forehead, you can just swim in the glorious mind-melting effects barraging your eyeballs.
Wise Cracks/Comedic Elements – B+
Not a character normally associated with laughs, but they get used well in this movie to take a break from the wonderful visual assaults, and whenever the story threatens to take itself too seriously. The light banter between Strange and Wong is particularly chuckle-worthy.
Music – B+
Start with solid score and a few well-curated tracks while the pre-mystical Doctor performs surgery, toss in a tiny bit of Pink Floyd and we've got enough soundscapes to tickle your earholes.
Story – B
An enjoyable and well-balanced narrative about Strange's journey from surgeon to sorcerer. Stays simple enough to follow while melting into a couch, but not so simple as to be bland and boring.
General Radness – A
The right amount of hallucinogenic stimuli added to our good pal Benedict's killer portrayal of our hero, Doctor Strange is a worthy addition to anyone's post-session movie watching.
The 5 Best Marvel Movies to Watch While High: 
THOR: RAGNAROK
Visual Stimulation – A+
FUCK. YES. Checklist of visuals:
-Thor taking a weird Willy Wonka funhouse car ride to meet Jeff Goldblum.
-Hulk Smash Thor! Thor Smash Hulk!
-Hela and her blades making short work of the Asgardian forces.
-Sutur growing really big and setting fire to a planet (quite the spectacle)
-Thor straight laying waste to a shit ton of Fire Demons while ZEPPELIN screeches encouragement!!
FUCK. YES.
Wise Cracks/Comedic Elements – A+
Ragnarok manages to deal with Thor's heaviest material to date, but does a magnificent job balancing it with plenty of humour. It's chock full of some splendidly stupid interactions between Thor and Hulk. And Thor and Bruce Banner. And Thor and Loki. Basically Thor banters with everybody and it's great. This is Chris Hemsworth at his best, finally having a shot at the Thor movie he should have had from the beginning of the trilogy (thanks Guardians of the Galaxy). Giggles all the way up and down this one.
Music – A++
Zeppelin! Motherfuckin' Zeppelin! Truthfully though, the phenomenal synth score throwback to the age of campy sci-fi in the 70's and 80's really cements this film into every stoner movie fan collection. A must watch with a great pair of headphones. Oh also, did I mention Zeppelin?
Story – A
Not overly complex, but it does a great job blending all the fun sights,  sounds, and jokes together. Shout out Taika Waititi for making this gem and still pushing the overall MCU story along in all the right ways.
General Radness – A+++
It's just so fucking rad. Get high and watch it again, seriously.
The 5 Best Marvel Movies to Watch While High: 
DEADPOOL
Visual Stimulation – A+
Another ridiculously awesome opening sequence, setting up the gleefully fucked tone immediately and seamlessly transitioning into one absurdly creative visual after another. It continuously ramps up throughout the movie, getting better and weirder and more batshit crazy as it goes along.
Wise Cracks/Comedic Elements – A+++++
Well now! Here's where Deadpool has a leg up on ALL the competition. You've got the best wise-cracking character in comics played flawlessly by one of the best wise-cracking actors in our generation. The writing is tight and hilarious, the stampede of jokes is relentless, and the masterful vulgarity is as pitch perfect as Anna Kendrick. There's legitimately too many gags to list and each one seems funnier than the last. You'll be as hoarse from laughing at Deadpool's severed hand flipping off Colossus as you are after smoking a 6 foot bong.
Music – A
Dopest party soundtrack on this list. Huge tracks blasting all the way through this movie. DMX and Salt n Pepa are the moments when you really want to re-up your THC intake though. Like everything else in this movie, the music is there to heighten the nutty hilarity. Which it does over and over again.
Story – A
The absurd humour is so strong that the story could be a trash fire and it almost wouldn't matter. But the story isn't a trash fire. Our potty-mouthed mercenary's origin tale is handled well and without unnecessary bullshit. It undersells and overdelivers.
General Radness – A+++
This one might be the overall winner. With tons of laughs, great tunes, the silliest violence, and fun as fuck action, Deadpool is a weed smoker's wet dream.
The 5 Best Marvel Movies to Watch While High: 
GUARDIANS OF THE GALAXY VOL. 2
Visual Stimulation – A+
Baby Groot dancing to ELO while the rest of the Guardians battle a horrific space beast in the background is one of my favourite feel good stoner moments. Plenty of fun sights in this one to tap into. You can't help but love the popping bubbles on Ego's 'home planet' and the subsequent battle between he and Star-Lord, (complete with giant Pac Man) is just insanely fun.
Wise Cracks/Comedic Elements – A+
Everyone gets in on the jokes in this movie, but it's Drax that brings the biggest laughs. He's perfectly oblivious to how hilarious he is, which is why it works so well. The budding friendship between him and Mantis delivers some really solid bits.
Music – A+
The mix-tapes of the first Guardians movie follow us into Volume 2 and are just as effective in jazzing you up as those special brownies you ate when you sat down in the theatre. As mentioned previously, "Mr. Blue Sky" kicks off the movie with all the joy you could ever expect from a miniature dancing tree. But the inclusion of Fleetwood Mac's epic tune (and clearly their best song) "The Chain" really kicks you in the teeth and heart. The Guardians movies really upped the expectation of song placement in MCU movies.
Story – A
The plot of Guardians 2 sets the stage for Avengers: Infinity War in several important ways, while remaining true to its form. James Gunn's bold choices are very important to the fun and nostalgic tone that has become synonymous with the interstellar/sci-fi side of Marvel's movie franchises. This tone is displayed well in both Guardians stories, but a touch more naturally in Volume 2. The balance of simple, effective storytelling is a pleasure for a wide audience.
General Radness – A+
This movie nails it steadily from start to finish. It's hard to find much wrong in here without being a party pooper. A rad time is had by all.
CONCLUSION
What a time to be alive. So many favorite childhood characters and stories coming to life on the big screen AND the legalization of cannabis is spreading further and further! Go forth and get high, watch Marvel movies and grin until your face hurts.