Mass Nerder Podcast – Sarah Hanlon – Celebrity Big Brother Special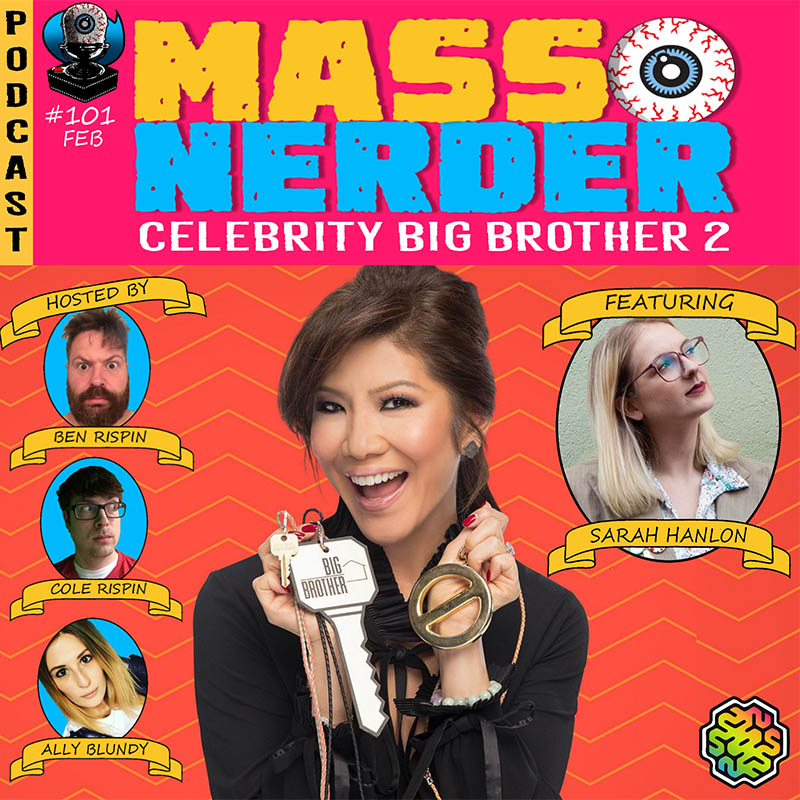 On this special Celebrity Big Brother episode of Mass Nerder, Cole, Ally, and Ben get together with outspoken cannabis advocate and Big Brother Canada Winner, Sarah Hanlon. The group discusses everything Big Brother and more in this podcast! This podcast focuses on Big Brother, upcoming movies, and shows!
Sarah also co-hosts the High Life podcast presented by Leafly and has appeared on the Get Into The Weeds podcast, not to mention being the winner of Big Brother Canada's third season.
Discussion overview: Mass Nerder Episode 101- Big Brother podcast special.
To start, the group discusses their favorite and supposed best seasons of Big Brother. In the Canada vs. US Big Brother discussion, the group unanimously decides Canada obviously is the better of the two. Bias may or may not be a factor!
The team discusses the infamous Evil Dick, and their heartfelt opinions on one of Big Brothers more notorious players. We get reminded that we need to also be compassionate of the situation for the players of Big Brother – they're practically made to go crazy!
On that note, Sarah mentions how sometimes the producers have gone way too far in the past with some of the twists and curveballs they've thrown and think the players would benefit from things being turned down a notch.
In unrelated terms, the gang promptly roasts Adam Levine's Superbowl performance, his strange nipples, and the growing hype behind the new Twilight Zone reboot. The group also skims over some other new shows and movies like Toy Story 4, Suicide Squad 2021, and more!
The group talks about the latest season of Celebrity Big Brother, which just came to a close.
The group moves deeper into the topic of gaming, discussing their favorite Smash Bros Ultimate characters, the new Resident Evil 2 remake, RDR2 and others! Jake Reimer pops in for a visit to discuss the launch of the new series, "Press X To Get High", which is a new weed and gaming Twitch livestream.
Cubby also reveals that he has become Spider-Man, something none of us could've forseen! Speaking of Spider-man, it's safe to say all of the hosts were impressed with Spider-Man: Into the Spider-Verse, even among high expectations.
Despite the amount of arguments and bickering among the players in Big Brother, Sarah mentions how there's still companionship and camaraderie among all the contestants due to the situation they're in. It's pretty hard to put yourself in the shoes of the players without actually being there!
Also the hype of Big Brother and weed begins now! With alcohol being a pretty common theme in Big Brother, cannabis in Big Brother is an exciting future that no one really knows about yet. Sarah also mentions the hilarious moment where she got baked for the first time after winning Big Brother.
She also tells us about some behind the scenes work in Big Brother. According to her, you seldom see the production crew and if you do they're blacked out wearing balaclavas and facemasks to not even show the contestants their facial reactions. A pretty interesting little touch!
To wrap up the podcast, Ally promises to watch an episode of Big Brother and Jake Reimer from Press X to Get High makes a quick stop.
To follow all of the team involved in episode 101 of Mass Nerder, check out the below links, and if you're a fan of Sarah Hanlon, make sure to hit up her new podcast and ready her articles on Leafly!
Sarah Hanlon's Twitter: https://twitter.com/flatshanlon
Sarah Hanlon's Instagram: https://www.instagram.com/flatshanlon/
Sarah Hanlon's writing: https://www.leafly.com/news/author/sarah-hanlon
Check out episode 1 of Get Into The Weeds, with Sarah Hanlon, for some more discussion on cannabis legalization in Canada, more about her experience with Big Brother, and other fun stuff!
You can follow the team of @massnerdercast at their respective Instagram and Twitter pages below. Make sure to tune in frequently to Mass Nerder to get the most up-to-date news as the best podcast for comic, gaming, and movie discussion!
Cole Rispin
Ally Tamara