How to Make Marijuana Shortbread Cookies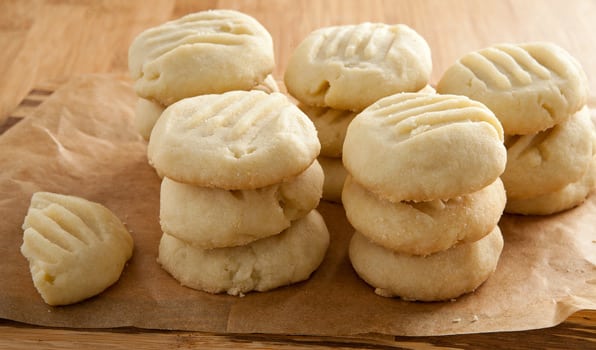 This is a delicious tender drop shortbread, different from typical firm styles.
So, what makes this recipe different from other shortbread? The marijuana. Now shortbread isn't the easiest thing to make, but if you have time and the weed to smoke, it is sure worth trying. Marijuana Shortbread Cookies are a psychedelic delicacy.
Marijuana Shortbread Cookies
Ingredients
CLARIFIED CANNABUTTER INGREDIENTS:
3.5 grams high-grade marijuana flowers
1 cup – 250ml Unsalted Butter
MARIJUANA SHORTBREAD COOKIES:
1 cup all-purpose flour
1/4 teaspoon salt
10 tablespoons Cannabutter, room temperature, divided
1/4 cup confectioners' sugar
1/2 teaspoon pure vanilla extract
1/2 cup semisweet chocolate chips
Directions
CANNABUTTER DIRECTIONS
Grind marijuana to a very coarse meal. Then cube butter into a small saucepan over low heat. Now clarify the butter. Scoop out any milk fat and strain through a cheesecloth.  Bring butter to medium heat separating milk fat, pour through cheesecloth to remove all milk fat. Now, return the butter oil to a clean saucepan. Bring the pan to medium heat and let oil heat to 250 degrees F. Stir ground marijuana carefully monitoring the heat. Reduce heat after 30 minutes. Ground marijuana will darken in the butter. Remove from heat and filter through a couple of layers of cheesecloth to refine.
SHORTBREAD COOKIES DIRECTIONS:
Line baking sheets with parchment. Divide out 2 tablespoons of butter, set aside for chocolate sauce. Then Whisk together flour and salt. In a bowl, beat butter until fluffy, 3 to 5 minutes. Add sugar, and continue to beat until pale and fluffy, occasionally scraping down the sides of the bowl, for about 2 minutes more. Beat in vanilla. Add flour mixture, and mix on low speed, scraping sides if necessary. Turn out the dough, forming into a disk; wrap in plastic. Leave in the refrigerator for 1 hour. Preheat oven to 325 degrees. Cut shortbread roll with a desired cookie cutter and transfer to baking sheets. Refrigeration until firm for 30 minutes.  Bake until firm and golden, 13 to 15 minutes. Let cool completely on a wire rack. Melt 1/2 cup of chocolate in double boiler, add reserved butter and whisk together over heat until glossy and smooth.
Remove from heat and immediately dip 1/2 of each cooled cookie into the chocolate and let cool on wax paper. Repeat until all cookies are dipped, double dip until chocolate is gone. Let all cookies cool completely before transferring to a serving dish or storage container.