Cannabis Christmas Decorations You Can't Do Without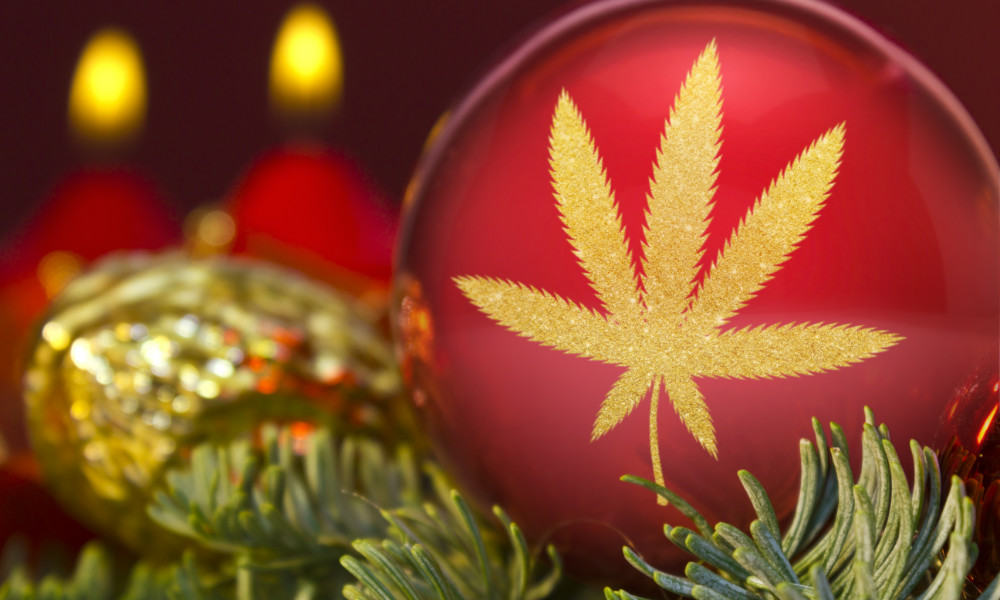 Jingle bells, jingle bells…It is Christmas again. But this time around, it is not celebrations as usual. As we mark one year after the legalization of cannabis, there are some decorations that should not miss out on your list. You can take this festive season's celebrations a notch higher with some artistic cannabis decorations for Christmas.
After the signing of the 2018 Farm Bill, we have seen a lot of revolutionary ideas in cannabis celebrations. From Halloween to 420 celebrations, weed has become an integral part of the celebrations. Some guys also tried to distribute cannabis gifts dressed like Santa. Don't try this because I can promise you it didn't augur well with the authorities. But what do we say? We are living in an era when cannabis is no longer a secret and it has been embraced.
But how do you become part of the canna-celebrations this Christmas? You can put up weed ornaments which will not only make a statement but are also stunning. With the green or golden cannabis colors in your decoration themes, you will never go wrong. Here are some fantastic Christmas cannabis decorations you should not miss.
Cannabis Christmas Tree
Christmas ornamental trees are common and you will find them almost everywhere during this season. But why not try something different? You can purchase or make (if you are good at it) a Christmas with cannabis leaves instead of the obvious evergreen conifers. You can also do themed decorations that go well with the cannabis plant.
Some of the ideas are to hang weed accessories such as vaporizers and vapes on the trees. You can also add some cannabis derivative containers like wine bottles or other edibles containers on the plant. You can also accessorize the cannabis tree with red balls for a complete Christmas tree appearance.
What about trying a real cannabis plant as a Christmas tree decoration? If you are not a fan of synthetics, you can go all natural with a weed plant. You can add red berries and green apples as the tree accessories. You can mold a silver, green or golden Christmas star taking the shape of cannabis leaf.
Stoner Santa
Imagine Santa wearing a cannabis graphic cap and holding a bong or vape in one hand and a lighter on the other hand. You can get the decoration from the local stores or order online. If you are good in craft work, you can try to carve out a stoner Santa decoration. You can hang the decoration on the Christmas tree or put it in a strategic place in your living room.
Cannabis Graphic Apparel
Do you want to kill with canna-apparel graphics? Try out t-shirts, shorts, pants, sweaters or scarfs with cannabis graphics. You could also do some canna-quotes on your apparel. You can also have pot pendants on your necklace. Wrist bands are also another accessory which you can "cannabize".
As you focus on the cannabis paraphernalia, do not forget about the Christmas theme. You should add Christmas cannabis decorations on your Christmas outfit. You should dress for two occasions.
Unlike in the past when you had to search several stores to get a fitting outfit for the occasion without compromise to cannabis, there are numerous apparel. You can also go for shoes with cannabis leaf prints. Some stores have also stocked their premises with cannabis and Christmas themed socks as well as stockings.
420 Christmas Tree Balls
Every 20th of April, we have World Cannabis Day. You can have balls with the inscriptions of 420 and Christmas decorations. You should hang the balls on your Christmas tree. The balls are available in a pack of 10 with golden and green colors to represent Christmas and cannabis respectively. They have a hole to hook onto your Christmas tree.
Cannabis Christmas Lighting
Light is one of the primary elements of Christmas decorations. You can give a twist to your lighting by going green. You can use marijuana containers to create different colors of the light. You can do the decoration of different colors including red and orange to fit the occasion.
Compound Formula
Are you a fan of THC or CBD and love science as well? Go for something a bit complex like the compound formula. You can have it on your apparel, on your house curtains, pillowcase or wall decoration. But do not forget a tinge of Christmas on the accessories. You can add Santa decorations on the items.
Cannabis Gift Wraps
After Christmas day, we are all eager to know what we got the following day. Why don't you surprise your loved ones with cannabis gift wraps? You can go for cannabis leaf patterns which can form spectacular geometric patterns. You should be sure that cannabis is a welcome idea for the gift receivers.
Christmas Confectionery Cannabis Decorations
Planning to buy a Christmas cake for your family? You can integrate cannabis decorations on your Christmas confectioneries. There are also ready-made cannabis decorations that you can put on the edibles.
Conclusion
In the past, a cannabis-themed Christmas was only an illusion. But in 2019, we have seen a lot of changes in the cannabis industry which have revolutionized the perception. Different state governments have not only legalized medical marijuana but also recreational. Therefore, you can celebrate the festive season with your favorite bong if you are in a state where marijuana is legal.
This Christmas, stores are reaping big from cannabis decorations. In what is seen as a wave to push for recreational marijuana, proponents are taking up the opportunity. Streets are painted cannabis green with outstanding cannabis decorations. From apparel, lighting, Christmas trees to marijuana containers, you have an insurmountable selection to choose from.
Despite the legalization, we should take care not to expose children below the legal consumption age to cannabis. Authorities are always on alert during festive seasons because that is when there is a high indulgence. There is an outcry about increased use of cannabis among school children.