Cannabis at Work, 7 Things Employers Need to Know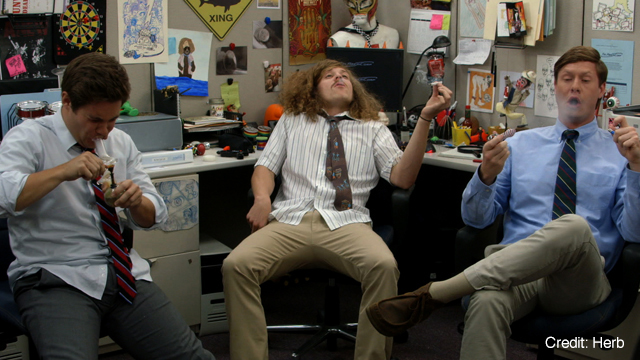 Cannabis at work? Yes, you read that right! The Cannabis Act comes into effect on October 17, 2018. This means that Canadian citizens will now be able to use marijuana for recreational purposes. Over the last few years, the use of marijuana for medical purposes has been on the rise not only in Canada but also across the globe. The new development of the legal status of cannabis raises more questions than answers. Employers are now faced with a task of not only accommodating people who use prescribed cannabis at work but also ensuring that all the employees are safe. It is for this reason that we have decided to come up with this post to highlight some of the most important things that employers need to know as far as the Cannabis at Work act is concerned.
The Current Legal Status of Cannabis in the Country
According to the Controlled Drugs and Substances Act, it is illegal to produce, possess or traffic cannabis except in special cases such as for medical purposes. With the legalization of recreational use of cannabis and the passing of the cannabis at work act, this is bound to change in the coming days. It is expected that now people will be able to use cannabis at work especially for medical purposes.
You Have a Duty to Accommodate
Does the duty to accommodate extend to medical marijuana? This is one of the questions that is giving employers sleepless nights right now. According to the provincial and federal human rights legislation, employees who use cannabis at work for medical purposes must be accommodated and respected in the same way a disabled person is accommodated in a work environment. It is important to note that the accommodation must also be extended to employees who may be having an addiction problem.
If you are worried that an employee may not be able to execute their duties, then it is up to you to try and modify their duties in order to accommodate them. The important thing to note here is that you cannot sack or punish your employee for using prescribed cannabis at work.
How Far Does the Duty to Accommodate Extend?
Although employees using cannabis at work have a right to be accommodated, this does not mean that the employee can be irresponsible. Being allowed to use cannabis at work premises does not allow or entitle an employee to:
Being impaired at work.
Compromise their safety and that of their colleagues.
Smoke in the workplace- However, the employer has a duty to find a suitable position for people using prescribed cannabis at work.
Does Accommodation Mean I have to Tolerate Impairment?
Although you might have to modify some duties to accommodate an employee using cannabis at work for medical purposes, this does not mean that you have to tolerate impairment. If you have tried every possible way to accommodate someone but still the employee is not committed to executing his or her duties, then you have a right to reprimand him or her. Please note that all the employees are under your care and under no any circumstances should you put the other employees in harm's way by allowing someone to engage in risky or unsafe behaviors. You also don't have to put up with un-excused absenteeism, sleeping on the job, taking un-necessary or extended breaks or any other negative behaviors.
However, this does not mean that you should send away employees using cannabis at work at the slightest provocation. Rather, consult with the employee and their medical provider to try and come up with agreeable duties and schedules for him or her. Remember that, after October 17th, using cannabis at work will be legal and hence you have to comply with the law by giving your employees the 'freedom' they deserve.
You Need to Review and Update your Safety and Health Policy
As an employer, you may have to review and update your safety and health policies to accommodate the use of cannabis at work premises. Remember that, you have a duty to take all the necessary precautions to ensure that the safety of your employees and that of your workplace is guaranteed. You also have a right to demand maximum productivity from your employee and also prohibit impairment on the job. On the other hand, it is your responsibility to accommodate people who use prescribed cannabis at work.
It is therefore very important that you evaluate your existing policies to ensure that the use of cannabis at work has been addressed. We encourage you to scrutinize the new health and safety checklist developed by the Ministry of Labor. These policies can be customized and adjusted as per the job's requirement as well as the size of your business.
Communicate the New Policies
It is your responsibility to communicate the new policies regarding the use of cannabis at work to your employees. Let them know what has changed, what they should expect from the management and indeed what is expected of them.
Remind them to look out for their own safety and that of their colleagues. Let them clearly understand the steps to be taken when the impairment is evident.
Due to the sensitivity of this matter, it is important that you embrace a passionate, gentle and understanding tone when dealing with the use of cannabis at work, health and safety issues. When it comes to addiction, stigmatization and judgments can lead to additional substance abuse.
How Can You Stay Ahead of the Cannabis act?
With only a week to go, it is crucial that you instill your cannabis-related policies sooner than later. Ensure that you take the effort to address both recreational and medical use of marijuana individually. Let your employees know exactly where and when cannabis at work is allowed. Are the workers allowed to smoke at work? Will recreational marijuana be tolerated at the work premises? If so, come up with policies to regulate when and where it can be used.
Coming up with a detailed policy ahead of legislation will give your employees ample time to review and understand the new rules.  Remember that, the legislation will bring with it a wave of excitement and so if you don't have rules already in place, it may be impossible to manage your employees. Please note that, just because you are required to accommodate these people, it doesn't mean that they can take cannabis at work whenever they want, wherever they want or how much they want. It is your right to regulate all this by coming up with acceptable and well-thought of policies.