Bud-ding Fashion: The Bad n Boujee Style of Weed Manicures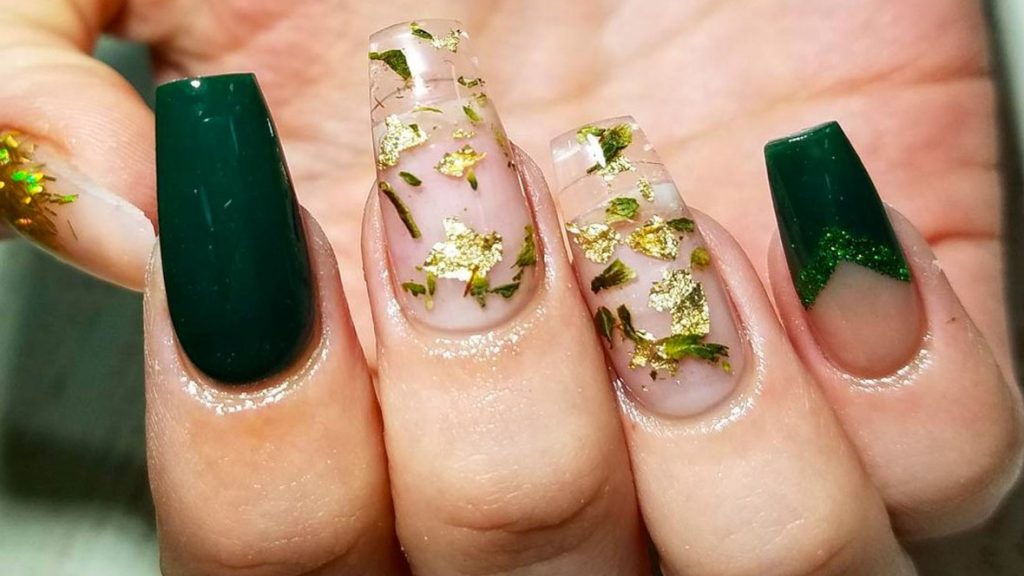 It was a leading trend for 2017, and now it is coming back in full swing just in time for 420!
So this may really be for all the ladies out there or an amazing person who wants to treat someone to a spa day. The newest trend of the spring is Weed Manicures. Long, beautifully decorated nails are associated with glamour, health, and femininity. And now that marijuana is slowly become legalized, this may just become a normal thing. It can be hard to find a place that will do this process, but it is easy and ends up looking really cool. I was really lucky to have my nail artist be pro-cannabis – well pro-business!
Marijuana Nails Are A Thing… Here's Why
It Shows your an Advocate – everyone from your bank teller to your mom will see your nails. And theT fact is, people are going to want some answers. And you will say "I am pro-cannabis!"
Original Design – not only do they go well with black, white, and even glitter. It is pretty original to show up sporting Mary J under your nails.
Oh so Natural – Whether you get long fake nails or keep your nail natural the whole process of nail polish isn't the best for you. But with additional support of marijuana and a CBD hand massage after, at least it's making it a little better for you and your skin.
Sessions – Now, this only happens in legal areas. But having a "dab" before you get your nails done has become quite popular. And for the technician, it allows for more creative pieces.
The Trend Setters of Weed Manicures:
This is a popular trend amongst many in California and even places like Toronto. It is new, fun, and supports your love for cannabis. I went and even tried it out. Lucky enough for me, Toronto is full of pro-cannabis spots. But they do not advertise what they do. So, I definitely had to ask around about it. But in the end, it was my regular nail salon on Queen Street West who became the trending spot in Toronto. And now all of us girls go there. Thanks to Kate! So, ask around in your city. Places like Bellacures in L.A. is killing the scene.
Our Girl Rhianna – We all know her, we all love her, and she has always been pro-cannabis. I mean she even wrote a song called "James Joint".  From her tie-dye shirts, sparkly weed leaf bras, she always sports this type of cannabis couture. And she isn't shy to put it on her nails in art form either.
Miley Cyrus – okay she is a little young in terms of mindset but she does advocate in some form. Including on her nails when she sported a white with gold weed leaf look. But she loves her weed manicures
Traceylee – you may not know her but she is top of the trendsetters list on Instagram for her unbelievable nail designs. Most popular is Snoop Dogg smoking a blunt. @luxebytracylee
Christina Blee AKA Dabulous – a huge hit in California, Dabulous creates new weed pieces daily. From leaves in the nails to CBD isolate french manicures. @dabulous_nailz
Coral Reefer – Instagram sensation has sported some pretty cool weed nails and made she hit up the trend in support of her advocacy.@coralreefer420
Dani Walton – Duchess of Dabbing is what they call her. She is a pro on extracts, wellness and she even blogs about beauty. So naturally, she sported some rocking weed nail art. @dabbingforwellnes
Louisana Pham – claims she is the one who started the trend but who really knows. With her combination of crystals, flower pieces or even decals, her nails have become well known in the scene. @orchidnaillounge
It Seems Like a Waste. It's Not!
It seems crazy to use your weed for nail art design rather than smoking it. But, this is a great way to show off your love for cannabis and there are ways to avoid using your best Mary J:
Find some pretty pieces of leaves – ones that are more flowery. You really won't need more than 7-10 small pieces
Use that leftover shake. When you use shake and glitter – the design can turn out pretty awesome.
Use your old weed or your least favorite.
Some salons (in legal areas) will even provide the weed (at a cost)
#WeedNails
If are looking for some new ideas for your nails, why not incorporate some marijuana into your nails. You can go treat yourself at a salon (make sure they are pro-cannabis) or do it yourself with some tweezers. With legalization in full swing, it is becoming easier to be pro-cannabis in everything you do. And it would seem pretty ridiculous to arrest someone over weed nails. I mean that would be a first. So there is no harm in trying it out. This look doesn't have to be out of style – its chic, it's clever, it's cool and new! But honestly, we think this manicure looks pretty dope – so you should hit up this trend A$AP Rocky!
Check out #WeedNails on Instagram for more ideas and follow the newest trendsetters in bud-ding fashion!