Red White and Blueberry Cobbler – Infused Goodness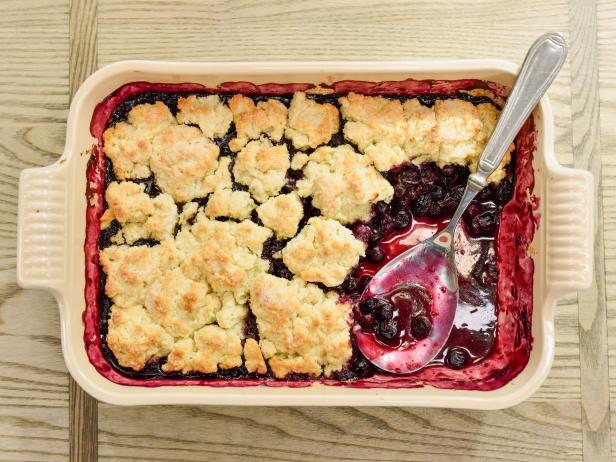 Cut the fruit, mix the batter, dump the batter on the fruit and bake it!
Cannabis is infused with clarified butter and combined with fresh red cherries and blueberries. This recipe is delicious and perfect for a cold day. You can top it off with vanilla ice cream for extra flavor. This Red White and Blueberry Cobbler, brought to you by Infused Eats, will be a huge hit with your friends.
Red White and Blueberry Cobbler
FILLING:
1 lb of cherries (halved and pitted)
12 oz of fresh blueberries
1 lime
FOR THE BATTER:
3.5 – 7 grams of dried cannabis flower
3/4 cup of unsalted butter.
1 1/4 cup of granulated white sugar
1 1/3 cups of all purpose flour
2 teaspoons of baking powder
1/2 teaspoon salt
1/3 of rolled oats (optional)
2/3 cup of whole milk
FOR THE TOPPING:
1/4 cup of granulated white sugar
cold water to drizzle
DIRECTIONS: 
Grind cannabis and decarboxylate in the oven at 250 °F for 12 minutes. Then clarify your butter. In addition, infuse cannabis in butter over a double boiler for 1 hour. Strain infused butter from plant material and discard. Set aside and let the infused butter cool. While butter cools, halve and pit the washed fresh cherries and blueberries. Set aside and keep chilled.
Combine flour, salt and baking powder in a large mixing bowl and whisk together. Add the sugar and the infused butter and cream together until smooth. Add the milk and (optionally add rolled oats here) whisk into the batter. Pour the batter over the berry mixture and smooth with a spatula.
Spread the sugar generously on top. Sprinkle water heavily across the top to saturate the sugar from rim to rim. Lastly, place in an oven preheated to 375°F for 15 minutes to set the top. Reduce heat to 325 and cook for 1 hour. Cover top with foil or parchment if getting too brown. Remove from oven and let cool for 30 minutes before enjoying warm with a scoop of vanilla ice cream!