Sen Dog of Cypress Hill – This Weeks Guest!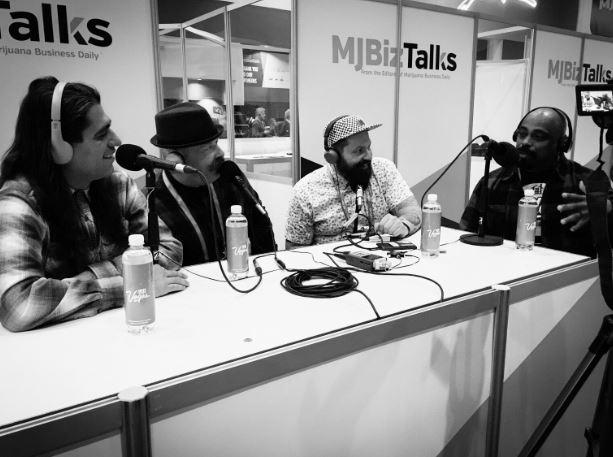 MEETING YOUR HEROES: SEN DOG OF CYPRESS HILL
When Puff Digital launched their Into The Weeds Podcast in late 2018 with musician, cannabis advocate, writer, and producer; Ben Rispin ( Rules, Saint Alvia ) at the helm, accompanied by co-host / musician Efrem Shulz ( Death By Stereo / Voo Doo Glowskulls ) and Bubba Nicholson, Director of Channel Management for Thrive Cannabis, they had no idea the podcast about how it's guests got introduced to cannabis would actually grow like a weed ( pun intended ).
Launching with a slew of impressive guests including Money Mark of the Beastie Boys, Big Brother Canada winner Sarah Hanlon, Billy G of Biohazard, Opie Ortiz of Long Beach Dub Allstars / Sublime, photographer Ophelia Chong and more, the podcast that Shulz and Rispin had been trying to get off the ground for a couple years, blasted out of the gates with impressive numbers at launch and continue to hold steady.
After taking a month off during the holidays, Puff Digital's Into The Weeds Podcast is back with another impressive slate of guests to round out their second half of season one, including interviewees like former Philadelphia Flyers enforcer Riley Cote, UFC legend Anthony Rumble Johnson, and this week's guest; Sen Dog of Cypress Hill and Powerflo, who has his own legal brand of cannabis, Hill House Reserve
When asked about getting to interview the legendary  Hip-Hop MC / Cannabis advocate Rispin had this to say, "I've been listening to Cypress Hill since the early 90's, they were, and still are a huge part of why I do what I do today. In grade 10, I did my history and politics project on legalization, and "borrowed" most of the content from the inlet of Cypress Hill's Black Sunday. Being able to share that story with Sen Dog was surreal, and I think 15 year old Ben would be happy with what 40 year old Ben has made out of our life. Not to mention, Sen Dog was cool as hell."
Nicholson, who's hardened looks and rugged voice often contradict his on-air sentiments had this to say about interviewing the rap superstar, "When meeting your childhood heroes, you can only hope that they are what you have made them up to be in your head… Sen proved true, the vision I had always had of him. His kindness, brilliance & eloquence in the delivery of his stories will forever resonate in my heart and head…."
Rispin, agreeing with Nicholson, continued, "I've often been apprehensive about meeting my idols, I can easily say, this encounter was the best it could have been. Sen Dog even took the time to chat about the Simpsons, his high school days watching Slayer, and of course, how he got "Into The Weeds." "
When asked the same question, the LA-based Shulz, who does much of the guest booking, had this to say, "Well, as it was my 2nd interview with Sen, I was impressed by how many new projects he had going on at once. He is one of the hardest working people I've met in hip hop, rock, and cannabis culture. What an amazing experience getting to sit with him again."
The episode was recorded at 2018's MJ BizCon in Las Vegas to a live audience, something that is becoming a little more common for the Into The Weeds hosts.
"We had the privilege of recording live at #Upinthesquare, an Up Cannabis outdoor event held prior to legalization in Toronto's Yonge & Dundas Square. We had a great experience with that crew and got some great interviews with Rick Jackett Of Finger 11, Jon Harvey of Monster Truck, and  Up's director of horticulture Scott Belton. I think those episodes will be released starting the end of February", Rispin continued, "However, I prefer the intimate setting of renting a house, or recording in a studio. It's super cool that we keep getting asked to do our podcast live, and that the show is resonating. We've discussed doing it I've more, but time will tell."
Sen Dog's Into The Weeds episode is available now on iTunes, Spotify, or wherever you listen to podcasts.
Visit www.getintotheweeds.com for more, and follow Puff Digital's Into The Weed's Podcast on Instagram, Facebook and Twitter at @getintotheweeds