How to Make Weed Quesadillas – Cheesy Goodness!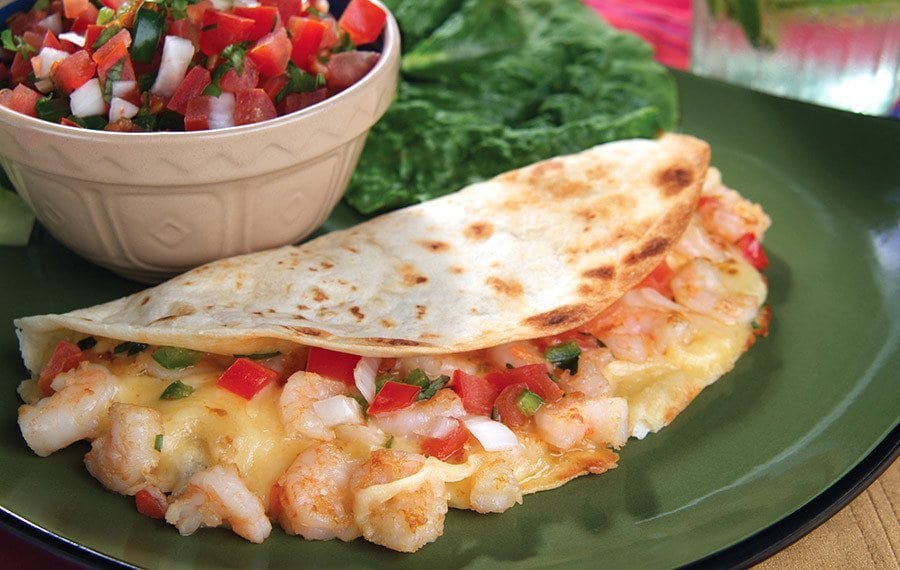 Red and green peppers, perfectly seasoned chicken breast or shrimp. Plus, melted cheese and cannabis!
Calling all shrimp lovers! These DELICIOUS Weed Quesadillas are a must try. They're super quick and easy to make, packed with flavor and highlight shrimp in a festive and spicy way. If shrimp isn't your thing, you can make it with chicken or tofu! It is a great snack to have while also getting your dosage of medicinal marijuana. This is a simple recipe that you can use next time you are looking for a nice lunch or snack.
How to Make Weed Quesadillas
Ingredients:
4 six-inch flour tortillas
2 tablespoons of  medicated butter or medicated oil
½ of chopped sweet bell peppers
4-6 raw shrimp, chopped (or 2-3 chicken breasts)
4 tablespoons of scallions, chopped
Salt, pepper, and oregano to taste
1 cup of mozzarella, shredded
Directions:
Firstly, heat up your medicated butter or medicated oil.
Add in peppers and sauté them until they are golden and soft.
Add your shrimp or chicken and cook it all for 1 to 2 minutes, stirring occasionally.
Mix in the scallions and cook for around 2 to 3 minutes. Remove your mixture and place in a bowl.
Place your pan back on the stove and heat it up.
If you think your pan is too dry you should add a teaspoon of canola oil.
Place a tortilla on the pan, add filling onto the top.
Sprinkle mozzarella cheese onto the filling and place your other tortilla on top of it all.
Press down on it gently so that it sticks together.
Cook until golden brown and carefully flip it over.
Cook for a minute or two more, and then remove your quesadilla from the pan
Cut into four slices and serve with salsa, sour cream or guacamole.