LeBron James Weed Strain: The Game to Lure the King to L.A.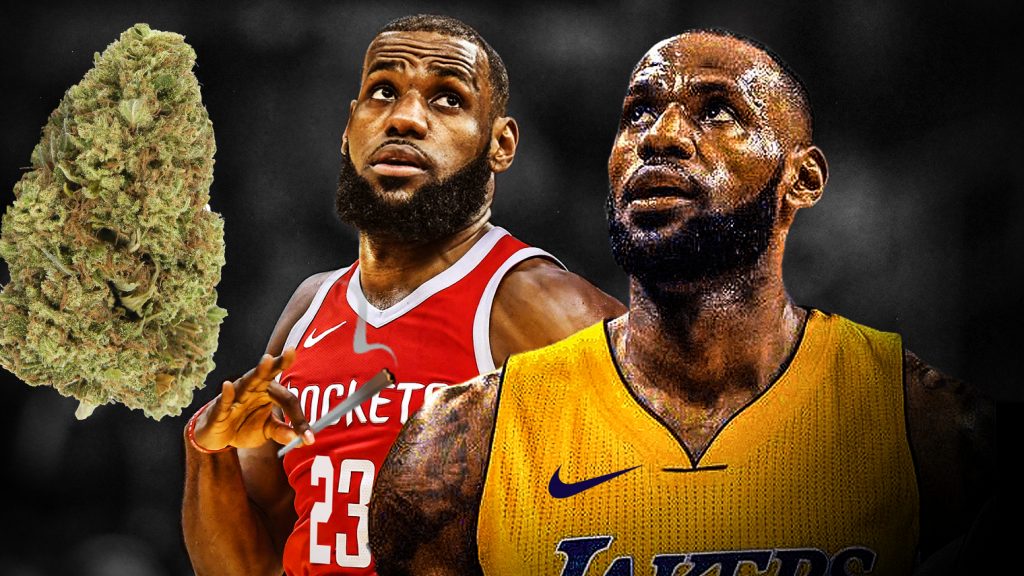 What is the LeBron James Strain?
The Los Angeles rapper, The Game, introduced a Lebron James enthused cannabis strain. The Game has named this brand new unique strain the 'LA' Bron James to give a shoutout not only to the king but also to the Los Angeles basketball team, LA Lakers in an attempt to woo Lebron into the Lakers- "[it's] a strain inspired by my city and them trying to bring King James to the Lake Show."
The components of the Lebron James strain are still not known for sure. But, it does have a significant quantity of purplein in it which is suggestive of the use of some sort of purple strain in the creation of this marijuana.
LeBron James is a highflyer in his own right.
Now cannabis enthusiasts have their own way to honor the king by attempting to reach new heights with a version of LeBron James Weed.
Los Angeles Rapper the Game is recruiting LeBron James to join the Los Angeles Lakers in most Californian way possible: a custom cannabis strain in honor of the king himself.
The Game is no stranger to the cannabis world. In fact, he spearheaded the launch of his own green company called "Trees by Game." Now in the most blatant push to lure the King to Lakers, the Game has named the strain "LA Bron James." The game said in a YouTube video,
"[It's] a strain inspired by my city and them trying to bring King James to the Lake Show."
LeBron James Weed Strain
The future of James has become a highly speculated subject after his Cleveland Cavaliers were swept by the Golden State Warriors at this year's NBA Finals.
The King and Cannabis
LeBron is the King of politically correct, rarely caught embracing something that could tarnish his athletic reputation. He understands he has millions of kids looking up to him and chooses to keep his cannabis use, if any at that, under wraps.
But he has had his run-ins with cannabis in the past. At the 2016 MLB World Series, LeBron James' wife appears to be smoking something in the booth at the stadium. When LeBron realizes the jumbotron camera is still on the couple, he seems to tell her to put it down
She immediately reacts awkwardly and drops her hands below the camera view. Was he smoking weed? You be the judge.
Do the NBA Athletes use Marijuana?
It isn't clear if Lebron James uses weed himself, he has never been caught embracing marijuana. But, ex NBA players like Matt Barnes, Cuttino Mobley, J.R. Smith, and Kenyon Martin have all confessed to smoking weed. Ex-players like Brad Miller and Al Harrington have also launched their own weed business enterprises.
Kenyon Martin, in an interview, mentioned that "85% of the league smoked weed". The statement was further strengthened by Martellus Bennett, one of the former tight ends. He was of the opinion that the number was even more in the NFL.
Does Lebron James Smoke Weed?
The question on everyone's mind: does LeBron James smoke weed? Well, probably not. A LeBron James weed strain has that ultimate draw for the end user but, any athlete that operates in the realm of Lebron James most likely avoids filling his lungs with smoke. Unless you're Michael Phelps, then you can do what you want.
But seriously, if LeBron ever blazes its in the offseason and away from the peering eyes of the public. Interestingly, there is a trend in the NFL and NBA amongst players who have admitted to using cannabis. Ex NBA players like Matt Barnes, J.R. Smith, Cuttino Mobley, and Kenyon Martin, all have admitted to using the herb.
Some ex-players like Al Harrington and Brad Miller have gone so far to launch their own cannabis ventures.
It's a bold notion, one that challenges many perceptions of what we think of a top-tier athlete. But times are changing, with cannabis legalization north of the border, and one NBA franchise already located in Toronto, the NBA better be ready for more players admitted to using cannabis.
Maybe King James will be the next king to out of the cannabis closet.
Weed: A Forbidden Substance in NBA and NFL?
Weed is one of the forbidden substances in NBA and NFL. Players may be fined or even suspended if they fail a drug test. But, Barnes claimed that there was a lot of hypocrisy bound in this matter since almost everybody, from the coaches and GMs to the presidents used cannabis. He smoked pot right before games throughout his long 14-year career. His claim was even supported by Shaun Smith, former NFL defensive tackle. Some of the players crafted calculative marijuana consumption to pass the tests.
Meanwhile, the others who turned out positive were subjected to severe penalties such as fines worth 11.76, 17.6 or 23.5% of annual salary or unpaid suspensions lasting up to 4, 6 or 10 games or even a year.
NBA Moving Towards Legalising Cannabis
In an interview, Gary Payton, Hall of Fame NBA point guard was in full support of legalizing cannabis in sports as long as the athletes used it in the right way without jeopardizing or hurting anybody else. More an more players are coming out to using weed.
If cannabis is to be legalized among NBA athletes is controversial. NBA players are a source of inspiration for the younger generation. Cannabis can be legalized only if the players used weed in a controlled and disciplined manner. But there are chances the players get addicted to harder drugs which might spiral out of control.
The Reason behind NBA Players using Marijuana
NBA and NFL athletes used weed either for medical issues or recreational purposes. Smith religiously smoked two blunts before every game since it helped him stay focused. Bennet stated that often it so happened that their bodies could not pop in opioid addictive painkillers any more since it affected the liver. And, that is when weed came to their rescue.
Cannabis helps calm the NBA players as they are under a lot of pressure, apprehension, and stress.
Cannabis infused energy drinks are 100% lawful and are capable of boosting one's energy in a healthy way. These drinks contain hemp seed oil, caffeine, B vitamins and taurine which improve mental focus, concentration, alertness and reduce fatigue.
Also, the NBA athletes suffer from a lot of pain and knee injuries. Marijuana helps calm them and effectively reduces the pain.
In addition, cannabis also helps calm muscle spasms and twitches thus relieving players from muscle cramps and chronic pain.
Cannabis also helped the players with insomnia.
Harrington has admitted to using cannabis saturated gel capsules and cream for pain and smoked pot in the of season. Barnes said to have smoked weed to bring him peace of mind.