CANNABIS INFUSED GAME SHOW REMINDS US THAT WEED IS STILL FUN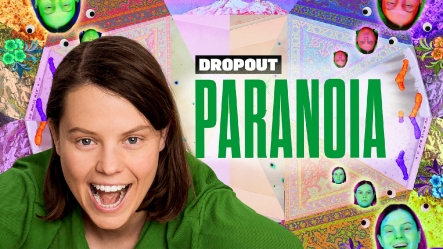 Ben Rispin of Puff Digital's Into The Weeds & Mass Nerder Podcasts interviews College Humor's Ally Beardsley about their new game show "PARANOIA" available now on dropout.tv
There's no shortage of cannabis content being distributed online daily. Most focuses on investment, health, wellness, advocacy, new products, growing, education, or obvious brand promotion. However, creator Ally Beardsley has offered a refreshing take on cannabis driven content with "Paranoia", a new cannabis-infused game show that reminds us that smoking weed with your friends is still really, really fun.  
In recent years, Ally Beardsley has been making a name as a "go-to" comedian, actor, writer and producer for College Humor, the wildly popular website known for its comedic shorts. Ally has written, produced, or starred in countless shorts and shows for the comedy behemoth. The Co-creator of Total Forgiveness, a prank comedy show produced by College Humor for their dropout.tv brand articulated the severity of American student loans and captured the attention of the internet by comedically displaying a terrifying topic young people face daily; lifelong debt.
Beardsley and Co-host Grant O'Brien on Total Forgiveness
However lately, Beardsley, who identifies as non-binary, has focused their attention on another hot button topic, Cannabis, but not in the way you may think. Ally has once again partnered with College Humor and Dropout.tv to bring the masses the hilariously fun, "Paranoia". A game show that tests how good it's participants are at smoking weed. Ally, who not only created, but also hosts Paranoia, took the time out of their day to chat with us so our fearless readers at Higher Mentality could learn a little more about the internet's newest, and dare we say, "funnest",cannabis themed game show.
Ben Rispin for Higher Mentality: Where did you grow up?
Ally Beardsley: I grew up in Southern California, a town called Paris ( laughing ) but not that  Paris, it's very different from Paris, France.
HM: How did you get into comedy?
AB: Well,  I went to a really Conservative Christian College and I was going through my own… ( pauses to think ) …I was very closeted, and when you're so unsure, insecure and everything's so up in the air, I think comedy is an amazing avenue to go down. So, I just started doing open mics. It just kind of felt good to say exactly what was on my mind, you know? … and to have people laugh at it, I thought, "oh wow, how cathartic?" I've been chasing that dragon ever since.
HM: How did you go from stand up, to content creation, writing and producing?
AB:  It was a natural progression. I did stand-up shows, and I started organically with open mics, then when I moved to LA, I started doing Improv. I know you guys have some of that in Canada as well ( laughing ). I did improve, then I actually got a job that took me over to Amsterdam in the Netherlands, and I did improv comedy there for 3 years there, before moving back. Yeah, improv is a big part of my life.
HM: Is that where you discovered your love of weed?
AB:  ( laughing ) No, I know what you're thinking, but Dutch people don't really smoke. The hats and t-shirts and that was all the tourists. Dutch people were so chill about weed. They're more like, "yeah, sometimes I smoke, but I do a lot of things." I actually smoked way more before Amsterdam.
HM: Do you mind sharing how long you've been smoking weed?
AB: Oh man ( laughing )! Yeah, yeah. I don't mind. It's legal in California. Honey, let's just say I am a friend and a big fan ( still laughing ).
HM: What lead you into cannabis content creation?
AB: One of the big things with Paranoia, and dropout.tv as a whole, they were like, "Pitch us your passion projects!" Essentially, I was like, "Oh! I want to make a love note to stoners and the many facets [ of weed ] from a stoner ."
HM: Formatically, your new show Paranoia is a take on the party game, Mafia, or Werewolf which WikiMafia describes as "a game pitting an uninformed majority against an informed minority. It (as well as variations on it) has been commercially rebranded numerous times, the description begs the question, how did you decide to convert the premise to cannabis?
AB: It's funny you mention that, because the show is an impairment of Paranoia. It's a romantic take on "Werewolf" or the "Mafia Game", but this is definitely a homegrown game that went through many adorations. I have to thank my co-workers and friends for showing up for so many tests! Which, honestly, they had a good time, but just to get the rules on this thing locked in was really hard. I think we cracked it, but yeah, this started in a backyard. I actually started playing mafia at church and stuff like that. It's a really fun game! I thought a logline to the show would be, "yeah, we all like smoking weed but are you good at it?" It's like a test to see how good you are, like at the X Games for weed.
HM: In the shows pilot, the role-playing or storytelling portion of the game is about college kids, this is an obvious tie into college humour and worked very well, however, will the story settings change from episode to episode? What inspired the segments?
AB: They will actually! Without giving too much away, what we did is honestly, there are so many people that work on the show, who are also stoners, so we just had a really fun brainstorming session, "What is the stickiest situation you've ever been in?" or maybe, "You got high and didn't realize your parents were coming to visit" or,  "You got high before a family event." Taking would be fun. It's definitely, definitely generational. There's some boardroom antics. There are some episodes about studying abroad or being abroad.
HM: The set looks like someone's backyard? And you said it started in a backyard, are you shooting in an actual back yard?
AB: Yeah! It is a backyard! Shooting in a backyard makes for a really relaxed shoot day. I definitely invited all my friends,  and even just acquaintances to this game. Before each episode, we interview each person on their relationship with me. So, I realized I invited a few friends who don't like weed or who never smoked. You get to see the look on their [contestants] face. One of them pulls "the stoner card", it is so funny. I did want to make it comfortable as well. It is just a group of friends hanging out and trying to play this game. This scary, scary game while high on weed ( laughing ).
HM: I noticed in the pilot you share b-roll footage of a contestant doing a gravity bong, also known here in Canada as pails or buckets, was the method of consumption considered prior to the show?
AB: So we played with a few ideas. At first, we thought it'd be fun to pass out brownies, with only two of them containing weed. But then we ran into the problem of how long edibles take to hit. To make it the most fair, and honestly, the most visually jarring, we were like, "oh yeah, let's go straight for the gravity bong." We really wanted it to be like a gauntlet. You hit a giant pail or bucket, then you put all your friends together, and if you look high, you're going to get voted out. So yeah, we picked that.
HM: You're now thinking of season two, how do you cast the show? Is it still a bunch of your friends?
AB: For season two I think there's a ton of possibilities. In season one alone, I feel like I got every stoner comedian that I know personally. I was really happy about it. It's a lot of people from the Upright Citizens Brigade from here in LA.
HM: The show doesn't put a huge emphasis on current cannabis narratives, and just seems to remind the viewer that simply put, weed can be a lot of fun.
AB: I really like this as a game is a lot of fun. Honestly, if they're safe and at home and all of that, I would love to encourage people to try the play the game. I think it's showing that this is fun. It takes a humorous slant on paranoia. At the end of the game, no one is truly upset at all. It's still a good time. And there are snacks.
PARANOIA Season One is available now on dropout.tv
Find Ally Beardsley on IG @allybeardsley
Follow Ben Rispin on IG @benrispin