Catching Up with the Ladies of High5: Toronto Cannabis Events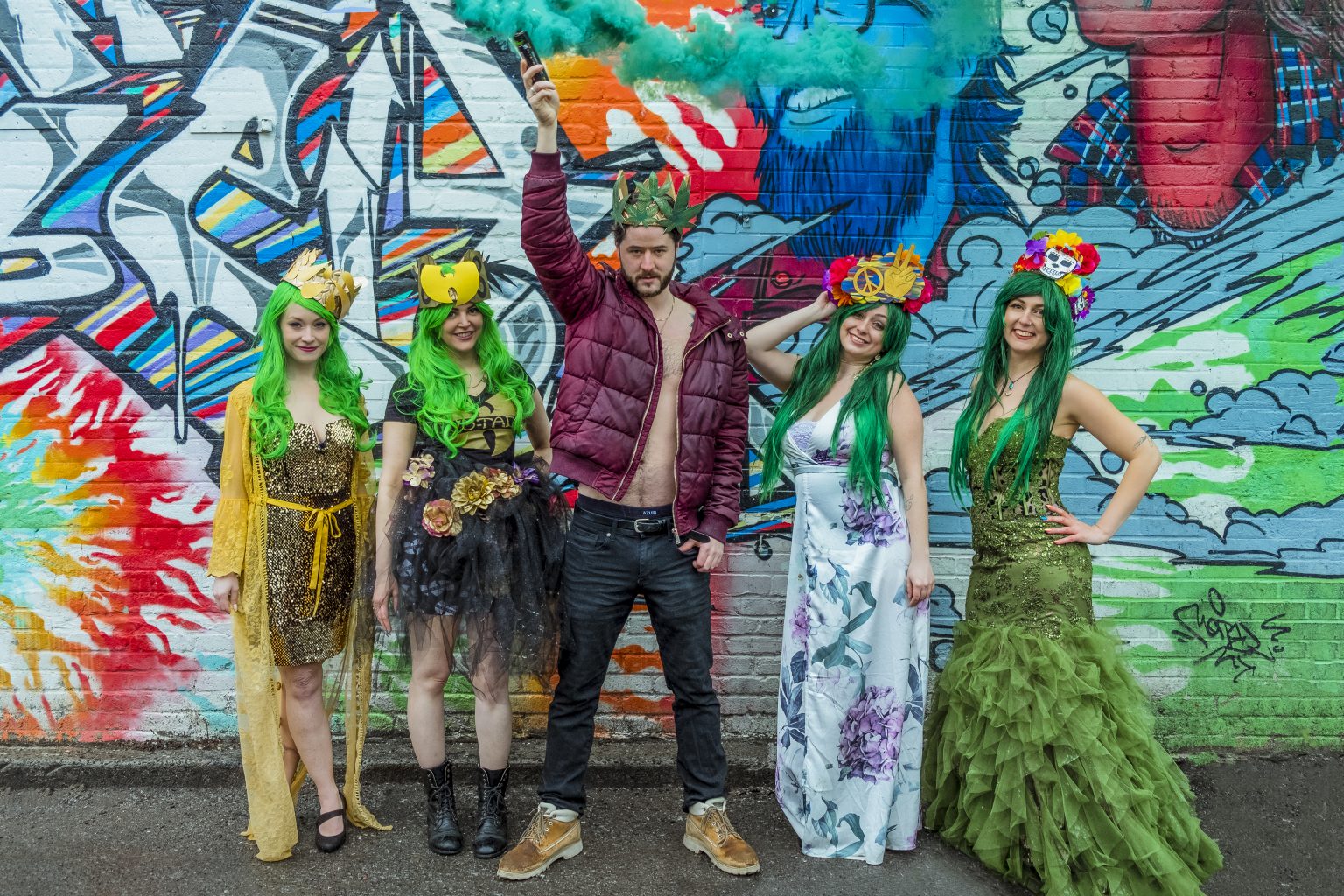 Pot of Gold Cannabis Pop-Up Market was a hit and this next one is going to be even better. We caught up with Co-Founder Sarah Gillies to chat about the High5 and everything they do!
Remember the Green Market? The High5 was behind all of those amazing events. Unfortunately, the market put on pause, but that did not stop this team from continuing to do great things.
The HigherMentality Events team was invited out to their last event called Pot of Gold, and let me tell you, it was a hit! Leave it to the creator of Nudabites and Stonerbites and owner of Nuda Media to be behind the event planning. Miss Jessica really helped to bring this event together, and her heart shined through the event and it was evident that the time and effort was given. But, naturally, the leader of this idea and creation is Sarah and co-founder Sam. They have continuously worked hard in making these events priority.
You can check out our video here.
While the Green Market seemed to be fizzing down, it seemed that this pop-up event just energized the community right back up. And while it was St. Patrick's weekend, the High5 was showing off what it really meant to celebrate green without the alcohol.
With a CBD bar, amazing entertainment, a DJ, and craft cannabis vendors, this event was truly unbelievable. I know we had fun!
And for all those business owners out there, or people looking into the cannabis world – this is the perfect place for business. Filled with tables, edibles, concentrates, and topicals you can either be apart of showing your product or apart of the buying. The best part is there are lots of samples! On top of that, this community is so special in terms of the quality of humans. Friendly, kind, loving and all fighting for the same purpose: legalization.
But, I caught up with the amazing and beautiful Sara Gillies and she had lots to say about the value of High5, the cannabis community and her hopes for the future!
Kween: These are truly popular events. And this past event was the 2nd round of this pop-up cannabis market. Why should someone attend a High5 event?
Sarah: Whether you're looking for something fun to do as a group or a solo urban adventure seeker, our events offer a little something for everyone.
We see a range of people with different interests and needs who come to our events. From the curious to epicurious, there's something there for everyone. Our events are entertaining, fun, social and a sanctuary where people can not only support local producers and craftspeople but also exchange ideas and learn from one another.
Kween: I know I had fun! But what about this next event, will make people want to come out? What makes this one extra special?
Sarah: Our events have always been created with the community in mind. In honour of cannabis activist leader, friend, and family man Shane King who recently passed away, The High5 have partnered with several other members of the community who were equally close to Shane so that we can make this event extra special in support of his family.
The comedy show will be hosted by his close friend and comedian Paul Thompson (and other performer friends), a CBD drink bar with some of Shane's favourite beverages, a fun fair hosted by friends Zoe and Courtney, raffles, door prizes and so much more.
It's important to remember that as we are on the edge of legalization, we are a community that supports each other through everything. This is probably the most important message that we want to convey through our events.
[
LINK TO GO FUND ME
,
LINK TO EVENT TICKETS
LINK TO FACEBOOK PAGE
]
Kween: What is the main goal of the cannabis market? And what sort of effect or change do you want to have within the community? 
Sarah: When I started Green Market Toronto with Lisa Campbell, the purpose was to provide safe access to edibles as it is our constitutional right. With The High5 Pop Series, I hope to continue providing safe access in a space that will inspire people to incorporate cannabis into their lifestyle.
Since a majority of social events in the city tend to be alcohol-related, we wanted to offer an alternative where people can experience the same amount of fun and entertainment through cannabis. It would be incredible to see that bridge made when it comes to social events and for the stigma against cannabis to be removed.
It's also great to see the positive effects that these markets have on cannabis patients (who would normally be isolated) have an opportunity to medicate more comfortably in a social setting.
Kween: What's your hope for the next couple months as we see the Cannabis Act go into effect and legalization start to change?
Sarah: As a craft cannabis business owner who has spent the last 2 years working alongside edibles brands and watching them grow, it's been surreal to see the variety of craftspeople find their niche in this industry. I would love to see licenses made available and affordable for each and every one of them so that they can continue to refine their craft in the legal space and become leading entrepreneurs. In addition, I hope the government can eventually recognize the incredible value that they add to the community and encourage them to flourish.
While edibles are anticipated to be introduced a year after legalization passes, it is important to recognize that these craft artisans have invested incredible amounts of time and dedication in order to develop an abundance of amazing products. What's more is that many of them are patients who have developed these findings through trial and error in an effort to find alternative ways to medicate. Each of these people brings a tremendous amount of knowledge and I truly believe there is much that we can learn from them.
Kween: So, when is the next event and how can people get their tickets?
Sarah: Next Wednesday, April 18 from 6:30 PM – 10:30 PM. Location is TBA so stay tuned. Tickets in advance: $10 – $20 at the door. All proceeds from ticket sales will go to support Shane's family – he leaves behind a wife and 4 children. Tickets can be purchased here.