Gold Therapy Vape Pen Review at the TDE Championship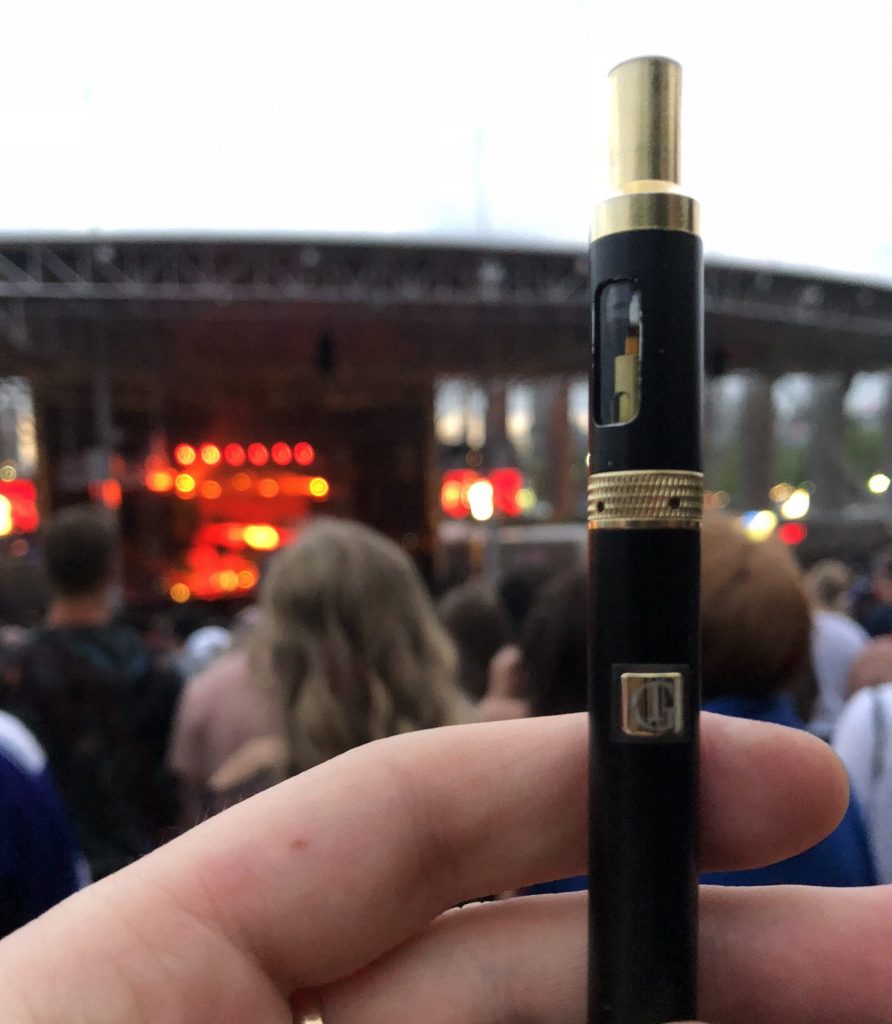 The Gold Therapy Vape Pen is great for tokes on-the-go, and Kendrick Lamar's TDE Championship Tour was the perfect experience for a test run.
As we move closer to legalization in Canada, discreteness in cannabis use becomes less of a necessity. Still, enthusiasts appreciate ways to medicate and de-stress without the glaring eyes of bystanders.
The gold therapy vape pen provided that perfect mix of style and stealth, allowing for clean tokes on-the-go. The show, well that was another smooth experience.
The Show
The Lineup: Kendrick Lamar / ScHoolboy Q / Jay Rock / Ab-Soul / SiR / Lance Skiiiwalker
Standing on the lawns of Bud Stage in Toronto, you couldn't help but get the feeling that something special was about to occur. Banners advertising TDE's plaques and platinum selling records hung from the upper stage. As artists appeared, giant, cartoonish trading-cards with stats and figures popped-up on the screens behind. To top it off, a Bruce Buffer like an announcer made their presence on the stage known.  It was a tight theme, that was executed to-the-tee.
The show started smooth and soft, as Lance SkiiWalker set the mood, with SIR and Ab-Soul slightly cranking up the bass with their following sets.  Expressing sentiments heard around me in the crowd, these sets felt a little short and without collabs and features, seemed to be rushed. I kept saying to myself that they were warming us up, keeping it soft and mellow, like foreplay. I kept telling myself to be patient, that the wait would be worth it.
That Kendrick would deliver what was promised.
I was not disappointed.
The diminutive word-smith appeared after his recent evolution. From "Kung-Fu" to "Pulitzer," a jack-of-all-trades ninja transitioned to an accredited and peer-reviewed artist before our eyes. His message, bigger than his body. His music, larger than life.
Before crowning the T-Dot "one of my favorite motherfuckin' places in the world," Kendrick asked
"Is anybody alive right now?"
A telling question in an existential time for many young people. Kendrick opened with the aggressive "DNA" off the 2017 Grammys' Album of the Year, Damn. Then transitioned to single hits like "Swimming Pools," "Backstreet Freestyle" and "Alright," and reaching an ultimate climax with "Humble."
Two times, he re-did the song "Humble," first allowing the thousands gathered outdoors at Budweiser Stage to chant his verses for him before closing the ceremonies himself.
The Vape Pen
Anywhere I went within the Budweiser Stage in Downtown Toronto, I was getting comments on the Gold Therapy Vape Pen. The number one question asked was,
"What's in that? Is that weed?" 
The reaction on people's faces when I indeed confirmed their suspicions, was priceless. The slow smile, the quiet contemplation inside their heads as to how they were going to get a hit. That emotion transitioning to a feeling of relief when I happily shared my cannabis oil vape pen.
Although small in size, these tanks pack a punch, and with their leak resistant design, they are perfect for consuming costly concentrates efficiently on-the-go. The rechargeable battery includes a preheating function, an ideal feature to thin out thick concentrates in frigid temperatures.
The vapor produced by this vape pen blew everyone at the event away (including myself)
The Specs
Tank Specifications
Capacity: 0.6 mL THC oil
Size: 11.3 mm (length) x 11.2 mm (diameter)
Airflow: 4 x Bottom Airflow
Coil Composition: 100% Ceramic
Battery Specifications
Capacity: 350mAh Li-Ion
Size: 84.6 mm (length) x 11.2 mm (diameter)
Charge Time: ~1.5 hour/200pulls
What's in the Box?
2x Rechargeable Gold Therapy 510 Threaded batteries
1x portable USB charger
Instruction manual
Vape Oil Cartridges Sold Separately
The Hive series wasp tanks are disposable THC vape cartridges which can be paired with the Gold Therapy 510 threaded battery. The cartridges feature a ceramic heating element, which helps to produce consistent and smooth vapor quality. Unfortunately, they are not included in the box and must be purchased separately. The disposable cartridges are a little bit of an inconvenience, given that you can't refill your own cartridge.
If they didn't hit so well, I'd be a little more annoyed with the disposable feature. But with the amount of vapor produced by these little gems, I'm happy letting Gold Therapy load them for me.
How it Works and Unique Features
To turn on the vape, you press the button five times
A white light will flash around the button signifying that the vape has turned on
Press and hold the button while drawing air through the mouthpiece
What's really unique about this vape is the adjustable aperture control. You can rotate the aperture opening the cartridge left or right to allow more cannabis oil to flow to the ceramic heating coil. This allows you to maximize the oil in each hit, while not wasting any oil through leakage etc.
If you are bubbling while hitting the vape, close the aperture opening until you consume all the on the ceramic heating element.